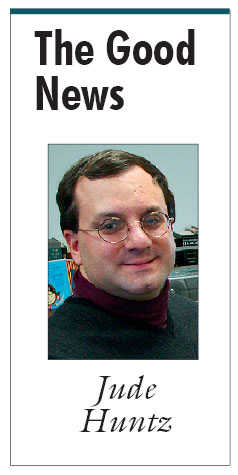 A presidential election year brings with it the long list of promises candidates make. Each candidate in the primary goes to Puerto Rico promising them statehood, a promise made every four years for decades, and one that continues to be unfulfilled. We are also provided with the promise of reducing our dependence on foreign oil, reducing the budget deficit, making government smaller, cutting taxes, and the list goes on. While it is easy to criticize politicians for their failures in promise keeping, we might pause to reflect on the promises we make to one another. How many promises do we make to our children that go unmet? How often do we resolve to end a particular bad habit or sinful behavior, only to find ourselves at reconciliation for the same fault in a short time? The readings today, however, remind us that God is the ultimate promise keeper, the one who never disappoints.
The promise is made in the first reading from the prophet Jeremiah: God will make a new covenant with us, one that will be written on our hearts and not on stone. In this covenant God will forgive our sins and remember them no longer, and what is more remarkable is that we will not need to teach our relatives and friends how to know the Lord (don't tell that to your DRE!). Up to this point the covenant relationship between God and Israel had been one of master and servant. While this relationship has many advantages (e.g. a clear law to be followed, a deep respect for the majesty of God, a proper understanding of our role as creatures), nevertheless the exclusive use of this type of relationship overlooked the other aspects of the infinite God, especially those related to love and a more intimate relationship with God. This new covenant promised to the people would be a covenant of love.
The book of Hebrews is an entire reflection on the new covenant of Jesus. By focusing on the priesthood of Jesus and the virtue of faith that befits this new covenant, the writer of this letter points out that Jesus is the example of how to live the new covenant. Not only does God proclaim the new covenant in the ministry of Jesus, but also Jesus himself shows us how to live that new covenant in the death he dies for the sake of all. The death of Jesus becomes the source of our salvation not only in the act itself, but also in the fact that it is the example for us to follow as disciples of the Lord Jesus. This obedience is not to a written law, but to an impulse of love made perfect by the sufferings we endure for God and for others. Consequently, there will be a multitude of different ways for that love to be made manifest in our words and deeds since it is fundamentally relational and a response to the love Christ had for us.
Lest we think that this new covenant is radically individualistic, the Gospel text today reminds us that we can only find Jesus in the context of the community of the Church. The Greeks who came looking for Jesus inquire of Philip, one of the twelve, and Philip in turn asked Andrew. Andrew then asks Jesus and the meeting takes place. In this personal encounter with Jesus, he tells the Greek visitors that whoever wishes to serve him must follow him in his death and resurrection. Jesus alludes to the master-servant relationship mentioned earlier, but instead of that relationship being defined in terms of obedience to written laws, Jesus defines it as an imitation of his life and death. In this respect we really do not need to be instructed in the tenets of the new covenant as had been the case in the old. Discipleship is not about memorizing laws and tenets, but it is rather a matter of love in imitating the life of the Master. That imitation, of course, will be different for every life just as each will be different from that of Jesus in its particulars. We are no longer in first century Palestine and the world is very different in many respects from the world of that time. Yet, the universal call to love and service remains constant, and the manner in which we incarnate that love in the world will be an authentic response to the needs of our day, just as it was in the life and ministry of Jesus.
Love is always a challenge, for it always involves a death to our own selves and the self-interest that the world proclaims as the way to happiness, a false promise that is illusory. As we seek to overcome illusion with genuine faith, we pray together: "Let us pray for the courage to embrace the world in the name of Christ. Father in heaven, the love of your Son led him to accept the suffering of the cross that his brothers might glory in new life. Change our selfishness into self-giving. Help us to embrace the world you have given us, that we may transform the darkness of its pain into the life and joy of Easter. Grant this through Christ our Lord. Amen."
Jude Huntz is Director of the Human Rights Office and chancery chief of staff for the Diocese of Kansas City – St. Joseph.
Daily Scripture Readings
For complete daily Scripture texts, click here. http://www.usccb.org/
Solemnity of the Annunciation of the Lord
Monday, March 26
Isaiah 7:10-14; 8:10
Psalms 40:7-8a, 8b-9, 10, 11
Hebrews 10:4-10
Luke 1:26-38
Tuesday, March 27
Numbers 21:4-9
Psalms 102:2-3, 16-18, 19-21
John 8:21-30
Wednesday, March 28
Daniel 3:14-20, 91-92, 95
Daniel 3:52, 53, 55, 56
John 8:31-42
Thursday, March 29
Genesis 17:3-9
Psalms 105:4-5, 6-7, 8-9
John 8:51-59
Friday, March 30
Jeremiah 20:10-13
Psalms 18:2-3a, 3bc-4, 5-6, 7
John 10:31-42
Saturday, March 31
Ezekiel 37:21-28
Ps Jeremiah 31:10, 11-12abcd, 13
John 11:45-56
Palm Sunday, April 1
Mark 11:1-10 or
John 12:12-16
Isaiah 50:4-7
Psalms 22:8-9, 17-18, 19-20, 23-24
Philippians 2:6-11
Mark 14:1-15:47
The full text of the Scripture readings for this week and next week can be found here: http://www.usccb.org/
Click on the "Readings" tab at the top of the page.