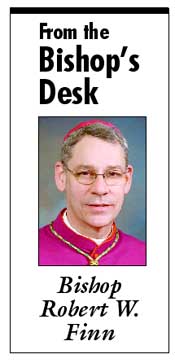 Following is Bishop Finn's homily given at a Catechetical Day Mass with teachers gathered at Archbishop O'Hara High School March 23:
Dear Administrators, teachers, and staff,
Friends in Christ all,
Lent is drawing closer to its culmination and the intensity of the readings we have just heard reminds us of Holy Week to come. The Paschal, or Easter mystery, is unfolding in the rejection of Jesus. The Old Testament first reading and the Psalm, manifest the prophecies to be fulfilled in the suffering and death of the "Just One" Jesus Christ.
St. John tells us that Jesus has been staying in Galilee in the North. He has not gone to Judea because of the threats against his life. But now He enters Jerusalem. He teaches in the Temple area unafraid. There is a mission to fulfill and Our Lord doesn't shrink from it.
This is a moment for us to reflect on our Lenten path. Are we fulfilling the good resolutions we made? Are we living our faith even when it means sacrifice or rejection? Are we growing closer to Jesus Christ? Do we persevere in our following of Christ with hope and trust in God? Today's opportunity for study and renewal with your colleagues is, I hope, an occasion also to know Christ better; to fall more deeply in love with Jesus, because His path is ours. Our path is always a matter of where He leads us.
Recently I returned from a trip to Rome with other bishops. We were there to give our periodic report to the Holy Father. As I made the long plane ride over I re-read a brief document which I had skimmed through some months ago: the Apostolic Letter of Pope Benedict XVI on the "Year of Faith" which will begin in the Fall of 2012. The Pope's instruction is entitled, "Porta Fidei," the Door of Faith. Pope Benedict tells us that the door of faith is always open to us. Faith is the entry, for us, into communion with God. Our Faith leads us not only into mysterious truths and a set of beliefs. Faith makes possible for us a true and meaningful friendship with Jesus. So many times this has been the message the Pope gives to young people: that we are invited to meet Our Lord, and to encounter Him as a living person, even as a friend. It is a message and an invitation for us too, of course.
When we were in Rome, each bishop met with Pope Benedict. We were each allowed to take one other person in with us to meet the Holy Father and have a photo. Like some other bishops, I have seminarians in Rome – four seminarians. So who do I take in with me? Some bishops had no priest or seminarians with them and so there was some trading going on. I was, in the end, able to take in two. I took the older two men. They were understandably excited to receive this invitation to meet Pope Benedict, shake his hand, exchange a few words, and have a photo.
You and I are invited, through faith, to meet God: Jesus Christ. We could say this is a step above meeting the Pope! So how strong is our faith? Do we see the extraordinary gift this is – to be in communion with our Lord? It may not be as concrete as meeting the Pope, but it is very real. Perhaps, dear friends, the Year of Faith is a good idea. It can be a time for us to grow in faith; to make the encounter with Jesus more real; to take the encounter with Christ to a new level.
The Year of Faith will begin October 11 of this year – a day which marks the 50th Anniversary of the beginning of the Second Vatican Council. The same day also marks the twentieth anniversary of the Catechism of the Catholic Church. The Pope has specifically chosen this time in order to highlight the work of the Council and the contribution of the Catechism. Both have made a monumental impact on the Church in our day. In his letter Pope Benedict writes, "This will be a good opportunity to usher the whole Church into a time of particular reflection and rediscovery of the faith."
Our Christian-Catholic faith is something that is very significant. It is a rich heritage that has been handed on to us. It is a 'way of seeing' everyday realities with a new dimension – spiritual and yet very real. Our Catholic faith is a "door" through which we enter into life with God. So powerful is this faith that many in the history of the Church have been willing to die for it; to die for Christ. Everyday our faith makes it possible to bear difficulties and make loving sacrifices – to share Jesus' Cross – and end up only stronger. Teachers, I thank you that you work each day, not only to teach truths about Jesus and His Church, but to bear witness to the Living Jesus Christ and the grace and life of His Church. This is such an essential part of the unique mission of Catholic education.
While the Year of Faith is still some six months or more away, we can grow deeper in faith now. This Lenten time is a time for us to walk more faithfully with Christ. This Catechetical Day will be worthwhile if it causes us to know and love our Faith more. Each day – we can be sure – that no one less than Jesus Christ stands before us with His invitation to enter into a new life in Him.
Finally – March is a month associated with St. Joseph; his Feast day we so recently observed. Let us ask St. Joseph to introduce us to Jesus, whom he knew and loved from His birth into His adulthood. Mary also, help us to see the real Jesus and to remain – full of faith – "faithful" – on a safe path to Him. Amen.