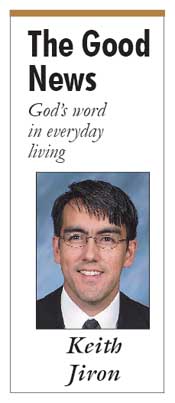 My oldest son who is in second grade will soon receive his First Holy Communion. In an effort to help him prepare for this special occasion, I recently took him on a short overnight retreat at the Franciscan Prayer Center in Independence. He is only eight years old and so, while we did pray and have some discussion about the Eucharist, the bulk of our time was spent just being together as father and son. As it turned out, we ended up fishing for most of the morning in a nearby pond.
Before we packed up our fishing gear and headed out, my son said that he wanted to show the Sisters the fish (and small frog) that he caught. I tried to convince him that this wasn't such a great idea. However, after several attempts to dissuade him, I was actually struck by his gentle persistence. He had his mind made up. Naturally, the Sisters were extremely gracious and delighted to share in his joy.
It is fascinating to watch my children develop their own little wills and personalities. Even at the age of eleven months, our youngest son will fix his sights on something and crawl toward it with fierce determination.
This Lent has been an opportunity for me to reflect on my own desires and strength of will. I have failed repeatedly at keeping my resolution. It has caused me to question the seriousness of my desire to advance in the spiritual life. In his "Dark Night of the Soul" St. John of the Cross states that "as a child grows bigger, the mother gradually ceases caressing it…sets down the child from her arms and makes it walk upon its feet, so that it may lose the habits of a child and betake itself to more important and substantial occupations." Am I such an infant in the spiritual life and have I become so attached to my worldly comforts that I cannot deny myself for a few weeks during Lent?
The will is meant to assist us in doing the good. St. Thomas Aquinas, when asked how one becomes a saint, responded, "Will it." How, then, are we to strengthen our will? It is said that the strongest motivator of the will is love. Prior to marrying my wife and while we were dating long distance for a time, we would each drive over four hours apiece to meet and spend a few hours together. Motivated by love, no distance is too far. St. Teresa of Avila, a bit dismayed at the progress being made by some of her religious sisters, once said that our love needs to be so ardent that it overwhelms our reason. She continued, "if only our love made us dissatisfied with serving God at a snail's pace."
"We love, because he first loved us." (1 Jn 4:19) The Palm Sunday scripture readings bear this out. The prophet Isaiah describes what Jesus, the suffering servant of God, is to undergo. "I gave my back to those who beat me…my face I did not shield from buffets and spitting…I have set my face like flint, knowing that I shall not be put to shame." The Hebrew expression "to set one's face" meant a resolute decision to carry out God's will even when it would mean persecution, suffering, and rejection. Knowing what was to happen, Jesus set "his face to go to Jerusalem" (Lk 9:51) where he was to be scoffed at, scourged, and crucified. He is "obedient to the point of death, even death on a cross."
Jesus says, "If anyone wishes to come after me, he must deny himself and take up his cross daily and follow me." (Lk 9:23) Taking up our cross can mean denying ourselves in small ways such as Lenten resolutions or more serious matters. Conforming our will to that of our heavenly Father requires both our effort and God's grace.
En route to his passion, Jesus establishes the new and everlasting covenant of the Eucharist in the context of The Passover Meal – The Last Supper. It is in the Eucharist that Jesus, who is love incarnate, seeks to enkindle the flame of love within us.
I am delighted to watch as my son prepares to receive the body and blood of Jesus for the first time in the Blessed Sacrament. I pray that his youthful persistence, along with the infusion of God's love, will direct his will as with each year he grows more and more toward adulthood.
 Keith Jiron is Coordinator of RCIA and Adult Education at St. Michael the Archangel Parish in Leawood.
Daily Scripture Readings
For complete daily Scripture texts, click here. http://www.usccb.org/
Monday, April 2
Isaiah 42:1-7
Psalms 27:1, 2, 3, 13-14
John 12:1-11
Tuesday, April 3
Isaiah 49:1-6
Psalms 71:1-2, 3-4a, 5ab-6ab, 15 and 17
John 13:21-33, 36-38
Wednesday, April 4
Isaiah 50:4-9a
Psalms 69:8-10, 21-22, 31 and 33-34
Matthew 26:14-25
Holy Thursday, April 5
Exodus 12:1-8, 11-14
Psalms 116:12-13, 15-16bc, 17-18
1 Corinthians 11:23-26
John 13:1-15
Good Friday, April 6
Isaiah 52:13-53:12
Psalms 31:2, 6, 12-13, 15-16, 17, 25
Hebrews 4:14-16; 5:7-9
John 18:1-19:42
Holy Saturday, April 7
Reading 1 Genesis 1:1 – 2:2
Reading 2 Genesis 22:1-18
Reading 3 Exodus 14:15-15:1
Reading 4 Isaiah 54:5-14
Reading 5 Isaiah 55:1-11
Reading 6 Baruch 3:9-15, 32-4:4
Reading 7 Ezekiel 36:16-17a, 18-28
Romans 6:3-11
Psalms 118:1-2, 16-17, 22-23
Mark 16:1-7
The Resurrection of the Lord
Easter Sunday, April 8
Acts 10:34a, 37-43
Psalms 118:1-2, 16-17, 22-23.
Colossians 3:1-4 or
1 Corinthians 5:6b-8
John 20:1-9
The full text of the Scripture readings for this week and next week can be found here: http://www.usccb.org/
Click on the "Readings" tab at the top of the page.