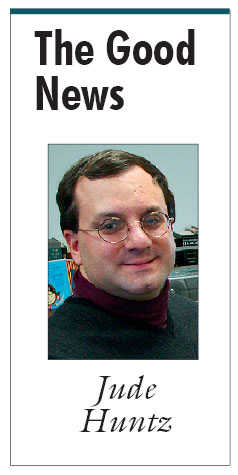 The Lord Jesus is risen! Lent is over. What, then should our response be to this shift from one liturgical season to another? We have fasted, increased our prayer, and performed works of charity and justice throughout Lent as a preparation for the celebration of Easter. Now that Easter is upon us, does this mean we cease these good practices of fasting, increased prayer, and acts of charity and justice? How should Christians celebrate and feast? The readings for today provide us with some food for thought in discerning how we should proceed in our lives.
In the second reading Paul describes the manner of celebrating the Paschal feast of Christ. In doing so, Paul refers back to the Jewish celebration of Passover and how the preparation for that feast involved removing all yeast and leaven from the household. In preparing for Easter we have removed the old yeast of our sinful ways. The practices of fasting, increased prayer, and works of charity and justice during Lent were designed to remove the old sinful ways in our lives so that we can be raised and renewed by entering into the suffering, death, and resurrection of Jesus. Now that the preparation is over and the feast is upon us, our celebrating is not hedonistic, i.e. the feast is not one of malice and wickedness in our former way of living. Instead, our celebrating is in a renewed Christian life marked by sincerity and truth.
This new way of living is still difficult for us to navigate, and the Gospel text today reflects that difficulty. The disciples are told by Mary Magdalene that the Lord's tomb is empty. Not content with her word, Peter and John rush to the tomb in order to inspect it. Finding the tomb just as Mary described it, the two leaders of the apostles were dumbfounded. How could this be? If Jesus' promise of resurrection has taken place, how are we to respond to this event? The first followers of Jesus struggled in their response. The Gospel text says they believed, but failed to understand. They needed Jesus to appear to them multiple times – and they needed the gift of the Holy Spirit – in order to fully appreciate what has taken place in the resurrection of Jesus.
The first reading finds the disciples completely transformed now that they have had the experiences of the risen Jesus and the coming of the Holy Spirit. The celebration of the feast of Jesus' rising from the dead finds expression in the lives they now live. Peter sets about preaching this good news of the words and deeds of Jesus, culminating in the great work of overcoming death through resurrection – the event that brings forgiveness of sins to those who believe in Jesus. We come to celebrate a feast of faith in the words we proclaim and the deeds we perform. In Lent we undertake fasting, prayer, and works of charity and justice through obligation of precept. Now in Easter we undertake the same disciplines through love alone.
Followers of Jesus in every age must discern their own response to the empty tomb. A famous hymn from the Renaissance captures well the various thoughts that run through our minds as we contemplate how to remember the resurrection of Jesus in our lives:
Lord Jesus, once you spoke to men
Upon the mountain, in the plain;
O help us listen now, as then,
And wonder at your word again.
We all have secret fears to face,
Our minds and motives to amend;
We seek your truth, we need your grace,
Our living Lord and present Friend.
The Gospel speaks, and we receive
Your light, your love, your own command.
O help us live what we believe
In daily work of heart and hand.
As we approach the empty tomb this Easter day, we reflect on what our response will be to the scene before us. Mary Magdalene sought the Lord and found him. She became the first evangelist to proclaim the risen Lord to world. We pray to be more like Mary in our lives: "Let us pray on this Easter morning for the life that never again shall see darkness. God our Father, creator of all, today is the day of Easter joy. This is the morning on which the Lord appeared to men who had begun to lose hope and opened their eyes to what the scriptures foretold: that first he must die, and then he would rise and ascend into his Father's glorious presence. May the risen Lord breathe on our minds and open our eyes that we may know him in the breaking of the bread, and follow him in his risen life. Grant this through Christ our Lord. Amen."
Jude Huntz is Director of the Human Rights Office and chancery chief of staff for the Diocese of Kansas City – St. Joseph.
Daily Scripture Readings
For complete daily Scripture texts, click here. http://www.usccb.org
Monday, April 9
Acts 2:14, 22-33
Psalms 16:1-2a and 5, 7-8, 9-10, 11
Matthew 28:8-15
Tuesday, April 10
Acts 2:36-41
Psalms 33:4-5, 18-19, 20 and 22
John 20:11-18
Wednesday, April 11
Acts 3:1-10
Psalms 105:1-2, 3-4, 6-7, 8-9
Luke 24:13-35
Thursday, April 12
Acts 3:11-26
Psalms 8:2ab and 5, 6-7, 8-9
Luke 24:35-48
Friday, April 13
Acts 4:1-12
Psalms 118:1-2 and 4, 22-24, 25-27a
John 21:1-14
Saturday, April 14
Acts 4:13-21
Psalms 118:1 and 14-15ab, 16-18, 19-21
Mark 16:9-15
Second Sunday of Easter
Sunday, April 15
Acts 4:32-35
Psalms 118:2-4, 13-15, 22-24
1 John 5:1-6
John 20:19-31
The full text of the Scripture readings for this week and next week can be found here: http://www.usccb.org/
Click on the "Readings" tab at the top of the page.