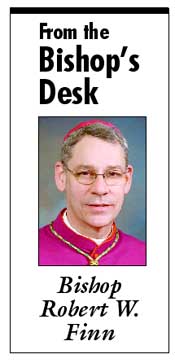 This is the "Great Week" of the Church's year. It celebrates the Paschal or Easter Mystery of Christ's dying and rising, and recalls the most profound realities by which we have redemption from our sins and the sure hope of resurrection.
Christ's resurrection is central to Christianity. St. Paul says that "If Christ was not raised, your faith is vain; you are still in your sins, and … we are the most pitiable of men." (I Cor 15: 17-19). The dynamic life of the early Church, which is recounted in the readings from the Acts of the Apostles, bears further witness that Christianity was indeed pulsing under the Holy Spirit and in the power of Christ's resurrection.
Despite the attacks of our culture and the human weakness and sinfulness of her members, the vitality of the Church today strengthens our conviction that Jesus Christ has redeemed us. We live in the hope and promise of new life.
These are the holy days of the Sacred Triduum: Holy Thursday, Good Friday, and Holy Saturday. On Holy Thursday we enter into the gift of Jesus in the Holy Eucharist and His command to humbly serve one another. Our Lord said over the simple elements of bread and wine, "This is my Body (and Blood) given for you." He gave us His Body and Blood as food and drink. On Good Friday He consummated this complete gift of Himself by dying on the Cross. Jesus freely gave His life for us to "buy us back," to redeem us from sin. He paid the full price for you and me; He took the suffering due us by reason of our sins, and endured this in our place. He even suffered the abandonment of many of his closest friends at His arrest, trial and crucifixion.
The few who remained, His mother Mary, St. John, St. Mary Magdalene, Joseph of Arimathea and Nicodemus, buried Him in sorrow. Early Sunday morning – the Third Day – He rose from the dead and appeared to Mary Magdalene, Peter and the Apostles. This is the core of our faith, which I as a successor to the Apostles, am privileged to pass on to you. Your living faith, hope and love have deepened my conviction of these undying and life-giving truths.
I wish to welcome in the name of us all, those who at the Easter Vigil, Holy Saturday Night, will be baptized, and others who will enter the full communion of the Catholic Church. We have been praying for them throughout this Lenten Season and now share their joy at having arrived "home." Easter Sunday, and for fifty days, we will celebrate with great conviction the victory of Christ.
As we take up these Easter days, be assured of my prayers for you all. Dear friends, Jesus Christ is truly risen from the dead! Alleluia!