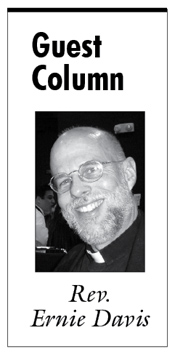 Most of us have probably heard that there is a conflict between the Catholic Church and new Health and Human Services (HHS) rules.  There is one aspect of that conflict that particularly troubles me as Pastoral Administrator of St. Therese Parish.  What troubles me is that government is proposing that there is a clear distinction between churches — which are exempt from the rules, and church social service organizations — which are not exempt.
I am troubled because this sounds like the argument that some people have long made against church involvement with justice issues.  When religious and priests stood with Martin Luther King for civil rights, some argued that the religious should go back to their convents and the priests should go back to their churches.  They argued that churches should be focused on spiritual things such as faith and worship.  They seemed to be saying that it is all right to believe in and pray for justice within the church walls, but working for justice in the world is at least optional if not highly irregular.
Catholic Christians believe that it is not possible to separate faith and works. The Catholic Church works for social justice because of our faith.  The Letter of James (2:14-17). in the New Testament says it very clearly:
"What good is it, my brothers and sisters, if you say you have faith but do not have works?  Can faith save you?  If a brother or a sister is naked and lacks daily food, and one of you says to them, 'Go in peace; keep warm and eat your fill,' and yet does not supply their bodily needs, what is the good of that?  So faith, by itself, if it has no works, is dead."
The problem with the HHS rules is that they are based on the fallacy that the "Church" can be divided into one part (Faith) which is exempt from the HHS rules, and another part, (Works), which is not exempt.  When the federal government makes a ruling of that sort, the government begins to establish religion by making a determination that freedom of religion means that faith is separate from action and that freedom of religion is about internal beliefs and does not include the freedom to put faith into action.
If these rules stand, would the government classify St. Therese as a church or a social service organization? On what basis would they make that judgment?  Some propose that the distinction is easy – that a church exists to serve its members, and a social service organization exists to serve others. If that standard is used, would the government make a rule that would require that we use only a certain portion of our budget for social services or we would lose our exemption and be unable to practice the Catholic faith?  Would the standard require that we could only assist a certain number of people who are not church members or be in danger of losing our religious freedom?
Truthfully, I don't know whether the government would classify St. Therese as a church or a social service.  It is a meaningless distinction.  And for a lot of us, including myself, we are here because we believe faith and action are one.  The Catholic faith is that we serve our neighbors because we are Catholics, not because our neighbors are Catholics.  When the government begins to try to change our faith, it is violating our most fundamental rights.  The government can find other less intrusive ways in order to achieve its social policies.
Rev. Ernie Davis is Pastoral Administrator of St. Therese Little Flower Parish in Kansas City.