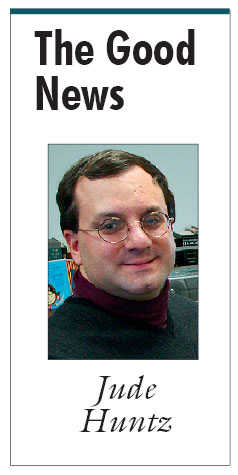 The ancient Greek philosopher Socrates believed that if a person knows the good that he or she would necessarily do the good. Unwittingly many parents and teachers fall into the same mistake in raising children and teaching students. We teach our children what is good, true, and beautiful – and yet we all still commit sin and need God's forgiveness. This common human experience is the empirical proof for original sin and our fallen human nature, but this experience also demonstrates the inadequacy of merely providing an intellectual formation for the human person. The readings for today highlight a more holistic development of Christian discipleship.
In the first reading from the Acts of the Apostles we find Peter rebuking the Jewish authorities who put Jesus to death. He makes the concession that they acted out of ignorance in putting the Messiah to death. Peter believed that had they known who Jesus really was they would not have possibly executed the Lord Jesus. In a certain sense, Peter is correct. The false understandings of the Messiah led many to look for a political leader, not a spiritual teacher. No pious Jew would have ever knowingly put the Messiah to death if they were truly seeking him with a sincere heart. Nevertheless, there are those who act out of malice in spite of knowing the full truth, for knowledge, though necessary, of itself does not lead to virtue. More is needed.
The second reading from the first letter of John highlights the fundamental issue of those who know the commandments, claim to keep them, and yet hate their neighbor. The letter writer reminds his community of the commandments of God – commandments everyone knows full well – and yet he wants to make a point about the phrase "keeping the commandments." Many will say they keep the commandments in the sense of knowing them in their mind. Others will say they have kept the commandments of Mt. Sinai, most of which are negative precepts in avoiding negative behaviors. John's point is that the commandments are in reality a call to do and be in a certain relationship to God. By imitating the example of Jesus we come closer to developing authentic Christian discipleship, for Jesus taught the commands of God and lived them perfectly in the law of love. By imitating the Lord Jesus in our living we take the next step from the initial stage of knowledge.
However, it is only in having a personal encounter with the risen Lord Jesus ourselves that we can truly arrive at complete discipleship. The Gospel text recounts Jesus' appearance to the twelve after they heard about the two disciples' encountering Jesus on the road to Emmaus and after they heard Mary Magdalene tell her story of encountering Jesus. The twelve persisted in doubt even after hearing these accounts. These men had heard the teachings of Jesus, i.e. they knew what they must do. They also saw the example of Jesus in living perfectly the law of love. Yet, they were still locked in fear, unable to be full disciples of Jesus. In this encounter they receive the peace of Jesus' presence and words. Their knowledge and experience are now fully complete by knowing the risen Jesus in this encounter.
Each one of us must pass through these various stages of development in order to be a disciple of Jesus. We cannot rely on intellectual formation alone. Stale apologetic will not convince others to be followers of Jesus. By imitating the example of Jesus we move more closely to the authentic witness of Christian living. We have all had an experience of the risen Jesus in our lives or else we would not have persevered in our faith through the many trials of belonging to an imperfect community. Like the two disciples we have encountered the risen Jesus along the way and in the breaking of bread. We may have even had to have the risen Jesus break through our locked door in our upper room to bring us his peace. It is our story of encountering Jesus that people want to hear – our unique, individual story of why it is we follow the Lord Jesus to Calvary and beyond – that will inspire others to do the same.
As we strive to become more authentic followers of Jesus, we encourage one another with our own experiences and seek nourishment at the table of the Lord. We pray together: "Let us pray in confident peace and Easter hope. Father in heaven, author of all truth, a people once in darkness has listened to your Word and followed your Son as he rose from the dead. Hear the prayer of this newborn people and strengthen your Church to answer your call. May we rise and come forth into the light of day to stand in your presence until eternity dawns. We ask this through Christ our Lord. Amen."
Jude Huntz is Director of the Human Rights Office and chancery chief of staff for the Diocese of Kansas City – St. Joseph.
Daily Scripture Readings
For complete daily Scripture texts, click here.
http://www.usccb.org
Monday, April 23
Acts 6:8-15
Psalms 119:23-24, 26-27, 29-30
John 6:22-29
Tuesday, April 24
Acts 7:51-8:1a
Psalms 31:3cd-4, 6 and 7b and 8a, 17 and 21ab
John 6:30-35
Wednesday, April 25
1 Peter 5:5b-14
Psalms 89:2-3, 6-7, 16-17
Mark 16:15-20
Thursday, April 26
Acts 8:26-40
Psalms 66:8-9, 16-17, 20
John 6:44-51
Friday, April 27
Acts 9:1-20
Psalms 117:1bc, 2
John 6:52-59
Saturday, April 28
Acts 9:31-42
Psalms 116:12-13, 14-15, 16-17
John 6:60-69
Fourth Sunday of Easter
Sunday, April 29
Acts 4:8-12
Psalms 118:1, 8-9, 21-23, 26, 28, 29
1 John 3:1-2
John 10:11-18
The full text of the Scripture readings for this week and next week can be found here: http://www.usccb.org/
Click on the "Readings" tab at the top of the page.