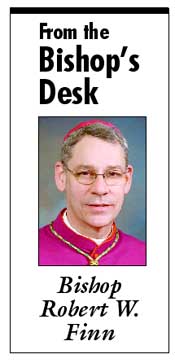 Following is Bishop Robert W. Finn's homily for the Feast of Divine Mercy given April 15 at Our Lady of Good Counsel Parish:
Dear Monsignor Blacet, my brother priests and deacons,
Dear friends in Christ all,
"Jesus I trust in You. Have mercy on us and on the whole world. Amen." These are the concluding words of Blessed Pope John Paul II's final message for Divine Mercy Sunday, April 3, 2005, written earlier and delivered the day after his death, seven years ago this month.
The gift of Divine Mercy, the undeserved forgiving and compassionate love of God for you and me – evokes within us a response of faith. It is a response revealed to Sister Faustina Kowalska: the response – Jesus I trust in You. His great mercy without end makes possible our response in faith. Jesus I trust in You.
This trust is a profession of faith like that of St. Thomas the Apostle when he finally saw the Risen Jesus with his own eyes. St. Thomas' proclaimed in faith, "My Lord and my God." As we trust in Jesus, we also call Him Lord and God. But while we acknowledge Him as Lord, God Himself, it is because of the Mercy He has revealed that we dare to approach Him. Sometimes we come to Him, like Thomas, to touch and see if He is real. As His mercy has a transforming effect on our heart, we come to entrust ourselves to Him. We bury ourselves in Him: in His heart, in the wounds, into His arms. Jesus I trust in You.
The image of Divine Mercy shows us the completeness of Jesus' saving love. From Him flows the Water and the Blood: water of life from God the source of life; water that sustains us; that cleanses us; Water of the Holy Spirit. It is this water of Baptism and the Water of the Holy Spirit in Confirmation which incorporates us into the Body of Christ. Here at the same time is the Blood of Jesus: sign and pledge of His complete giving, unto death. This is the Blood of the Eucharist which completes and seals our initiation into the Church. Jesus' blood flows out for us. The rays of Red and White, of Blood and Water, transform us. The merciful love of Jesus saves us.
Today's readings call us to faith. In the Acts of the Apostles we hear how, "With great power the Apostles bore witness to the resurrection of the Lord Jesus." The psalmist knows the source of mercy without end. "I was hard pressed and was falling, but the Lord helped me. My strength and my courage is the Lord. He has been my Savior."
St. John's epistle teaches, "The victory which conquers the world is our faith. Who indeed is the Victor over the world, but the one who believes that Jesus is the Son of God – [He is] the One who came through water and blood, … Jesus Christ."
And then we look to Thomas in the Gospel. Let's not think of him as "doubting Thomas." Remember how he went on to martyrdom. He became the great Apostle to India. Lord, you know we have had doubts. Don't remember my weakness and doubts. Remember our faith. Jesus I trust in You.
Lord, we want to live by faith; by the Mystery of Faith. Sometimes we cannot see the end of the path and our hope begins to weaken and our faith falters. We want to be strong. We are ready to remain on the "trust walk" with You, wherever it may take us. We can walk the path You set for us because You are Mercy. You are the Way. You are the Love that saves. There is no other Name. There is no other Way. Jesus I trust in You.
Jesus' heart is open to us, dear friends. Rays of love guide us to this Lord who invites us to take refuge in Him. He floods us with His life, but He asks our faith. We need not worry. Even this faith is a gift that He is ready to give us. Don't forget to ask for faith. Like the apostles we must ask Him often, "Lord increase our faith." By this faith we become participants in the victory by which Jesus conquers the world. Does it seem that the world is a challenge to us? "Who is the victor over the world?" St John asks, "The one who believes that Jesus is the Son of God," He who came through water and blood.
When we face the greatest challenges: Jesus I trust in You. When we need forgiveness: Jesus I trust in You. If ever all seems lost: Jesus I trust in You. If God asks us to share His Cross; and don't forget that He promised that any who would follow Him must take up the Cross. Jesus I trust in You. And when we have found consolation in His merciful heart we must, in turn, be apostles of mercy and forgiveness. We must teach mercy and be images of Jesus' mercy for others. Then God can use us to conquer the world.
As always God provides for us in a way beyond our imagining. He gives us also the Mother of Mercy. She is who, in the mystery of the Incarnation, gave Jesus His human flesh and blood. Mother of Mercy teach us to have faith. Teach us what it means to trust. Intercede for us with your Son. Beg Him to deliver us in all our difficulties. Join us now and always as we lift our voice in prayer, "Jesus I trust in You. Have mercy on us and on the whole world. Amen."