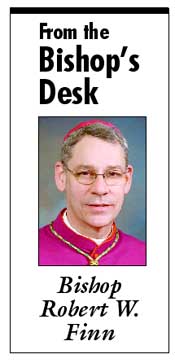 In today's edition of The Catholic Key, you will see a number of new assignments for priests serving in our Diocese. In determining these changes and making these appointments, I have the benefit of consultation with the Priests Personnel Board, chaired by Father Don Farnan, Pastor of St. Thomas More Parish. Together the Board and I discuss the needs of the diocese and the particular parishes. We consider the availability of the priests and in some cases particular requests, for example, when a priest may wish to retire from a formal assignment. We also pray and ask the Holy Spirit to guide our efforts.
This year we also had a new challenge to deal with: the ordination and placement of six new priests after the upcoming May 19 ordination. Please God, on that day Deacons Kevin Drew, Adam Haake, Adam Johnson, Ben Kneib, Ian Murphy, and Darvin Salazar will present themselves at the Cathedral and I will have the privilege of bestowing on them the Sacrament of Holy Orders as priests. I am thankful to all who have supported these men: their parents and families, pastors, and teachers, and many friends, as well as the entire Catholic community who have been praying for them. The Vocation office continues to do a wonderful job in directing our candidates through seminary and various experiences and assignments to this special moment of fulfillment in their lives. Various groups have also supported our seminarians: the Serra Club, the Knights of Columbus, Mission Possible, World Apostolate of Fatima, and more. In their assignments the newly ordained will begin their priestly ministry. In a matter of a few years, it seems, they must be ready to serve as pastors of parishes.
The Precious Blood Fathers will also have a newly ordained priest, Father Mark Yates, whose assignment will soon be published. A monk of Conception Abbey, Father Guerric Letter, will be ordained the same week as our six diocesan priests.
We are thankful not only for our newest priests, but for all our priests. I know from my own personal experience and from my experiences as bishop that changes in assignments bring sadness when a priest who has given himself completely for a number of years is now moving to a new home. It is challenging for the priest, and for the parishioners who have come to know him and have been assisted in their faith by his pastoral care. It is always my hope and prayer that parishes — while they experience the loss of a beloved priest — will always do their best to welcome their new pastor.
The transfer of Religious Order priests often comes about at the direction of the local superior. In addition to the assignments listed here, I also wish to acknowledge the retirement of Scalabrini Father Joseph Vicentini, who has served as pastor of Holy Rosary Parish in Kansas City. Father Francisco Guianan and Father Lauro Bejo are members of the Society of Our Lady of the Blessed Trinity (S.O.L.T.) and have been leading Our Lady of Peace Parish for the last couple of years. They are being transferred to new assignments out of the Diocese by the Society. Father Glenn Mueller, S.J. will be leaving service at Guardian Angels Parish in Kansas City, and we will soon be able to announce his successor in service there. To all of these priests we express our gratitude and promise of prayers.
The work of the Bishop is fulfilled through the ministry of the priests and deacons who care daily for the pastoral needs of God's people. In these weeks when the assignments are announced and the transitions get underway, I know you will support our priests as God calls them to new experiences in priestly ministry. Be assured also of our prayers for you, the faithful of the Diocese, whose constant service to and support of the Church is vital to the flourishing of the work of evangelization and the life of faith in this local Church.