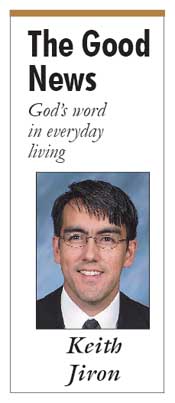 My third son many times ends up suffering from the so-called "middle child" syndrome. Last summer when I took my two older boys camping, although he thought he would be going with us, he was disappointed to find out that he wasn't old enough. Since he is several years younger than his older brothers, it turns out that he misses out on a lot of their adventures.
To make matters worse, after the arrival of our fourth son, he quickly lost his solitary claim to the stroller or to mommy's arms on trips to the park or at Church. So he often feels left out and, as you might expect, considers it a big deal when he gets to do something that he thinks is reserved for the big boys. Trying to imitate them, he used to place himself in "time out" even when he wasn't being punished for anything, thinking this somehow made him bigger. The other day, when asked what he wants to be when he grows up, he said, "Andrew" (the name of our oldest son). I was a bit disheartened at his response because, from my perspective, he is a unique and irreplaceable son, whom I love to the depths of my being. However, from his perspective, he doesn't quite measure up, so much so that he thinks he wants to be someone else.
Sometimes as adults we acquire a similar mindset. We tend to compare ourselves with others and can end up disappointed. Perhaps we fall into the trap of comparing ourselves to airbrushed movie stars in fashion magazines. Or, maybe we continually think that once we land a more prestigious job we will have arrived in our career and finally be at peace.
The fact is that unless we find peace within, no amount of searching outside of ourselves will suffice. Prior to his conversion, St. Augustine did not recognize the futility in seeking after worldly things to satiate a deeper longing for God. In his famous "Confessions" he addresses God in words that echo our own experience. "For see, you were within and I was without, and I sought you out there. Unlovely, I rushed heedlessly among the lovely things you have made. You were with me, but I was not with you. These things kept me far from you…" The things of this world, beautiful as they may be, if sought for their own sake apart from God can nonetheless keep us from Him. Father Thomas Dubay explains this phenomenon further in his book "Seeking Spiritual Direction." He states: "Everyone has a god, if not the real God. Created as we are for unending truth, beauty, delight, and love, if we reject the genuine source, we ache inside. Pursuing things as little gods, one finds that they serve as narcotics that partially and momentarily deaden the inner aching."
In this Sunday's gospel Jesus says, "Just as a branch cannot bear fruit on its own unless it remains on the vine, so neither can you unless you remain in me. I am the vine, you are the branches…Anyone who does not remain in me will be thrown out like a branch and wither." If we remove ourselves from our true source we die spiritually.
Remaining in Jesus means staying connected to the Church he founded. We see this truth revealed in the Acts of the Apostles when, en route to Damascus, Saul "fell to the ground and heard a voice saying, 'Saul, Saul, why are you persecuting me?' He said, 'Who are you, sir?' The reply came, 'I am Jesus, whom you are persecuting.'" (Acts 8:3-5)
Saul was one of the fiercest persecutors of the early Christians. The risen Jesus, having already ascended into heaven, appears to Saul and tells him that by persecuting the early Christians, that is, the early Church, he is persecuting Jesus himself. Saul, whose name is changed to Paul, attests to this fact numerous times in his own writings. In his letter to the Colossians he writes: "[Christ] is the head of the body, the Church." (Col 1:18) To the Romans he writes: "[W]e, though many, are one body in Christ and individually members of one another." (Rom 12:5)
As members of the Church, we are connected to Christ as members of his body. Let us not, therefore, forget who we are. Rather than seeking our identity from those around us or through worldly pursuits, may we constantly be reminded that we are unique and irreplaceable children of our heavenly Father, whose love for us is without measure.
Keith Jiron is Coordinator of RCIA and Adult Education at St. Michael the Archangel Parish in Leawood.
Daily Scripture Readings
For complete daily Scripture texts, click here. http://www.usccb.org/
Monday, May 7
Acts 14:5-18
Psalms 115:1-2, 3-4, 15-16
John 14:21-26
Tuesday, May 8
Acts 14:19-28
Psalms 145:10-11, 12-13ab, 21
John 14:27-31a
Wednesday, May 9
Acts 15:1-6
Psalms 122:1-2, 3-4ab, 4cd-5
John 15:1-8
Thursday, May 10
Acts 15:7-21
Psalms 96:1-2a, 2b-3, 10
John 15:9-11
Friday, May 11
Acts 15:22-31
Psalms 57:8-9, 10 and 12
John 15:12-17
Saturday, May 12
Acts 16:1-10
Psalms 100:1b-2, 3, 5
John 15:18-21
Sixth Sunday of Easter
Sunday, May 13
Acts 10:25-26, 34-35, 44-48
Psalms 98:1, 2-3, 3-4
1 John 4:7-10
John 15:9-17
The full text of the Scripture readings for this week and next week can be found here: http://www.usccb.org/
Click on the "Readings" tab at the top of the page.