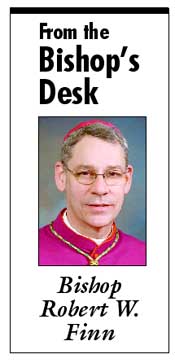 The month of May begins with one of St. Joseph's feast days: May 1, Feast of St. Joseph the Worker. While we correctly regard May as Mary's month, I believe she is pleased that it begins with a day of prayer of intercession to her beloved earthly spouse, St. Joseph. Mary and Joseph are the two principal patrons of the Diocese of Kansas City-St. Joseph, and so May seems a very special month for our Diocese. For me personally, May 3 is a memorable day. This year it marks the 8th anniversary of my consecration as a bishop. On May 3, 2004, I was ordained as Coadjutor Bishop of Kansas City-St. Joseph. On May 24, 2005, seven years ago this month, I became the 6th Bishop of the diocese, upon the retirement of Bishop Raymond Boland. I have often mentioned in my messages and homilies how I depend on Our Blessed Mother and St. Joseph as powerful intercessors and extraordinary heavenly friends.
In these weeks after Easter the life of the Church is alive and active, like the beautiful Springtime around us. We experience the grace of new members of the Church, baptized and received at Easter Vigil. It is a time for First Communions and many Confirmations. This month will bring, on May 19, the ordination of six new priests for our diocese, and two others for Religious Orders. On May 20, I will celebrate Mass at the cathedral with hundreds of our married couples who are marking anniversaries of 50 or more years of marriage. In all these occasions we are right to ask a special intercessory love and protection from our Blessed Mother. She is "Mother of the Church, Mother of all the faithful, and Mother of Priests." From Mary, Jesus Christ the Son of God took his human flesh in the Incarnation. In this way Mary is Mother of the Holy Eucharist. Mary, Spouse of the Holy Spirit, is a strong 'prayer partner' with our young people approaching Confirmation. Jesus' first miracle, at Cana, was in response to the specific request of Mary, His mother, for a newly married couple. She is truly by our side in everything we do to follow her Son, Jesus. Her role is always to help us faithfully seek and find Jesus Christ. St. Louis de Montfort begins his book on True Devotion to Mary, saying, "It was through the blessed Virgin Mary that Jesus Christ came into the world, and it is also through her that He must reign in the world." (True Devotion, no 1) As Mary brought Jesus to the world, so also Mary will be God's instrument for bringing the world to Jesus Christ.
100,000 Memorares
On our diocesan website I have posted a special request for prayers, especially during May, for me as bishop and for our Diocese of Kansas City-St. Joseph. I am requesting that together we offer many prayers through Mary to our Lord. Specifically I am asking that a prayer attributed to St. Bernard of Clairvaux, the Memorare, be offered as a spiritual bouquet, and as a plea from us, her children, to assist us: assist me as bishop and our Diocese.
I recall a conversation I had a year or two ago with Dr. Steven Minnis, President of Benedictine University in Atchison. He told me about Blessed Teresa – Mother Teresa of Calcutta. The story is told that Mother Teresa needed $85,000 to finish building an orphanage at one of her missions.  She pledged that her Sisters would say 85,000 Memorare prayers asking for the Virgin Mary's intercession.  Upon completion of the prayers, a stranger walked in and presented them with a check for $85,000. Dr. Minnis was asking the prayers of the community – not so much to reach a money goal – but to help the University fulfill its Catholic mission. Currently, if you go to Benedictine's website you will see their request for Memorare prayers for the intention of our Country and Religious Freedom.
Similarly I am humbly requesting your prayerful assistance. We want to reach 100,000 Memorares during May. If you go to the Diocesan website — www.diocese-kcsj.org — you will see in the upper left hand area, an explanation, a copy of the Memorare prayer, and a place where you can 'click,' and then 'log in' the prayers you have offered for these intentions. I ask everyone to make this prayer request with me during May (and beyond). What will Mary do? I am convinced with all my heart that she will help us travel a faithful path to her Son, Jesus Christ. If you cannot get to the website, send a brief note to the Bishops Office at the Chancery. Indicate how many Memorares you have offered. We will then log them in to the tally toward 100,000.
On December 8, 2006, the Feast of the Immaculate Conception on the occasion of the 50th Anniversary of the establishment of the Diocese of Kansas City-St. Joseph, I publicly consecrated our Diocese to the Immaculate Heart of Mary, asking her intercession and protection. May our offering of 100,000 Memorares be a moment for us to renew our filial trust in her care. Mary and St. Joseph, guide, protect, and deliver our Bishop and our Diocese from all dangers.
The Memorare
Remember, O most gracious Virgin Mary, that never was it known that anyone who fled to thy protection, implored thy help, or sought thine intercession was left unaided. Inspired by this confidence, I fly unto thee, O Virgin of virgins, my mother; to thee do I come, before thee I stand, sinful and sorrowful. O Mother of the Word Incarnate, despise not my petitions, but in thy mercy hear and answer me.
Amen.
CORPUS CHRISTI – Sunday, June 10, 2012
Let me also take this opportunity to remind you and invite you to participate in our upcoming celebration of the Feast of the Body and Blood of the Lord, Corpus Christi. Again we will celebrate with the Archdiocese of Kansas City, Kansas; this year on the Missouri side. Our Diocesan observance begins with Holy Mass at the Cathedral of the Immaculate Conception at 11:00 a.m. I will celebrate that Mass in thanksgiving for Mary's intercession in May. After Mass there will be an hour of Eucharistic adoration: Noon until 1:00 p.m. Around 1:00 p.m. we will begin the procession through Kansas City to the Catholic Center at 20 West 9th Street. There we will have a Benediction with the Blessed Sacrament followed by an informal reception. All are invited to any part of the Corpus Christi celebration.