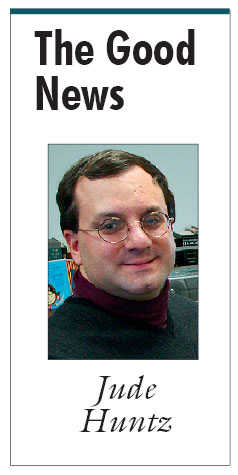 A friend recently posted this item to Facebook: "Romeo and Juliet is not a love story. It's a three day relationship between a thirteen year old and a seventeen year old that caused six deaths. Sincerely, everyone who actually read it." The humor in the post reflects a deeper truth behind it: instinctively we know that love is not a passing emotion. Love is something of lasting and permanent value that withstands all obstacles and opposition. While love often does lead the lover to give their life for the sake of the beloved, it does not provoke suicide and vengeance. The readings for today provide us the opportunity to reflect on the teaching of Jesus on love.
The basic commandment of the Old Law is the first teaching of Jesus on love: love the Lord God with all your heart, with all your strength, and with all your mind; and your neighbor as yourself. Loving our neighbor is the fundamental challenge of our faith. However, the first reading points out the added challenge of Jesus' teaching: we must also love our enemies, or rather we should regard everyone as our neighbor, not just those of our fellow race or religion. Peter challenges the early Church to accept the stranger into the communion of Jesus. Gentiles too are called by God to have a relationship with him. The reading points out that the Gentiles received the Holy Spirit before they were baptized. Peter baptizes them as an external sign of the internal reality already present in the hearts of the believing Gentiles.
However, the teaching of Jesus on love does not end there. The second reading reminds us to remember that Jesus is present in the hearts of all people, and we must see Christ present in the other so that our love is even more committed to the care of others. In the command of the Old Law, we were instructed to see ourselves in our neighbor and in this way we would show love for them as we would not do anything harmful to ourselves. The new command of Jesus reminds us that Christ himself is present in the other, and in seeing Christ in the other instead of ourselves we purify our love to a greater degree as we forget our own concerns. In the teaching on the final judgment in Matthew 25 the sheep are praised for their love, and God says to them, "For as often as you did it to one of these least ones, you did it to me." To see not ourselves but Christ in the other is to advance to a greater degree of love than found in the Old Law.
The final step in the perfection of love is found in the Gospel text for today: love one another as I have loved you. In this new command of Jesus we have two elements of fundamental importance. First, we must imitate the love of Jesus in being completely willing to lay down our lives for others. This command means that we should have a complete disregard for our own interests. Even if we are falsely accused or face an injustice, we must embrace it for love of others as Jesus the Lord had done. The second element is that now we no longer see ourselves as ourselves in the act of loving our neighbor. We are to put on the Lord Jesus – to see ourselves as another Christ – and to forget our own identity completely. Hence, it is Jesus living in me and working through me that reaches out in love to Jesus present in the other person to love that person as another Christ.
The first followers of Jesus knew the command of the Old Law. They also heard the challenge of Jesus to love our enemies and to see Christ in others, and they even heard the command of Jesus to love one another as he loved us. Yet, they could not have this perfect love until they saw it lived out in the sacrificial death of Jesus on the Cross. This love of Jesus is rewarded in the resurrection, the promised inheritance for those who love as Jesus loved. Our mission as disciples is to live in our own lives the ministry of Jesus: to love others perfectly. Just as the first disciples did not turn away those who were perceived as enemies or unclean, so we must embrace all in our ministry. And just as Jesus forgot his own self, accepting the injustice of false accusation in order to save us, so we must forget ourselves and accept the injustices of the world as we serve others.
As we seek to love more perfectly in our work as disciples of the Lord, we pray together a famous prayer of St. Ignatius of Loyola, who gave up a life of wealth and worldly fame to follow Jesus more perfectly: "Lord, teach me to be generous. Teach me to serve as you deserve; to give and not to count the cost; to fight and not to heed the wounds; to toil and not to seek for rest; to labor and not to ask for reward; save that of knowing I am doing your will. Amen."
Jude Huntz is Director of the Human Rights Office and chancery chief of staff for the Diocese of Kansas City – St. Joseph.
Daily Scripture Readings
For complete daily Scripture texts, click here.
http://www.usccb.org
Monday, May 14
Acts 1:15-17, 20-26
Psalms 113:1-2, 3-4, 5-6, 7-8
John 15:9-17
Tuesday, May 15
Acts 16:22-34
Psalms 138:1-2ab, 2cde-3, 7c-8
John 16:5-11
Wednesday, May 16
Acts 17:15, 22-18:1
Psalms 148:1-2, 11-12, 13, 14
John 16:12-15
Thursday, May 17
Acts 18:1-8
Psalms 98:1, 2-3ab, 3cd-4
John 16:16-20
Friday, May 18
Acts 18:9-18
Psalms 47:2-3, 4-5, 6-7
John 16:20-23
Saturday, May 19
Acts 18:23-28
Psalms 47:2-3, 8-9, 10
John 16:23b-28
Solemnity of the Ascension of the Lord,
Sunday, May 20
Acts 1:1-11
Psalms 47:2-3, 6-7, 8-9
Ephesians 1:17-23
Mark 16:15-20
The full text of the Scripture readings for this week and next week can be found here: http://www.usccb.org/