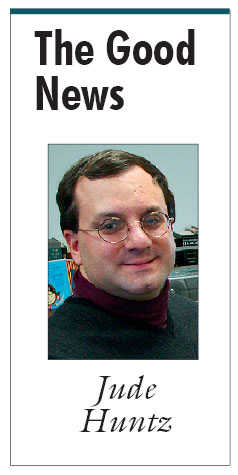 The vast majority of sports fans begin a season with great expectation and hope: "this is the year our team wins it all. Now is our time." Despite the fact that my sports teams from Buffalo have never given me a reason for such hope, I still fall into this mania each football and hockey season. Sure, my teams have made it to the championships in their respective arenas of play, but each time brings a heartache more painful than the last one. We expect our athletes to live up to our expectations and calling; they are professionals, after all. Perhaps we expect too much, or we place too great an importance on that which is transitory. The feast of the Ascension reminds us of where our true hopes and fulfillments lie.
In the first reading we have the event of the Ascension itself, as told by Luke in the Acts of the Apostles. This account has strong parallels to the resurrection scene in Luke's Gospel text. In the resurrection account the women meet two men dressed in dazzling white, who tell them that Jesus has been raised. They order the women to report this to the disciples, and they do so with great joy (cf. Luke 24: 4-9). However, they encounter disbelief and mocking from the men in the upper room, a scene that will play itself out in the remainder of Luke's Gospel. In the ascension scene in Acts, the disciples still do not understand the ministry of Jesus, as they ask him about the restoration of Israel. They still think Jesus is a political Messiah. Despite this fault, Jesus promises them the Holy Spirit, who will give them power and understanding. The scene ends with the two men dressed in dazzling white telling the men of Galilee that Jesus will return as he left this earth.
Paul seeks to correct the continued misunderstanding of the early Christians in their understanding of Jesus. The hope that is ours is not found in this world, either in political leaders or in the riches of this world. Instead, our hope lies in the fact that Jesus died, was raised to life again by God, and now sits at God's right hand. Jesus is far above every political leader, empire, realm, or corporation. The society to which the followers of Jesus belong is a separate one, in a sense, from those of the world. The community of the Church exists to live faithfully the values of the kingdom of God. God has given Jesus to the Church, not to these other entities, and it is our call to live as Christ lived.
The Gospel text from Mark has the final address of Jesus to his disciples before ascending into heaven in that account. The powers Jesus confers to these men should be taken in the same sense as the powers given to Moses and Elijah. Just as Joshua received a double portion of God's spirit through Moses (cf. Deut. 34: 9) and Elisha receives a double portion of Elijah's power (cf. 2 Kings 2: 9), so too do the followers of Jesus receive power in the Holy Spirit to carry on the work of Jesus in a world that will be hostile to the Gospel message. Joshua led the Israelites into a hostile land; Elisha carried on the prophetic ministry in a time when Israel did not want to hear the message of God. In the same way we Christians are called to carry the Gospel message to all the earth to an audience that will be hostile and unreceptive.
This year marks yet another presidential election year in which we will be told by various Christian groups for whom we should make our choice. They have determined which candidate, in their categories, best exemplifies the values of Jesus, and thus we should vote for that candidate they have anointed. For the Christian left, it will be the common good as the criteria for anointing their candidate as the authentic Christian candidate, while the Christian right will use the criteria of the Gospel of life to determine that their candidate is the only acceptable choice. As the readings today suggest, Jesus the Lord is not to be hijacked by political categories. The mission of the Church is greater than any political aim or platform, as it is the mission of Jesus. Our citizenship is in heaven, and it is from there that we await our savior, Jesus the Lord. Our time on earth is a pilgrimage to the heavenly Jerusalem, and so our hope is there, not in political leaders or self-appointed Christian political groups.
As we continue on our pilgrimage together, we pray for the wisdom to pass through this world with our wedding garment of baptism still white, as we seek to love all as Jesus loved us. "Let us pray on this day of Ascension as we watch and wait for Jesus' return. Father in heaven, our minds were prepared for the coming of your kingdom when you took Christ beyond our sight so that we might seek him in his glory. May we follow where he has led and find our hope in his glory, for he is Lord forever and ever. Amen."
Jude Huntz is Director of the Human Rights Office and chancery chief of staff for the Diocese of Kansas City – St. Joseph.
Daily Scripture Readings
For complete daily Scripture texts, click here.
http://www.usccb.org
Monday, May 21
Acts 19:1-8
Psalms 68:2-3ab, 4-5acd, 6-7ab
John 16:29-33
Tuesday, May 22
Acts 20:17-27
Psalms 68:10-11, 20-21
John 17:1-11a
Wednesday, May 23
Acts 20:28-38
Psalms 68:29-30, 33-35a, 35bc-36ab
John 17:11b-19
Thursday, May 24
Acts 22:30; 23:6-11
Psalms 16:1-2a and 5, 7-8, 9-10, 11
John 17:20-26
Friday, May 25
Acts 25:13b-21
Psalms 103:1-2, 11-12, 19-20ab
John 21:15-19
Saturday, May 26
Acts 28:16-20, 30-31
Psalms 11:4, 5 and 7
John 21:20-25
Pentecost Sunday, May 27
Acts 2:1-11
Psalms 104:1, 24, 29-30, 31, 34
1 Corinthians 12:3b-7, 12-13
John 20:19-23
The full text of the Scripture readings for this week and next week can be found here: http://www.usccb.org/
Click on the "Readings" tab at the top of the page.