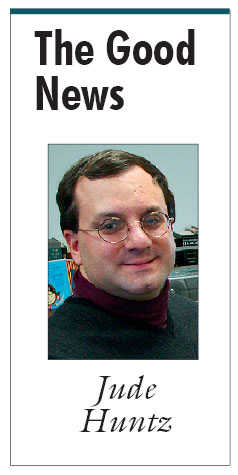 Revenge is the most common human emotion that arises when we experience injustice. The ancient world is filled with stories of vengeance, and no doubt the lands where these stories originate continue to struggle with the emotions surrounding revenge, making peace an ever elusive goal. The Oresteia trilogy of Aeschylus recounts the constant cycle of vengeance between two families that spans generations. The only remedy for such vengeance in this Greek tale is the goddess Athena imposing her rule upon the people. Today's feast of Pentecost, however, provides a very different and more lasting model to remedy the plague of revenge.
In the Gospel text from John we find the risen Jesus appearing to the disciples and giving them the gift of his peace. This gift of peace could not be given to them until Jesus died and rose again, for the Lord Jesus had to set an example for us to follow. Jesus was put to death out of vengeance, and instead of resorting to violence or imposing God's will upon us, Jesus chose to suffer the injustice of the cross. In giving us his peace, Jesus then commands us to fulfill the ministry of reconciliation, the only remedy in seeking peace and overcoming vengeance. By breathing upon us Jesus recalls for us the breath of God given to Adam at creation, and the breath of God through the prophet Ezekiel that restored the dry bones to living beings. In the sacrament of reconciliation we find peace for ourselves in seeking the pardon of God and restoring our friendship with the community of the Church. In turn we must go out from the sacrament to be ministers of reconciliation as well, a ministry of new creation and prophetic utterance to a world marred by discord.
In our ministry to others we are all not called to the same role, and we are all given different gifts. Paul uses the classic image of the members of a body to show the harmony that must exist in the body of Christ for us to demonstrate peace to the world in the way in which we conduct ourselves communally in the Church. While our gifts, works, and forms of service are all different, we do them in service to the one Lord who forms us into one body. The body of the Church cannot be a place of peace if we are continually arguing over our roles. By recognizing our place and serving one another selflessly we form bonds of peace that provide the world a genuine example of Christian living.
The event of Pentecost itself in the first reading provides the ultimate example of peace as flowing from Christ through the Holy Spirit. The divisions of nations that originated at Babel come to an end as each nation hears the apostles in their own tongue. The language they spoke was the universal language of love that unites all. We are able to hear that language when we put aside the self-interests that pit one nation against another, one person against another. Only when we live as Christ lived and offer our lives in selfless service to others can we hear the Holy Spirit speaking to us and only then can all nations hear the message of Christ reflected in our lives.
We come to the peace of Christ through forgiveness and forgetfulness of self, not through war. Jesus saved the world through the cross of forgiveness, not through the sword of warfare. In our ministry we must reflect the attitude of Christ. As the Catechism states, "Respect for and development of human life require peace…Earthly peace is the image and fruit of the peace of Christ, the messianic Prince of Peace. By the blood of his cross in his own person he killed the hostility; he reconciled men with God and made his Church the sacrament of the unity of the human race and of its union with God. Those who renounce violence and bloodshed and, in order to safeguard human rights, make use of those means of defense available to the weakest, bear witness to evangelical charity…they bear legitimate witness to the gravity of the physical and moral risks of recourse to violence, with all its destruction and death." (#2304-2306)
As we discern how we will best imitate Christ in our lives and ministry, we ask for the gifts of the Holy Spirit to guide us to be ministers of peace and reconciliation to a world overflowing with violence and hate. "Let us pray in the Spirit who dwells within us. Father of light, from whom every good gift comes, send your Spirit into our lives with the power of a mighty wind, and by the flame of your wisdom open the horizons of our minds. Loosen our tongues to sing your praise in words beyond the power of speech, for without your Spirit man could never raise his voice in the words of peace or announce the truth that Jesus is Lord, who lives and reigns with you and the Holy Spirit, one God, for ever and ever. Amen."
Jude Huntz is Director of the Human Rights Office and chancery chief of staff for the Diocese of Kansas City – St. Joseph.
Daily Scripture Readings
For complete daily Scripture texts, click here.
http://www.usccb.org
Monday, May 28
1 Peter 1:3-9
Psalms 111:1-2, 5-6, 9 and 10c
Mark 10:17-27
Tuesday, May 29
1 Peter 1:10-16
Psalms 98:1, 2-3ab, 3cd-4
Mark 10:28-31
Wednesday, May 30
1 Peter 1:18-25
Psalms 147:12-13, 14-15, 19-20
Mark 10:32-45
Thursday, May 31
Zephaniah 3:14-18a or
Romans 12:9-16
Isaiah 12:2-3, 4bcd, 5-6
Luke 1:39-56
Friday, June 1
1 Peter 4:7-13
Psalms 96:10, 11-12, 13
Mark 11:11-26
Saturday, June 2
Jude 17, 20b-25
Psalms 63:2, 3-4, 5-6
Mark 11:27-33
The Solemnity of the Most Holy Trinity, Sunday, June 3
Deuteronomy 4:32-34, 39-40
Psalms 33:4-5, 6, 9, 18-19, 20, 22
Romans 8:14-17
Matthew 28:16-20
Monday, June 4
2 Peter 1:2-7
Psalms 91:1-2, 14-15b, 15c-16
Mark 12:1-12
Tuesday, June 5
2 Peter 3:12-15a, 17-18
Psalms 90:2, 3-4, 10, 14 and 16
Mark 12:13-17
Wednesday, June 6
2 Timothy 1:1-3, 6-12
Psalms 123:1b-2ab, 2cdef
Mark 12:18-27
Thursday, June 7
2 Timothy 2:8-15
Psalms 25:4-5ab, 8-9, 10 and 14
Mark 12:28-34
Friday, June 8
2 Timothy 3:10-17
Psalms 119:157, 160, 161, 165, 166, 168
Mark 12:35-37
Saturday, June 9
2 Timothy 4:1-8
Psalms 71:8-9, 14-15ab, 16-17, 22
Mark 12:38-44
The full text of the Scripture readings for this week and next week can be found here: http://www.usccb.org/
Click on the "Readings" tab at the top of the page.