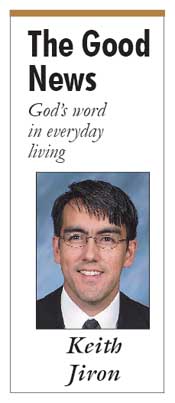 This past weekend my wife and I took our four boys to their favorite lake where they have tons of fun swimming, fishing, and boating. They have been there many times over the past few years and, needless to say, they love every minute of it.
My two older boys are like fish in water and can entertain themselves for hours. My younger two, on the other hand, require much more supervision. Our youngest son just learned to walk and so the dock turned out to be more work than relaxation as we had to constantly stop him from heading straight for the water. My third son is much more cautious and, even though he constantly wanted to be in the water with the big boys, he lacked both the skill and mostly the courage to jump in on his own.
The only way he would go into the water was when I coaxed him into it. After he overcame his initial fear, he still clung very closely to me even though he was wearing a life jacket and was leaning on a floating device. Whenever I would let go in order to show him that he could do it on his own, he would panic. I finally got him to try it on his own by holding my hand right in front of him telling him that all he had to do was to reach out.
I was struck at the power of this moment, of the lesson I was teaching him. I was planting seeds of trust in his heart. He was so vulnerable and scared. If I were to abandon him and let him flail and sink, his faith in me would be lessened. The Catechism of the Catholic Church explains how children learn trust from their parents who are in a way the first representatives of God for their children.(CCC # 239) That is to say, as parents we are responsible for teaching our children how to trust in God, their heavenly Father. The greater or lesser degree in which we prove trustworthy for our children can influence their future ability to trust in a God they do not see.
Not only was I teaching my son, but I myself was reminded of a lesson that I have had to learn over and over again. How many times have I been struggling, afraid, or sinking into sin and consequently panic instead of reaching out to my heavenly Father?
This weekend's second reading states: "[W]e walk by faith, not by sight." This is one of the key lessons for all of us as we strive to advance in our spiritual lives. Throughout the course of life, there are numerous opportunities in which we can either resort to grasping for ourselves, or placing our trust in God.
God desires that we live life to the full. (Jn 10:10) He desires that we jump into the ocean of life and experience it. He does not want us to be paralyzed by our fear. When my son actually listened to my voice and trusted my lead, I delighted to watch his face fill with exhilaration as he stayed afloat and found that he could propel himself simply by kicking his legs.
Perhaps the tiny seeds of faith which we plant into the hearts of our children can be likened to the ones Jesus refers to in the gospel. Even the smallest of seeds, once sown, can spring up into the largest of plants.
In one of his masterpieces entitled "The Great Divorce," C.S. Lewis uses allegory to describe heaven and hell. In the end, it seems that the things we stubbornly, or fearfully, cling to in this life are the very things that keep us from advancing in the next. He states: "There is always something they insist on keeping even at the price of misery. There is always something they prefer to joy – that is, to reality."
Although we can't see it, heaven is ultimate joy, ultimate reality. My sons have not yet asked me what heaven is like. Perhaps I would use an image that they could understand and would therefore answer that it is like the feeling of happiness that they experience when they are at the lake. For myself, I am confident that the immense love that I have for my children is but a tiny glimpse of the love that I will experience in the arms of my heavenly Father.
Keith Jiron is Coordinator of RCIA and Adult Education at St. Michael the Archangel Parish in Leawood.
Daily Scripture Readings
For complete daily Scripture texts, click here.
http://www.usccb.org
Monday, June 18
1 Kings 21:1-16
Psalms 5:2-3ab, 4b-6a, 6b-7
Matthew 5:38-42
Tuesday, June 19
1 Kings 21:17-29
Psalms 51:3-4, 5-6ab, 11 and 16
Matthew 5:43-48
Wednesday, June 20
2 Kings 2:1, 6-14
Psalms 31:20, 21, 24
Matthew 6:1-6, 16-18
Thursday, June 21
Sirach 48:1-14
Psalms 97:1-2, 3-4, 5-6, 7
Matthew 6:7-15
Friday, June 22
2 Kings 11:1-4, 9-18, 20
Psalms 132:11, 12, 13-14, 17-18
Matthew 6:19-23
Saturday, June 23
2 Chronicles 24:17-25
Psalms 89:4-5, 29-30, 31-32, 33-34
Matthew 6:24-34
The Solemnity of the Nativity of St. John the Baptist,
Sunday, June 24
Isaiah 49:1-6
Psalms 139:1b-3, 13-14ab, 14c-15
Acts 13:22-26
Luke 1:57-66, 80
Monday, June 25
2 Kings 17:5-8, 13-15a, 18
Psalms 60:3, 4-5, 12-13
Matthew 7:1-5
Tuesday, June 26
2 Kings 19:9b-11, 14-21, 31-35a, 36
Psalms 48:2-3ab, 3cd-4, 10-11
Matthew 7:6, 12-14
Wednesday, June 27
2 Kings 22:8-13; 23:1-3
Psalms 119:33, 34, 35, 36, 37, 40
Matthew 7:15-20
Thursday, June 28
2 Kings 24:8-17
Psalms 79:1b-2, 3-5, 8, 9
Matthew 7:21-29
Friday, June 29
Acts 12:1-11
Psalms 34:2-3, 4-5, 6-7, 8-9
2 Timothy 4:6-8, 17-18
Matthew 16:13-19
Saturday, June 30
Lamentations 2:2, 10-14, 18-19
Psalms 74:1b-2, 3-5, 6-7, 20-21
Matthew 8:5-17
The full text of the Scripture readings for this week and next week can be found here: http://www.usccb.org/
Click on the "Readings" tab at the top of the page.