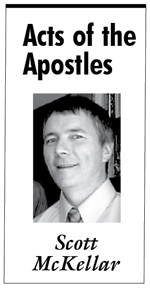 Ed note: This is the final installment of the series on Acts of the Apostles.
Recently Pope Benedict opened his Apostolic Letter, Porta Fidei, with a quote from the Acts of the Apostles. Returning from a missionary journey, Paul reports to the Church in Antioch that God had "opened the door of faith to the Gentiles" through his ministry. Pope Benedict reminds each of us that the "door of faith" (Acts 14:27) is always open for us. In fact this coming Year of Faith is a "summons to an authentic and renewed conversion to the Lord" (PF 6) and a stronger commitment to the new evangelization and a more systematic understanding of the faith.
In the final chapters of Acts, Paul attempts to return to Jerusalem even though the Holy Spirit had warned him that he would face almost certain persecution if he journeyed there. Paul returns through the cities where he has founded Churches: Corinth, Berea, Philippi, and through the Churches in Asia. He makes a special stop at Miletus summoning the church of Ephesus to meet him there (Acts 20:17-26). Finally Paul travels to Jerusalem and is welcomed warmly by the brothers there (Acts 21:17). Paul attempts to show his allegiance to his Jewish faith by undergoing a ritual purification with several other men but his enemies create a disturbance in the Temple and he is arrested (Acts 21:27-36). Paul uses this as an opportunity to address the crowds in the Temple. The crowds turn against him and he is taken before the Chief Priests and Sanhedrin. A dispute breaks out between the Sadducees and Pharisees and there is a plot to kill Paul (Acts 23:12). Paul is taken by night under Roman guard to see the Governor Felix in Caesarea. Paul testifies before Felix and is held for two years in prison. Felix is replaced by a new governor, Festus, and Paul bears witness before him as well. When Festus threatens to send Paul to Jerusalem to stand trial, Paul appeals to Caesar. Festus has no choice but to send him to Rome to Caesar. In the meantime King Agrippa and his wife Bernice arrive and Paul testifies before them as well (Acts 26). Paul sails for Rome under the guard of a Roman centurion named Julius. They encounter a storm and are shipwrecked on the Island of Malta before safely reaching Rome. Paul is held in Rome under house arrest and Luke ends the story without telling us the outcome. Tradition tells us the St. Paul was martyred outside the wall of Rome and is buried in the Cathedral of St. Paul Outside the Walls.
Paul's passion for preaching is the overarching theme of the book of Acts. The disciples were promised in Acts 1:8, "But you will receive power when the Holy Spirit comes upon you, and you will be my witnesses in Jerusalem, throughout Judea and Samaria, and to the ends of the earth." Being a 'witness' is not only to have observed Jesus' life, death and especially his resurrection but now to bear witness to these truths, or to preach and proclaim them. Paul's conversion experience in Acts 9 becomes his testimony as he bears witness before the crowds in Jerusalem in Acts 22 and before Felix, Festus and King Agrippa Acts 24-26. Paul recounts how God told him that he would be God's "witness before all" to what he had "seen and heard" (Acts 22:15). Later before King Agrippa, Paul recount's the words of his vision of Jesus on the road to Damascus (Acts 9, Acts 26). Jesus said to him, "I have appeared to you for this purpose, to appoint you as a servant and witness of what you have seen [of me] and what you will be shown" (Acts 2616).
Later in his letter to the Corinthians Paul writes; "If I preach the gospel, this is no reason for me to boast, for an obligation has been imposed on me, and woe to me if I do not preach it!" (1 Cor. 9:16). In his 'Farwell Speech' to the Ephesian Church Paul says, "And so I solemnly declare to you this day that I am not responsible for the blood of any of you, for I did not shrink from proclaiming to you the entire plan of God" (Acts 20:26-27). As the Church entered the second century the Greek word for 'witness,' martyrs, came to increasingly be associated with the heroic witness of those who gave up their lives bearing witness for the faith in the tradition of the proto-martyr St. Stephen (Acts 7).
Or modern world is becoming increasingly hostile to the message of the Gospel. Our religious freedoms are being questioned and attacked. Like the early disciples in Acts we too have received the Holy Spirit and need to be prepared to bear witness to our faith. Recently the United States Conference of Catholic Bishops released the following statement as part of the Fortnight for Freedom campaign;
We are Catholics. We are Americans. We are proud to be both, grateful for the gift of faith which is ours as Christian disciples, and grateful for the gift of liberty which is ours as American citizens. To be Catholic and American should mean not having to choose one over the other. Our allegiances are distinct, but they need not be contradictory, and should instead be complementary. That is the teaching of our Catholic faith, which obliges us to work together with fellow citizens for the common good of all who live in this land. That is the vision of our founding and our Constitution, which guarantees citizens of all religious faiths the right to contribute to our common life together.
Holy Mary, Queen of the New Evangelization, pray that we would receive boldness to bear witness to our faith!
Scott McKellar is Director of the Bishop Helmsing Institute for the Diocese of Kansas City – St. Joseph.