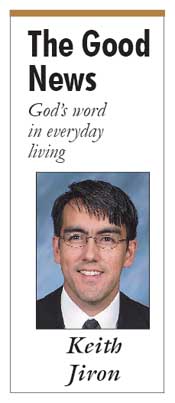 I recently read about a young Italian mother whose first two children died at a young age due to birth defects. While pregnant with her third child, it was discovered that she had an aggressive form of cancer. Because it would have put her pregnancy at risk, she chose not to receive any cancer treatments until after she gave birth. She died less than a year later. Prior to her death, in a letter for her son, she wrote, "I am going to heaven to take care of Maria and David, you stay here with Dad. I will pray for you."
Shortly afterward, in an interview with Vatican radio, her husband said that through his wife's suffering, "he experienced 'a story of love on the cross'" and that "they learned from their three children that there is no difference in a life that last 30 minutes or 100 years."
As Christians, we believe that the soul is immortal. (CCC 366) This Sunday's first Scripture reading from Wisdom states: "For God formed man to be imperishable." The relatively short amount of time we spend on earth is nothing compared to our eternal destiny.
The young mother understood this well. She exemplified the real meaning of love, that is, to "will the good of another." Foregoing cancer treatments for the good of the new life within her was a heroic testament to this fact.
The Catechism of the Catholic Church teaches that "[h]uman life must be respected and protected absolutely from the moment of conception. From the first moment of his existence, a human being must be recognized as having the rights of a person – among which is the inviolable right of every innocent being to life." (CCC 2270)
God is the author of life and He has entrusted to us the mission of safeguarding it. (CCC 2271)
Blessed John Paul II once said, "No nation can survive that kills its own babies." In this Sunday's Scripture passage from Wisdom we read that "God did not make death, nor does he rejoice in the destruction of the living…But by the envy of the devil, death entered the world, and they who belong to his company experience it."
The Health and Human Services (HHS) Mandate that is being promoted by our government is not about the life of our nation, but rather about death. History bears out the fact that every great nation has fallen. Prior to their demise and takeover by outside aggressors, the civilization had already been weakened and corrupted from within.
Regarding the HHS Mandate, Archbishop Charles J. Chaput of Philadelphia recently gave a talk to a group of journalists in which he masterfully dissects the issue before us. In one of his points, he issued a challenge to all people of faith. He said: "The worst enemies of religious freedom aren't 'out there' among the legion of critics who hate Christ or the Gospel or the Church, or all three. The worst enemies are in here, with us – all of us, clergy, religious, and lay – when we live out our faith with tepidness, routine, and hypocrisy."
It is said that the worst enemy is the one that you do not think exists. When we look at our personal moral life and see our own lukewarmness and hypocrisy, it is rather terrifying to think that we ourselves could be part of the declining moral fabric of the nation.
One of the components of any great story is the "dark moment" in which it seems that all hope was lost. In such stories, the main characters, whether they know it or not, are being prepared for the crucial moment where they will either fail or prevail.
As faithful citizens of our country, let us fortify our hearts as we meditate on the following excerpts from the prayer composed by the United States Conference of Catholic Bishops in this Fortnight of Prayer amidst the current attack on religious liberty. "[Y]ou call us to live out our faith in the midst of the world, bringing the light and the saving truth of the Gospel to every corner of society…Grant, we pray, O heavenly Father, a clear and united voice to all your sons and daughters gathered in your Church in this decisive hour in the history of our nation, so that, with every danger overcome – for the sake of our children, our grandchildren, and all who come after us – this great land will always be 'one nation, under God, indivisible, with liberty and justice for all.' We ask this through Christ our Lord. Amen."
Keith Jiron is Coordinator of RCIA and Adult Education at St. Michael the Archangel Parish in Leawood.
Daily Scripture Readings
For complete daily Scripture texts, click here. http://www.usccb.org
Monday, July 2
Amos 2:6-10, 13-16
Psalms 50:16bc-17, 18-19, 20-21, 22-23
Matthew 8:18-22
Tuesday, July 3
Ephesians 2:19-22
Psalms 117:1bc, 2
John 20:24-29
Wednesday, July 4
Amos 5:14-15, 21-24
Psalms 50:7, 8-9, 10-11, 12-13, 16bc-17
Matthew 8:28-34
Thursday, July 5
Amos 7:10-17
Psalms 19:8, 9, 10, 11
Matthew 9:1-8
Friday, July 6
Amos 8:4-6, 9-12
Psalms 119:2, 10, 20, 30, 40, 131
Matthew 9:9-13
Saturday, July 7
Amos 9:11-15
Psalms 85:9ab and 10, 11-12, 13-14
Matthew 9:14-17
Fourteenth Sunday in Ordinary Time, Sunday, July 8
Ezekiel 2:2-5
Psalms 123:1-2, 2, 3-4
2 Corinthians 12:7-10
Mark 6:1-6
Monday, July 9
Hosea 2:16, 17c-18, 21-22
Psalms 145:2-3, 4-5, 6-7, 8-9
Matthew 9:18-26
Tuesday, July 10
Hosea 8:4-7, 11-13
Psalms 115:3-4, 5-6, 7ab-8, 9-10
Matthew 9:32-38
Wednesday, July 11
Hosea 10:1-3, 7-8, 12
Psalms 105:2-3, 4-5, 6-7
Matthew 10:1-7
Thursday, July 12
Hosea 11:1-4, 8e-9
Psalms 80:2ac and 3b, 15-16
Matthew 10:7-15
Friday, July 13
Hosea 14:2-10
Psalms 51:3-4, 8-9, 12-13, 14 and 17
Matthew 10:16-23
Saturday, July 14
Isaiah 6:1-8
Psalms 93:1ab, 1cd-2, 5
Matthew 10:24-33
The full text of the Scripture readings for this week and next week can be found here: http://www.usccb.org/
Click on the "Readings" tab at the top of the page.