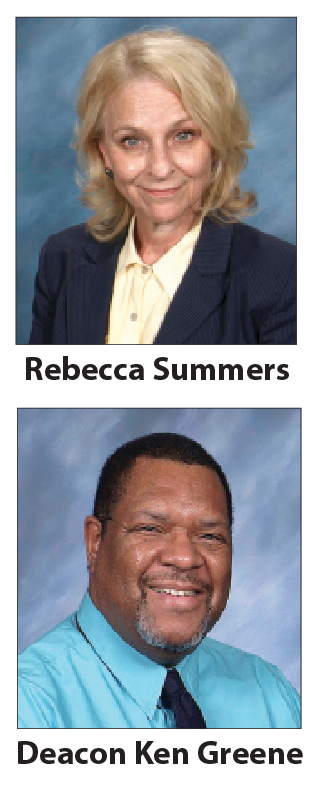 By Kevin Kelly
Catholic Key Associate Editor
KANSAS CITY — Closing the books in June on a combined 39 years with the Diocese of Kansas City-St. Joseph, Rebecca Summers and Deacon Ken Greene readily admit that they are changed people — forever and for better.
Summers, director of communications, will become the director of marketing for Cristo Rey High School — a job she couldn't refuse at a place she couldn't refuse to go to.
Deacon Greene, director of family life, is retiring only from his job at age 65. He will continue in ministry as a deacon at St. Monica Parish, and in ministries that the Spirit will lead him to, as he has always done.
On the surface, Summers and Greene are opposites. Scratch that surface and two very similar, deeply spiritual and dedicated Catholics emerge, who would take on any task before them.
Though he has always held the title of family life director, Deacon Greene's job has evolved since he began it in October, 1990. Over the years, it has branched to include, at various times, coordinating diocesan and parish programs for pro-life advocacy, marriage preparation, men's ministry and spiritual development, Marriage Encounter to strengthen marriages, Retrouvaille to help troubled marriages, and revitalizing the Cursillo movement.
In addition, in his "spare time," Deacon Greene has served on the diocesan Black Catholic Implementation Team, on the board of St. Monica School, with parish Rite of Christian Initiation teams, and with Church Community Organizing committees that marshaled city resources to fight crime and neighborhood blight.
And if that weren't enough Deacon Greene was ordained on June 9, 2001, in the first class of deacons since Bishop Raymond J. Boland reinstituted the permanent diaconate.
Summers began as director of marketing and communications for the Diocesan School Office in July 1995, and became the diocese's first full time director of communications in January 1999.
In that role, she has helped schools, parishes and the diocese tell their stories to the broader community, in times both good and bad.
And both Deacon Greene and Summers said they will leave their diocesan jobs with deep gratitude for the opportunity it gave them to grow spiritually.
"I am more spiritual," Deacon Greene said. "I am more willing to share my faith with others, and I feel confident that God does lead the church."
Hired originally by Benedictine Sister Anne Shepard who was then diocesan school superintendent, Summers said an unexpected bonus of her job was the exposure to Benedictine spirituality.
"It was the simple sense of meeting each person and seeing in them the face of Christ," Summers said. "That model of Benedictine hospitality has been an inspiration and a model for my life."
Summers also said she quickly learned that her job wasn't about her. It was about people living out their Catholic faith in very real ways, and getting their stories out.
"That's not PR," she said. "It's about stepping aside and letting all these people of faith take over. When that phone call comes that puts your heart in your gut, all those people of faith will show you that we are really living the Gospel and looking for ways to live that story."
One such moment, she said, happened 10 years ago this month when a gunman burst into Conception Abbey, murdered two monks, wounded two more, then took his own life.
She said she will never forget the response from Abbot Gregory Polan and the monks of Conception.
"We watched them maintain their dignity, maintain their dedication, and preach the Gospel of Resurrection," she said.
Summers said she'll take those lessons with her to Cristo Rey, a unique model of a Catholic high school that provides jobs to students, many of them from low-income families, to gain practical work experience and help pay tuition as they receive a college preparatory education.
Deacon Greene said he was working as a vocational coordinator for the Meninger Foundation when his spiritual mentor, St. Joseph Sister Barbara Moore, encouraged him to take the family life position only a few months after he completed the New Wine lay ministry preparation program.
His great joy, he said, was the opportunity to learn.
"I had access to literature that most Catholics don't have access to," he said. Learning "is encouraged here and it's part of my ministry, so I have grown. Yet I do get discouraged sometimes when I read so many newspaper articles that tell one side of the story."
Among his many accomplishments, one that is close to him is helping Deacon Justin McMenamy revive the dormant Cursillo movement 11 years ago, then taking over diocesan leadership when Deacon McMenany retired. That movement, originating in Spain, teaches a deep spirituality combined with prayer and service.
"I did a Cursillo in 1980," Deacon Greene said. "It wasn't until 2001 that I got involved again."
Quickly, the two deacons contacted people who had gone through Cursillo weekends, and found them eager to help revive the movement.
Combining resources with the Archdiocese of Kansas City in Kansas, there are now four Cursillo retreat weekends per month, plus monthly follow-up prayer opportunities throughout the metropolitan area.
And that's the way things get done, Deacon Greene said. A leader plants the seed then lets it grow.
"I've learned that if you are patient enough, God will work things out for you. You don't have to rush in and manhandle things by yourself," he said.
Though he is retiring from paid employment, Deacon Greene said he will continue to look for new ways to serve God's people.
"I am going to have hours on my hands, but I don't know what that means yet," he said.
"Social justice is part of my being, part of who I am," Deacon Greene said. "I have a love for ministry to the homeless, so God may lead me in that direction."