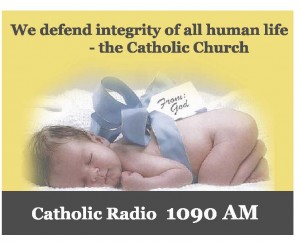 By John Heuertz
Special to The Catholic Key
The Archangel Gabriel – "God is my strength" – has brought messages of hope and joy from God to all of humanity since before the time of Christ. Gabriel is the patron saint of Catholic broadcasting today.
And now, the "Gabriel Campaign" is working to raise the seven-station Catholic Radio Network's profile by putting up 100 Catholic billboards in Kansas City.
Kansas City saw the first one last July 21. But CRN's Jim O'Laughlin told The Key the project's been in the works for about a year.
CRN put up 10 small billboards to get the "Word" out when flagship station KEXS 1090 AM went on the air seven years ago. But a tight budget ruled out more billboards.
Radio and TV stations live and die by audience size, even nonprofit, 501(c)(3) radio stations like KEXS. A bigger audience means more potential donors.
About a year ago, KEXS decided it wanted to double listenership, reduce debt and hire another employee.
"We decided the most effective way to double our listenership was billboards. And if we doubled our listenership, then problems two and three would disappear," O'Laughlin said.
It's public radio fund raising experience that asking support for specific programs or needs raises more money than a general appeal for support, and O'Laughlin watched a local priest have a similar experience with his parish.
"So instead of asking for the three things above, we are just asking for billboards. And people are answering the call," O'Laughlin said.
The campaign is well on the way to meeting its $100,000 goal for 100 billboards. If more than that is collected, more billboards will go up.
Lamar Advertising donated eight seconds per minute on four digital boards last July, so that all four messages would be displayed every four minutes.
KEXS currently has 37 static billboards and three digital boards with 15 different messages.
They're all within 20 miles of downtown Kansas City on both sides of the state line. Current locations include I-35, I-70, US 169, Southwest Trafficway, Parallel Parkway, Kaw Drive, Stadium Drive, Broadway Avenue, Main Street and Waldo.
"So fill up your car with gas and go out and see how many you can find," O'Laughlin said.
The digital boards are located on I-35 north of the Missouri River at the Bond Bridge, at I-35 and Cambridge Circle at the state line, and at I-435 and 103rd St. in KCMO.
Rentals range from $500 to $5500 depending on board size, traffic count and the presumed wealth of passing motorists.
About 2.5 million people live in CRN's coverage area, mostly in the metro. Non-Catholics are estimated to be about half its audience.
KEXS wanted a total of 400,000 views per day from its 40 boards as a minimum. But current exposure is estimated at 912,000.
"Yes, 912,000 views per day," O'Laughlin said. "Obviously, on average people will see more than one board a day."
Most boards will be at their current location for 30 days and then move to new locations, O'Laughlin said.
The last boards will come down October 1, because KEXS is a daytime station and by then many rush hour commuters will be done commuting before KEXS signs on the air.
"The good news is, there is a 100,000 watt FM station for sale that is on 24 hours a day. The investment someone needs to make is five million dollars."
CRN's goal is to have 333 billboards in place by 2013, the Year of Evangelization.
"There is no better medium for evangelization than radio, no better way to fight the evil out there today than Catholic radio," O'Laughlin said.
"Where else are you going to hear the truth?"
Call (816) 630-1090 to donate to the KEXS 1090 AM billboard fund raising campaign.