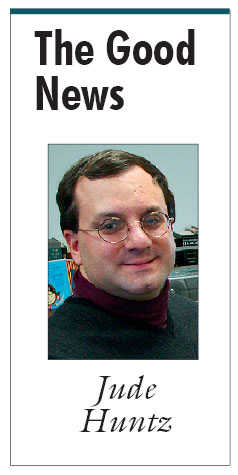 Philosophy is a word we have heard many times. Some of us have even studied a bit of it in college or on our own. It is a Greek word meaning "love of wisdom." The ancient world regarded the search for wisdom as the highest pursuit of the human person. Wisdom differs from knowledge in that knowledge of something exhausts all further mental effort on the part of the knower. However, wisdom can never deplete the meaning found in the object to be contemplated. To know that Tokyo is the capital of Japan can have some importance for us, but no wisdom can be extracted from that knowledge. On the other hand, to know another person is not completely possible, for we can always know more about another, and the very fact of knowing that other persons exist leads to the pursuit of wisdom and an infinite ocean of possibilities. The readings for today's liturgy provide us the opportunity to explore the wisdom of God.
The first reading from the book of Proverbs employs the use of personification in its description of wisdom. Lady wisdom has been preparing a feast for all who seek her. The ancient world of pagan religions had also personified wisdom into a goddess, but their descriptions fell short of the mark as wisdom was the privilege of only a select few; it was not a gift given to all. However, the biblical author specifically has Lady Wisdom inviting those who lack understanding, i.e. those who have been deprived of her by other schools of philosophy and religion. Wisdom, then, consists in coming to some understanding of God, the world, and our own place within this cosmos.
Paul exhorts Christians in Ephesus to seek wisdom, and at first glance there is nothing remarkable about this brief discourse from Paul on wisdom. Many of the items he mentions are ethical actions — avoiding drunkenness, singing and praying with others — are characteristics that could have been found in many other philosophical schools and religious movements in the ancient world. Even the command of trying to understand the will of God is something we saw to be the essential trait of wisdom in the Jewish tradition. This trait could also have been found in other religious and philosophical movements of Paul's time. What is unique to the wisdom of Christ, however, is to give thanks in the name of Jesus to God. The act of giving thanks is an essential Christian disposition; in fact, the word Eucharist means thanksgiving and Paul uses the verb form of the word in this passage.
The Gospel text ties together these two strands of thought in Proverbs and Paul's letter to the Ephesians. The context for this discourse on the bread of life is the multiplication of the loaves and fishes. Jesus has provided the banquet Lady Wisdom promised in the first reading, and it is a feast on behalf of the poor — those who were denied admittance to the table of wisdom in the ancient world. In addition, Jesus provides an ethical demand for the people in seeking wisdom and the will of God. At first blush it appears to be an odd command: eat the flesh of the Son of Man and drink his blood. How can a ritual of itself lead us to salvation? Jesus does not command us to create a ritual of this teaching, though a ritual indeed arose — the Eucharistic liturgy — and its celebration is vitally important for us in obtaining wisdom. Yet, what is unique here is that our eating and drinking must be directed at becoming Christ himself and to live and die as he did.
The early Christian movement in many respects was not all that different from other religions and philosophical schools of the ancient world. They strove for wisdom and God's will; they came together to celebrate a ritual meal designed to instill virtue within the participants. And yet the Christian message is unique in this respect: we must live and die as Jesus did. This fact means that we renounce ourselves, live for others, and have the agape love that Jesus had. The ritual of the Eucharist has no meaning for us unless we are gradually transformed by it so that we are another Christ offering ourselves for the sake of others. This wisdom confounded Jewish theology and every system of religion in the Roman Empire.
We are hearing the familiar voices of election season: vote this way as that is what Jesus would have done; reject this entire platform because it goes against our faith in many respects; follow this political program because it is the only Christian method. Jesus did not create a political system, nor did he even create an ethical system. Jesus came to show us the way in how he lived and how he died. We pray for the transformation of our whole being to reject the calls to reduce Jesus to a political program: Father in Heaven, make your Love the foundation of my Life. May my Love for You express itself in eagerness to do Good for others. Through the intercession of Jesus Christ, Your Son, by His example, give me courage. By His teachings, make me wise, so that I, like Him, may burn with Love for Your Divine Word. In Jesus Christ's name I pray, who lives and reigns with the Father and the Holy Spirit One God forever and ever. Amen
Jude Huntz is Chancellor of the Diocese of Kansas city – St. Joseph.
Daily Scripture Readings
For complete daily Scripture texts, click here.
Monday, August 20
Ezekiel 24:15-23
Deuteronomy 32:18-19, 20, 21
Matthew 19:16-22
Tuesday, August 21
Ezekiel 28:1-10
Deuteronomy 32:26-27ab, 27cd-28, 30, 35cd-36ab
Matthew 19:23-30
Wednesday, August 22
Ezekiel 34:1-11
Psalms 23:1-3a, 3b-4, 5, 6
Matthew 20:1-16
Thursday, August 23
Ezekiel 36:23-28
Psalms 51:12-13, 14-15, 18-19
Matthew 22:1-14
Friday, August 24
Revelation 21:9b-14
Psalms 145:10-11, 12-13, 17-18
John 1:45-51
Saturday, August 25
Ezekiel 43:1-7ab
Psalms 85:9ab and 10, 11-12, 13-14
Matthew 23:1-12
Twenty-first Sunday in Ordinary Time, Sunday, August 26
Joshua 24:1-2a, 15-17, 18b
Psalms 34:2-3, 16-17, 18-19, 20-21
Ephesians 5:21-32
John 6:60-69
Monday, August 27
2 Thessalonians 1:1-5, 11-12
Psalms 96:1-2a, 2b-3, 4-5
Matthew 23:13-22
Tuesday, August 28
2 Thessalonians 2:1-3a, 14-17
Psalms 96:10, 11-12, 13
Matthew 23:23-26
Wednesday, August 29
2 Thessalonians 3:6-10, 16-18
Psalms 128:1-2, 4-5
Mark 6:17-29
Thursday, August 30
1 Corinthians 1:1-9
Ps 145:2-3, 4-5, 6-7
Matthew 24:42-51
Friday August 31
1 Corinthians 1:17-25
Psalms 33:1-2, 4-5, 10-11
Matthew 25:1-13
Saturday, September 1
1 Corinthians 1:26-31
Psalms 33:12-13, 18-19, 20-21
Matthew 25:14-30
Twenty-second Sunday in Ordinary Time, September 2
Deuteronomy 4:1-2, 6-8
Psalms 15:2-3, 3-4, 4-5
James 1:17-18, 21b-22, 27
Mark 7:1-8, 14-15, 21-23
The full text of the Scripture readings for this week and next week can be found here: http://www.usccb.org/
Click on the "Daily Readings" tab on the right hand side of the page.