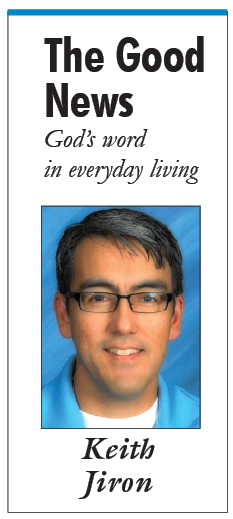 Over Labor Day weekend my wife spent a couple of days on a private retreat at the Franciscan Retreat Center in Independence. This was a great opportunity for her to take some time for herself, away from the noise and chaos that often accompany a house filled with four young boys who seem to be constantly clamoring for her attention. As it turns out, she and her friend were the only ones on retreat there and so they had the entire center to themselves. When she came back home, I was eager to hear about any spiritual insights she received and how God had spoken to her. As she proceeded to share a little with me, the kids were running around playing some kind of dump truck demolition game and my wife said, "It sure is loud here."
She explained to me that the sisters practice silence from Saturday evening until after Mass late Sunday morning. The silence includes eating Sunday morning breakfast with no talking. As my wife sat there eating, she leaned over to her friend and whispered jokingly, "I'm going to institute this at our house."
In the meantime, my eight-year-old had talked me into camping by setting up our three-man-tent in the living room and eating all of our meals outside and cooking them over a fire. So while my wife was reflectively sipping her coffee, I was frantically cooking bacon and eggs, boiling water for hot chocolate, telling my three-year-old to go ahead and go potty by himself, and trying to keep my one-year-old happy while strapped into his high chair which I had cleverly placed outside. It was glorious and hectic all at the same time.
It's times like these that I understand my wife infinitely better and why she does things the way she does. First of all, she would probably never try to cook breakfast over a campfire when there is a perfectly good stove nearby. And she surely would have anticipated the fact that we all ended up smelling like smoke at the 9:00 a.m. Mass.
There seems to be a contrast between the contemplative life fostered by silence at a convent or monastery and the "noise" the rest of us face every day. In an age of iPods, iPads, cell phones, text messaging, the internet, email, facebook, cable television, radio, etc., we are bombarded with distraction after distraction. Like Martha in the gospel, we can get so caught up with the cares of the world that we forget to take time to sit at the feet of Jesus.
In this Sunday's gospel "a deaf man who had a speech impediment" is brought to Jesus. Jesus takes "him off by himself away from the crowd…put[s] his finger into the man's ears…and said to him 'Ephphatha! – that is, 'Be opened!'"
In a similar way, unless we "go off by ourselves with Jesus," we can remain deaf to His voice. This doesn't necessarily mean going off to a convent or monastery for a weekend. But in our daily lives, we need to make time to sit in what many spiritual masters have called "The Classroom of Silence." It is here that God speaks to us and teaches us.
Yet all too often we avoid listening to God because we are afraid of what we might hear. We run from silence, afraid of ourselves and especially afraid of ourselves before God, knowing well our own sinfulness and unworthiness. In this Sunday's scripture passage from Isaiah God says "to those whose hearts are frightened: Be strong, fear not!…Here is your God…he comes to save you."
Prayer is where God, in His love and mercy, speaks tenderly to us. It is in the time set aside for prayer that we come to understand how God sees us, as loveable, made-in-His-image, and worth dying for so that we can be with Him forever. In time alone with God we also come to know ourselves better and become more and more aware of the areas in which we need to grow.
Amidst the smoke of the campfire and the crowded living room filled with blankets, pillows, sleeping bags, and stuffed animals, what I was really saying to my children was that I love you and will do anything to spend time with you. And with the keen ears possessed by children, they understood what I was saying to them. Let us, too, learn to listen to our Heavenly Father's message of love in the silence of our hearts.
Keith Jiron is Coordinator of RCIA and Adult Education at St. Michael the Archangel Parish in Leawood, Kan.
Daily Scripture Readings
For complete daily Scripture texts, click here. http://www.usccb.org
Monday, September 10
1 Corinthians 5:1-8
Psalms 5:5-6, 7, 12
Luke 6:6-11
Tuesday, September 11
1 Corinthians 6:1-11
Psalms 149:1b-2, 3-4, 5-6a and 9b
Luke 6:12-19
Wednesday, September 12
1 Corinthians 7:25-31
Psalms 45:11-12, 14-15, 16-17
Luke 6:20-26
Thursday, September 13
1 Corinthians 8:1b-7, 11-13
Psalms 139:1b-3, 13-14ab, 23-24
Luke 6:27-38
Feast of the Exaltation of the Holy Cross,
Friday, September 14
Numbers 21:4b-9
Psalms 78:1bc-2, 34-35, 36-37, 38
Phillippians 2:6-11
John 3:13-17
Saturday, September 15
1 Corinthians 10:14-22
Psalms 116:12-13, 17-18
John 19:25-27
Twenty-fourth Sunday in Ordinary Time,
Sunday, September 16
Isaiah 50:5-9a
Psalms 114:1-2, 3-4, 5-6, 8-9
James 2:14-18
Mark 8:27-35
Monday, September 17
1 Corinthians 11:17-26, 33
Psalms 40:7-8a, 8b-9, 10, 17
Luke 7:1-10
Tuesday, September 18
1 Corinthians 12:12-14, 27-31a
Psalms 100:1b-2, 3, 4, 5
Luke 7:11-17
Wednesday, September 19
1 Corinthians 12:31-13:13
Psalms 33:2-3, 4-5, 12 and 22
Luke 7:31-35
Thursday, September 20
1 Corinthians 15:1-11
Psalms 118:1b-2, 16ab-17, 28
Luke 7:36-50
Friday September 21
Ephesians 4:1-7, 11-13
Psalms 19:2-3, 4-5
Matthew 9:9-13
Saturday, September 22
1 Corinthians 15:35-37, 42-49
Psalms 56:10c-12, 13-14
Luke 8:4-15
Twenty-fifth Sunday in Ordinary Time,
Sunday, September 23
Wisdom 2:12, 17-20
Psalms 54:3-4, 5, 6 and 8
James 3:16-4:3
Mark 9:30-37
The full text of the Scripture readings for this week and next week can be found here:
http://www.usccb.org/
Click on the "Daily Readings" tab on the right hand side of the page.