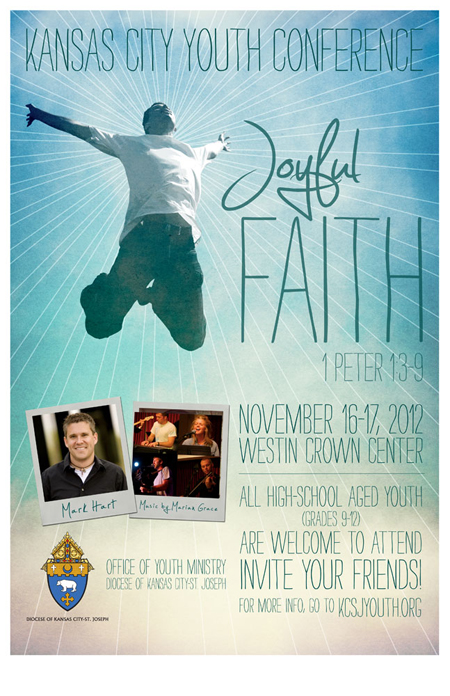 By Marty Denzer
Catholic Key Reporter
KANSAS CITY — This coming November, teenagers will again gather to know and share their faith. The Kansas City Youth Conference, Joyful Faith (1 Peter 1:3-9), to be held Nov. 16-17 at the Weston Crown Center Hotel, will focus on the joy of being Catholic Christians.
KCYC, first held in 2002, is the biennial conference for teens sponsored by the Kansas City-St. Joseph diocesan Office of Youth Ministry. High school youth, grades 9-12, come to hear speakers, discuss their faith in small groups, listen to music, reach out to others and be together having fun. The keynote speaker this year is Mark Hart of Life Teen. Life Teen, established in Mesa, Ariz., in 1985, began a parish-based program for high school youth that is now in use at more than 1,200 Catholic parishes around the world.
Hart, also known as The Bible Geek, will present "Why our Faith is a Joyful Faith," as the first of three conference keynote addresses. There will be music by Awaiting Grace, a Christian band out of Nashville, and at Mass, St. Pius X High School Schola will perform, adding "a great teen element to the music," Jon Schaffhausen, director of the Youth Ministry Office said.
The goal of this year's conference, Schaffhausen said, is to highlight the Year of Faith. Last October, in his letter Porta Fidei (Gate of Faith), Pope Benedict XVI called for a year of programs and activities to help deepen our understanding that Christian faith is, the pope said, "an encounter with an event, a person, which gives life a new horizon and a decisive direction." The Year of Faith opens Oct. 11 and closes Nov. 24, 2013.
The timing of KCYC is perfect, Schaffhausen said. "We'll be one month into the Year of Faith and at the end of the New Evangelization Conference, it's very timely."
Along with the talks, small group discussions, Mass and adoration, and music and fun, the Youth Ministry Office is introducing a new element to KCYC: door-to-door evangelization.
Evangelization, as Pope Benedict XVI describes it, "Proclaiming always and everywhere the Gospel of Jesus Christ," is not a new concept, but in this technological age, there are many new, less personal ways to reach out to others. The Life Teen website says, "… every teenager deserves a chance to have a relationship with Jesus. That's why we're not content hiding in our churches hoping for people to fill our pews. We want to boldly enter the streets and invite everyone — young and old — to grow closer to God." And that's what Schaffhausen and several parish youth ministers plan to do during KCYC.
To get an idea of what door-to-door evangelizing entails, earlier this summer, Schaffhausen, Diane Pickert, St. Gabriel Archangel parish Youth Director, and DeLynne Knox, youth minister at St. Patrick-Kansas City Parish, accompanied a handful of teen volunteers to St. Patrick's parish neighborhood for a "trial run, essentially handing out information about the parish and offering to pray with residents," Schaffhausen said.
Pickert said the group, adults and teens alike, were a little nervous. This was uncharted territory. But she added, the reaction of the residents they spoke with was "very positive. They seemed impressed that the kids were out there. We introduced ourselves, issued a simple invitation to check out what St. Patrick's Church has to offer and asked if we could pray for them."
One of the teens, Nina Salazar, a member of St. Gabriel's Youth Group, recalled the trial run.
"When we first started to walk towards the houses," she said, "I became very nervous very fast. I made Diane (Pickert) go with us up to the first couple of houses because we were all scared to talk to random people and invite them to our church. I volunteered finally (I think it was the third house we went to) and I was shaking, but tried not to show it. A little boy opened the door and I asked if his mom was home. He yelled for her and you could hear her from the kitchen yell, 'What!?' At that point I was terrified! When she came to the door, I simply said, 'Hi, we're from St. Patrick's Catholic Church and we would like to invite you.'
"Then we gave her a packet filled with information regarding the church. She replied, 'Give it to someone who needs it.' I didn't know what to do. I asked to leave it with her and she eventually took it. After that though, I wasn't afraid anymore and wanted to go up to more houses.
"Some said 'thank you' and just took it (even non-Catholics); some said they already went to St. Patrick's. After the packet was given, we asked if they had any prayer requests, and if they wanted us to pray right there with them. Many people had a simple request and said we could pray for it later. Just a few wanted us to pray with them right there. If no one was home, we just left the information packet on the door. Overall, it was a great experience because it was hands on evangelization and I had never experienced it in that form. To anyone who doesn't feel comfortable with it, I would tell them that at first you're so scared, but after that first house, it's a breeze. It's fun and rewarding and a great way to get out there and spread God's gospel and his love!"
Schaffhausen said the group covered about 90 homes in about 75 minutes. The experience gave the teens, and the adults, a taste of a rich Catholic tradition. "Our faith is not an abstract concept," he said. "When you knock on someone's door, it's a powerful witness to the power of God. You can't get that from a talk alone."
Teens can register for KCYC online. In order to attend, Schaffhausen said, they must be either with their parish youth group or a high school group if their high school is participating. If their parish or high school isn't taking a group, they can contact the youth office and we can help them find a nearby parish that is participating."
The deadline to register is Oct. 1, although late registrations will be accepted until Oct. 15. Contact Jon Schaffhausen (816) 714-2374 or schaffhausen@diocesekcsj.org if there are any questions about KCYC in general or door-door evangelization in particular. For more information or to register, visit www.kcsjyouth.org.