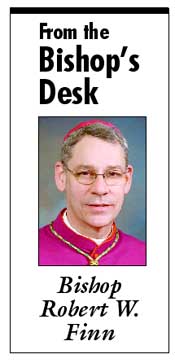 About 400 of the faithful gathered Sept. 16 at the Cathedral of the Immaculate Conception for the annual Bishop's Recognition Mass. The Mass honors those faithful chosen by their parishes for their extraordinary practice of corporal and spiritual works of mercy. Following is Bishop Finn's homily from that Mass:
Dear Brother Priests and Deacons, and esteemed Religious, Dear Honorees and your families, Friends in Christ all,
Your pastors have nominated you for this honor, and it is a privilege for me to thank you in their name, in the name of your parish, and of the Diocese of Kansas City-St. Joseph.
The mission of the Church is as vital and necessary as ever. Jesus Christ has called you to be His Church and to serve His Church – so that the grace of God can be known and lived out in faith, hope, and charity. In every field, collectively, you have given yourself. Each in his or her own way has contributed so that we function as a Body: hands, feet, head and heart. Any one of us on our own could not do so much, but as a living entity we cooperate to make a tremendous contribution to individual's lives, to our parishes, neighborhoods, indeed to the world, all in Christ's name and out of a motive of love of Him.
You teach, by word and even more by example. You volunteer hours and loving energy to visit and care for those in need; to feed, to listen, to encourage, to be advocates for life at every moment, womb to tomb. Your efforts change hearts, laws, and lives. You bring to fruition the corporal and spiritual works of mercy: feeding the hungry, clothing the naked, giving shelter to the homeless; counseling, forgiving, comforting and praying.
This is your call. This is our call. This is the mission of the Church. In our Diocese it is entrusted to me as bishop, and I, in turn, hand it on to our pastors. You, my friends, cause it to be realized in the world. Therefore it is fitting that today I give this recognition to you. You know well that there are many others. In receiving these certificates and pins, do so proudly, but also on behalf of many others who are likewise deserving.
In just a few weeks the Church throughout the world will embark on a Year of Faith. Our Holy Father, Pope Benedict XVI, has called us to this observance 50 years after the start of the Second Vatican Council, twenty years after the Catechism of the Catholic Church. His apostolic letter to announce the Year of Faith begins with a reference to Porta Fidei, the Door of Faith. "The Door of Faith," the Pope writes, "is always open for us, ushering us into the life of communion with God." Allow me briefly to share with you some thoughts on this faith which is so much at the foundation of our life in Christ, and which motivates so many of your good works.
In this Mass – as in each Sunday Mass – we will together make a Profession of Faith, the Creed. In the Second Vatican Council, as in all the Councils in the history of the Church, the Council Fathers affirmed all the great truths that have been revealed by God and which are formed and renewed in the faithful tradition of the Church throughout the ages: I believe in One God: Father, Son and Holy Spirit; in Jesus Christ, true God and true man. I believe that Jesus lived and suffered and died, and that He rose again. These truths are the basis for our hope. We too suffer the Cross and we believe that Jesus will raise us to life. The Profession of Faith, taught within our own time so clearly in the Catechism of the Catholic Church remains vital to our life as witnesses to Jesus.
In the Gospel today, Jesus invites us and challenges us beyond a list of beliefs that we hear from someone else. He asks His disciples, "Who do you say that I am.?" He invites us to know Him as a person and as a friend. Dear friends, you and I believe what Jesus teaches because we believe in Jesus. You and I love Him and this makes all the difference in the world. "You are the Christ," Peter says, the Son of the living God. This is Peter's great profession of faith. The Door of Faith is a passage for us also into a friendship with God.
Faith in Jesus, therefore, begins to change us; it changes the way we think and act. Just a few moments after St. Peter's statement of faith, he starts to argue with Jesus about Our Lord's prophecy that He must suffer and die, and rise again. Peter says, "No, Lord; this cannot happen to you." But now in harshest terms, "Get behind me Satan," Jesus corrects Peter. "You are thinking not as God does, but as human beings do." Faith changes us. It must. By faith we must begin to try to think in God's terms, not those of the world. Because of our faith we begin to live with a new view on life, with a supernatural outlook. Because of faith we forgive our enemies and pray for those who persecute us. On account of faith we not only give our shirt but our coat as well, not expecting anything in return. Yes, the world regards this as foolish, but our faith in Jesus causes us to see things and people differently. Your many efforts which we acknowledge and honor today are more than what is seen or calculated in the world: "hours of time," or "the success of a plan of action." Because of faith you are seeing those you serve as "other Christs." Faith has changed you, and now your actions are a response in love for the One who has given His life for us.
Lastly, because we have begun to see things and persons differently, we go out to carry Jesus and His Gospel to others. With a supernatural outlook we become apostolic. With St. James in the Second Reading today we realize that, once we have encountered Jesus in faith, we can no longer say to our brothers and sisters, "Good bye and good luck. Keep warm and well fed." If faith does not have works it is lifeless; it is dead. Rather, you are living your faith. You act because you believe, and because of this others will come to know Him whom you love and to whom you bear witness.
I pray that our Year of Faith will be an occasion for us as a Diocese to celebrate and affirm the truths that have been handed on to us; to rejoice in the friendship of Christ which has saved us; to live differently because of our faith, with a supernatural outlook that allows us to begin to see more as God sees, and which in turn causes us to burn with the fire of the Holy Spirit. It is this faith which sets us on a path of evangelization – so that the world will believe.
Thank you, honorees, for the generous love with which you carry out the call of God in the Church.
The Vatican Council dedicated a chapter of her Dogmatic Constitution on the Church to Mary. Pope Paul VI called her Mary, Mother of the Church. Let us commend ourselves to her who later Popes have called the Star of the New Evangelization, so that we can learn from her closeness to Jesus a path to life through the Door of Faith. Amen.