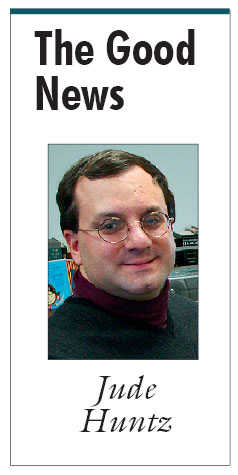 No one has ever accused me of being a handyman around the house, and with good reason! However, I know that certain tasks require different tools. Not every repair can be done with a hammer. In order to fix something you need the right tool for the right job. We were assembling a double shot hoop set in our basement a few weeks ago, and the task required different screwdrivers, socket attachments, and yes, a hammer. Only wisdom and experience led us to know which tool was right for the specific task at hand. The life of faith also requires different tools for different circumstances, and the readings for today provide us with a glimpse into discerning what is needed at certain times.
The first reading describes the plot of wicked men against the just one. The early church fathers often saw this passage as relating to Jesus and the plot to kill him. In this text, however, we find the reasons for such a conspiracy: the just man challenges the wicked to keep the law of God and corrects their misdeeds. Wisdom teaches us the ways of God, and she also helps us to discern when we must speak for truth and justice in the midst of a depraved age. The text is a reminder that our commitment to God's truth and justice will face opposition that is formidable. In reflecting on how this passage relates to Christ we can also discern how Jesus himself responded to the plot against him. Rather than entering into a legal dispute with his opponents – one Jesus knew he could not win in human terms – he chose instead to suffer the injustice, and in so doing Jesus showed forth his patience and gentleness, the very fruits of wisdom.
The letter of James highlights the qualities of wisdom that the first reading referenced indirectly. The context for this passage, however, is different. The early Christian community was divided over the contents of the Law. Jewish Christians felt that the followers of Jesus should obey all the precepts of the Old Law while also adhering to the teaching and example of Jesus. Gentile Christians argued that only the moral law of the Old Code was essential. Such divisions fractured the Church. James reminds us that authentic wisdom leads to peace within one's heart, a peace that flows to our dealings with others. By rejecting our passions we end conflict within ourselves and with one another. Consequently, when we find ourselves in situations of conflict, we must employ the tool of detachment and rejection of our passions in order to have wisdom's gift of peace and gentleness in the midst of conflict.
The problem found in the Gospel text had to do with ambition and the desire for power and position. The passage is loaded with irony. We first find Jesus teaching his disciples about the fate of the Son of Man – the fate of the cross. As followers of Jesus we must make that fate our own, and yet the disciples failed to understand; hence, their quarrel over power. Jesus offers two tools for solving this problem of resolving disputes of power. The first is to recognize that service to others is the model of Christian leadership. Serving can only be done in authentic humility, the cure for the avarice for power. The second tool Jesus employs is to give a concrete expression of service. In accepting a child we accept the Lord Jesus. Children had no legal status or importance in ancient times. To serve a child was not the ticket to power. Consequently, in serving the marginalized and those considered least important in society, we fulfill our authentic Christian mission, and we solve the problem of our thirst for power by serving the powerless.
When I lived in Texas I met a remarkable woman named Anna. She was extremely successful in worldly terms: she rose to be a corporate executive at JCPenny. Anna had a great deal of money, a great big house, and all the trappings of affluence. One day she decided to quit her job and move to a small village in Honduras to help a Jesuit mission there. When she arrived there was just the church building and rectory. Today there is an orphanage, nutrition center, school, and tattoo removal clinic. Anna gave up everything so that she might provide something for the poorest of the poor. Her thirst for wealth and power dissipated when she went to serve the least important in society. Anna has taught countless people the path of wisdom and the true road to peace for oneself and for communities.
As we acquire new tools in our attempt to achieve authentic Christian living, we ask for the wisdom needed to use those tools as the circumstances of our lives demand. "Let us pray to the Lord who is a God of love to all peoples. Father in heaven, the perfection of justice is found in your love and all humankind is in need of your law. Help us to find this love in each other that justice may be attained through obedience to your law. We ask this through Christ our Lord. Amen."
 Jude Huntz is Chancellor of the Diocese of Kansas City – St. Joseph.
Daily Scripture Readings
For complete daily Scripture texts, click here. http://www.usccb.org
Monday, September 24
Proverbs 3:27-34
Psalms 15:2-3a, 3bc-4ab, 5
Luke 8:16-18
Tuesday, September 25
Proverbs 21:1-6, 10-13
Psalms 119:1, 27, 30, 34, 35, 44
Luke 8:19-21
Wednesday, September 26
Proverbs 30:5-9
Psalms 119:29, 72, 89, 101, 104, 163
Luke 9:1-6
Thursday, September 27
Ecclesiastes 1:2-11
Psalms 90:3-4, 5-6, 12-13, 14 and 17bc
Luke 9:7-9
Friday, September 28
Ecclesiastes 3:1-11
Psalms 144:1b and 2abc, 3-4
Luke 9:18-22
Saturday, September 29
Daniel 7:9-10, 13-14
Psalms 138:1-2ab, 2cde-3, 4-5
John 1:47-51
Twenty-sixth Sunday in Ordinary Time, Sunday, September 30
Numbers 11:25-29
Psalms 19:8, 10, 12-13, 14
James 5:1-6
Mark 9:38-43, 45, 47-48
Monday, October 1
Job 1:6-22
Psalms 17:1bcd, 2-3, 6-7
Luke 9:46-50
Tuesday, October 2
Job 3:1-3, 11-17, 20-23
Psalms 88:2-3, 4-5, 6, 7-8
Matthew 18:1-5, 10
Wednesday, October 3
Job 9:1-12, 14-16
Psalms 88:10bc-11, 12-13, 14-15
Luke 9:57-62
Thursday, October 4
Job 19:21-27
Psalms 27:7-8a, 8b-9abc, 13-14
Luke 10:1-12
Friday October 5
Job 38:1, 12-21; 40:3-5
Psalms 139:1-3, 7-8, 9-10, 13-14ab
Luke 10:13-16
Saturday, October 6
Job 42:1-3, 5-6, 12-17
Psalms 119:66, 71, 75, 91, 125, 130
Luke 10:17-24
Twenty-seventh Sunday in Ordinary Time, October 7
Genesis 2:18-24
Psalms 128:1-2, 3, 4-5, 6
Hebrews 2:9-11
Mark 10:2-16
The full text of the Scripture readings for this week and next week can be found here: http://www.usccb.org/
Click on the "Daily Readings" tab on the right hand side of the page.