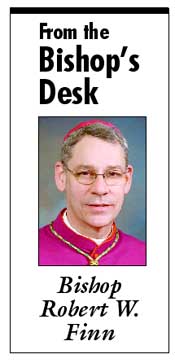 October is upon us. It is a month full of special themes and prayerful intentions. It begins with the Feast of the Guardian Angels (October 2) and ends with the "Eve of All Hallows," (Halloween, October 31) anticipating the celebration of our communion with the Saints (November 1) and the Poor Souls (November 2). October is a Marian month, with the great Feast of the Holy Rosary (October 7). It is Respect Life Month in our country. This year it marks the beginning of a most extraordinary worldwide observance of the Year of Faith, commencing on the 50th anniversary of the opening of the Second Vatican Council, (October 11, 1962), and the 20th anniversary of the publication of the Catechism of the Catholic Church, (October 11, 1992).
During this Respect Life month we rightly focus on the gift of human life from God. Abortion has become so common in our culture that its opponents are readily attacked as fanatics and radicals. We saw this approaching, when what used to be considered a "freedom," soon became a "right," and is quickly moving toward an "entitlement," paid for by you and me. Opposing abortion is regarded as an attack on women, rather than a determination to protect defenseless human life. Once upon a time one party platform stated that they wanted abortions to be "safe, legal, and rare." Today the wording of that platform statement expresses a desire for only "safe and legal" abortions. We slide down the slope. Lack of care for the reverence of life at its most vulnerable stage can only diminish life's value and dignity at every moment.
At life's end, care for the dying reaches the "futility" threshold sooner than before. Basic food and water are routinely declined in some hospitals and nursing facilities; simple antibiotics are withheld so as not to "prolong" life.
For generations our Catholic hospitals provided charitable services to those in need. Today these hospitals – and indeed all businesses and employers – are being threatened by the looming mandates to provide contraceptives services and sterilizations in contradiction of personal conscience and fundamental moral teachings. The very agents, like Catholic Charities or the U.S. Bishops' Immigration Services, are denied grants to carry on outstanding services to people of all races and religions, because they will not refer for abortions, or because they will not offer adoption services to same sex couples. Respect for Life at all its stages is being threatened by the imposition of an ideology that undermines Religious Freedom in contradiction of the Constitution. Religious Freedom has been redefined by some as the freedom to gather in prayer (in churches). Our Catholic faith has been a significant part of the motivation we have to take care of people. This prerogative, to reach out to others while maintaining our core beliefs, is being restricted. Catholic business owners have asked me what they are supposed to do as they are forced to pay for coverage and procedures contrary to their faith. I don't know yet how to answer.
We are a people of faith. Faith in God has gotten us through the most challenging personal and institutional crises. Pope Benedict XVI has called the world to observe a Year of Faith. Our Diocesan observance will be inaugurated on Saturday, October 13. In this month of the Holy Rosary we will begin with a Rosary Procession and Benediction in North Kansas City. We will start together about 6:15 p.m. at Divine Mercy Park, 3800 NE Davidson Road. At 7:00, we will begin our procession to St. Patrick Church. There we will conclude with Benediction. Participants can park at St. Patrick or at St Pius X High School and walk to the Park. I invite all to come on October 13th to dedicate ourselves and our Diocese to this Year of Faith.
There will be other events and opportunities throughout the year. As we have been meeting about and discussing this observance, it seems to me a couple of important themes or goals are beginning to take shape:
1) We need to make a Great Profession of Faith, individually and also collectively as a Community of Faith. What do we believe as Catholics? How important are these core beliefs in our life? How are we going to live faithfully? What decisions are we going to make on account of our living faith?
2) We need Repentance and Reconciliation. The trials and challenges we face need not cause us to give up. They require us to return always to God, to be reconciled to Him and to one another. We are not perfect. We depend on God's mercy. We need the grace of His healing.
3) We want to live with a Supernatural Outlook. Our faith must be a driving force for our life. Jesus Christ invites us to real friendship. How does that Divine Friendship shape all our relationships and interactions with others? How does the Holy Sacrifice of the Mass, which the Council calls the "font and summit of the whole Christian life," change and influence our daily life?
Dear friends, How will you live the Year of Faith? Respect Life Month? the Month of the Rosary? Let us pray for one another. Let us renew our commitment to each other – so that our faith and unity can become a sign to the world that God reigns.