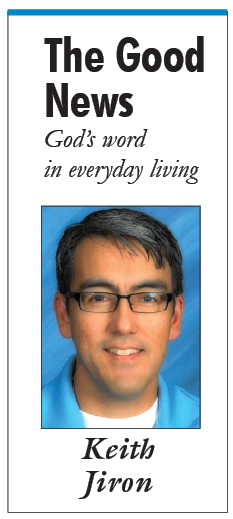 Recently I took all four of my young sons to a swimming pool by myself. My two older boys, who are like fish in the water, immediately jumped in and were having a blast. For a brief moment I took my eyes off our three year old who had wandered to the other side of the pool to join in the fun with his brothers. I turned around just in time to watch him jump in and sink beneath the surface. In what seemed like both an instant and slow motion eternity, I called out to his brothers who were nearby to help him while I frantically handed my seventeen month old to a stranger and ran over to the other side of the pool. As it turns out, neither of my two sons could touch bottom there and so, holding their breath, they each lifted him out of the water for the briefest of moments only to have him sink again before I was able to reach him. To say the least, this was one of those horrifying and humbling moments of parenthood when you are reminded that life is so fragile.
As I've often written before in my articles, the love that I have for my children has taught me volumes about God's love for us, His children. I was in no way mad at my son for jumping in. Rather, I was scared and heartbroken at the possibility that he could have died. How must it affect our Heavenly Father when He watches us sink into the sea of our sinfulness and choose spiritual death?
One of God's greatest gifts to us is freedom. The Catechism of the Catholic Church states that "sin is an abuse of the freedom that God gives to created persons so that they are capable of loving him and loving one another." (CCC 387) I cannot force my children to love me. All I can do is model love for them and hope that they will love me in return. Neither does God force us. Like any good father, however, He does provide us with certain guidelines, not for the sake of demanding compliance, but for the sake of our happiness.
One of the tried-and-true sources from which we find God's guidelines are in the Sacred Scriptures. Sunday's Scripture reading taken from Psalm 128 states: "Blessed are you who fear the LORD, who walk in his ways…Your wife shall be like a fruitful vine…your children like olive plants around your table." All throughout the scriptures, children are seen as a blessing. In this Sunday's Gospel, Jesus himself says, "Let the children come to me; do not prevent them, for the kingdom of God belongs to such as these."
The Church teaches that "children are the supreme gift of marriage and contribute greatly to the good of the parents themselves." (CCC 1652) I couldn't agree more. While raising four boys can be extremely exhausting and challenging at times, I can't imagine life without any of them. I've heard parents, especially mothers, say that their children are like an extension of their heart walking around outside of them.
Sometimes when I bring all four boys along with me, I still find myself distraught at the negative reactions from people. Just the other day, a friend of mine was talking with a stranger who had two children of his own. When my friend pointed out that I had four boys, the guy responded with a shake of his head, "No thanks!"
This negative reaction is not uncommon and has its roots in the contraceptive mentality so pervasive in our society. The Catholic Church's teaching against artificial contraception is another one of those guidelines set before us for the sake of our happiness. But people, yes, even Catholics, do indeed freely choose to go against the Church's teaching on "openness to life." From the earliest of times, God has given guidelines to His people only to have them use their God-given freedom to reject these guidelines. In the end, sin never makes any of us happy. The divorce rate for couples who use artificial contraception still hovers at a stunning fifty percent. Even when couples are considering getting off of contraception, this can seem utterly terrifying and so they need an extra amount of God's grace.
While the Church offers a guideline which people are free to reject, I find it ironic that a government which upholds freedom of choice as one of its basic tenets is doing just the opposite. The government-sponsored HHS "mandate," rather than respecting religious freedom, is coercing church institutions to go against their conscience by forcing them to pay for preventive health care services, eg. artificial contraception among others. This "Trojan Horse" is one which, if we take our eyes off of religious liberty even for the briefest of moments, may cause us to sink into a pool from which we may need rescue.
Keith Jiron is Coordinator of RCIA and Adult Education at St. Michael the Archangel Parish in Leawood.
Daily Scripture Readings
For complete daily Scripture texts, click here. http://www.usccb.org
Monday, October 8
Galatians 1:6-12
Psalms 111:1b-2, 7-8, 9 & 10c
Luke 10:25-37
Tuesday, October 9
Galatians 1:13-24
Psalms 139:1b-3, 13-14ab, 14c-15
Luke 10:38-42
Wednesday, October 10
Galatians 2:1-2, 7-14
Psalms 117:1bc, 2
Luke 11:1-4
Thursday, October 11
Galatians 3:1-5
Luke 1:69-70, 71-72, 73-75
Luke 11:5-13
Friday, October 12
Galatians 3:7-14
Psalms 111:1b-2, 3-4, 5-6
Luke 11:15-26
Saturday, October 13
Galatians 3:22-29
Psalms 105:2-3, 4-5, 6-7
Luke 11:27-28
Twenty-eighth Sunday in Ordinary Time,
Sunday, October 14
Wisdom 7:7-11
Psalms 90:12-13, 14-15, 16-17
Hebrews 4:12-13
Mark 10:17-30
Monday, October 15
Galatians 4:22-24, 26-27, 31-5:1
Psalms 113:1b-2, 3-4, 5a & 6-7
Luke 11:29-32
Tuesday, October 16
Galatians 5:1-6
Psalms 119:41, 43, 44, 45, 47, 48
Luke 11:37-41
Wednesday, October 17
Galatians 5:18-25
Psalms 1:1-2, 3, 4 & 6
Luke 11:42-46
Thursday, October 18
2 Timothy 4:10-17b
Psalms 145:10-11, 12-13, 17-18
Luke 10:1-9
Friday October 19
Ephesians 1:11-14
Psalms 33:1-2, 4-5, 12-13
Luke 12:1-7
Saturday, October 20
Ephesians 1:15-23
Psalms 8:2-3ab, 4-5, 6-7
Luke 12:8-12
Twenty-ninth Sunday in Ordinary Time, October 21
Isaiah 53:10-11
Psalms 33:4-5, 18-19, 20, 22
Hebrews 4:14-16
Mark 10:35-45
The full text of the Scripture readings for this week and next week can be found here: http://www.usccb.org/
Click on the "Daily Readings" tab on the right hand side of the page.