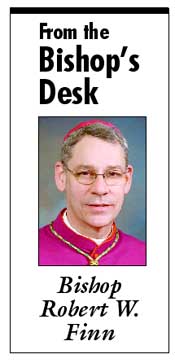 Following is Bishop Finn's homily for the opening of the Year of Faith given at a Rosary Rally and Benediction at St. Patrick Church in Kansas City on October 13:
"This is the work of God: that you believe in Him whom He has sent." (John 6:29)
 Dear friends,
We have entered the Year of Faith. Gathered spiritually with our Holy Father Pope Benedict and the Synod Fathers in Rome, we too have come to approach the Lord Jesus as did the apostles who once said, "Lord, increase our faith." (Lk 17:5) Fifty years after the start of the Second Vatican Council, we have wanted to make this candlelight procession, to be as pilgrims on a journey, to be as the whole Church in a movement toward Jesus. Twenty years after the Catechism we have come with a deep commitment to the Profession of Faith and our Catholic Tradition. What has been entrusted to us, we must faithfully live and hand on. We are full of trust and, like the crowds in John's Gospel, we are full of questions. "What must we do, Lord, to do the works of God?"
Jesus responds, "This is the work of God: that you believe in Him whom He has sent." Yes Jesus, we believe in You. Help our unbelief. Jesus we believe in You present in the Most Blessed Sacrament. Jesus we believe in You, alive in your Body, the Church. We love you and we love the Church. Jesus we believe in You, teaching the truth through Your Vicar, the Pope, and in the magisterium.
Our Year of Faith comes at an extraordinary time in the life of our Diocese. We have been through a lot. My many faults and human failings have been on display. This past week I visited one of our priests who is very ill. He told me that God really loves our diocese to choose us for this suffering and public humiliation. He reminded me that the Holy Spirit is in charge. What the world sees is not what God sees. God loves us a lot, he insisted. I listened. In the midst of his sufferings, this dying priest clearly believed this. With all my heart I believe it too. We are working hard to correct our failures; to do more for the well being of children and all God's people. But even now, God is so close to us. We are going to be O.K. We are going to be stronger. We are going to be holier. But we must ask Jesus for the faith which gives us a supernatural outlook. We must see – by faith – beyond that which the world sees. The Year of Faith is a providential gift for us. Jesus I believe in You. Lord, increase our faith!
The Year of Faith comes at an extraordinary time in our world. There are many challenges within our culture. The protection of human life is as important as ever, but many of the most powerful people in our country regard us as fanatics when we question this constant and horrible attack on life in its most vulnerable moment. Already we count a toll of fifty million human lives in this national tragedy. What the Supreme Court mistakenly called a free choice to abortion, became soon a "right" to abortion, and now the government funds some abortions. Those who would wish to limit it are widely labeled "fanatics." I don't know how history will regard us many years from now. Better to be called today "fanatic," than later that they would be able to say of us, "They said and did nothing to stop the slaughter of innocents." When Pope Benedict announced the Year of Faith, he said that we can no longer take for granted that faith is part of our culture. The values that flow from our Christian faith "are no longer self-evident within society at large," the Pope says, "because of a profound crisis of faith that has affected many people." (Porta Fidei, no 2)
At the core of society, we believe, is marriage and the family. Getting stronger almost every day is a distortion of matrimony, the vocation and sacrament by which a man and woman are called to be one and who, as husband and wife, have as their first duty and purpose to cooperate with God in bringing children into the world. Biology supports this reciprocity and complementarity of the genders; so also God's revealed Word; and for millennia, all surviving human law has protected this belief in the unique mutual and fruitful love which is authentic marriage. 2000 years ago, John the Baptist tried to protect the integrity of marriage before Herod. He was labeled a fanatic, put in jail, and lost his head. 500 years ago, St. Thomas More stood up for marriage against the King. His faith, deemed fanatical, made him a martyr. The Year of Faith begins at a moment when our culture is moving all too rapidly toward the distortion of married love. Clearly, heterosexual people and homosexual people alike must be helped to embrace chastity and to pursue holiness. How in this Year of Faith can we help others to better see the beauty of the Gospel message about purity, fidelity, and married love? If we wish to be as faithful as John the Baptist and Thomas More, what could be the cost associated with defending this precious vocation? The Holy Father in announcing the Year of Faith says, "We cannot accept that salt should become tasteless or the light be kept hidden (cf. Mt 5:13-16)." Lord, increase our faith!
We are gathered to welcome this Year of Faith on the threshold of a National Election, and at a time when the first freedom enumerated in the Bill of Rights, Religious Freedom, is being threatened. To be clear, the freedom to gather in worship — as we do this evening — does not seem to be imperiled. How wonderful that we can make this prayer and profession of faith without any intrusion by outsiders. I'm truly thankful for the ready assistance of law enforcement and other civil authorities in assuring that we could have a peaceful and prayerful procession. Faith, of course, is more. Our Catholic faith is more than the right of assembly and being able to gather in our churches. Our faith is known not only within our hearts; it is not only that which is held tenaciously by a well-formed conscience.
My faith and your faith is apostolic. Recall the marks of the Church: One, Holy, Catholic, and Apostolic. Our faith impels us to go out; to be agents for justice and charity. I have told people in our community many times, "We serve people not because they are Catholic; but because we are Catholic." Catholic Charities serves our whole community – Catholics and non-Catholics. Our Catholic hospitals do not require that the majority of their patients are Catholic; so also Catholic colleges and universities. Your parish food banks, Seton Center, nursing homes, prison ministries, the Knights of Columbus; these apostolates and many others have been the hallmark of Catholic outreach. They make real our answer to the question of the Gospel, "Who is my neighbor?" These efforts have as their inspiration Jesus' admonition, "Whatever you do for the least of my brothers or sisters, you do, or fail to do, for me." But the current administration in Washington defines a "Religious Employer" as a non-profit which has the inculcation of religious values as its principle purpose; that primarily employs Catholics; and that primarily serves persons who share our religious beliefs. In a recent homily by Archbishop Joseph Naumann of Kansas City, Kansas, our neighbor bishop observed that, given this narrow definition, Mother Theresa's Sisters would not be exempt from the new mandates of the Department of Health and Human services, precisely because they serve all in need, and they don't expect those they assist to convert to Catholicism.
Already since August of this year, for-profit employers – among whom are many conscientious Catholics and other believers – have been required, because of the HHS mandates, to pay for health care plans for all their employees that include sterilization, and the provision of contraceptives, including those that induce abortion. This is the challenge that we face in this moment in our country. How do we live our faith? How do we practice social justice, helping others in the name of Jesus Christ, without at the same time violating our conscience by spending money for sterilizations and the like?
Dear friends, some leaders in our country, much of the secular media, even some Catholics, have ridiculed the Bishops for their concern about paying for contraceptives. They ask why we believe that contraceptives are such a danger. It is because openness to life is essential to the meaning and power God gave to marriage. The diminishment of marriage that we see today, and the diminishment of the respect for human life in the womb, began with the promotion of artificial contraception. Disregard for the meaning and full responsibility of married love is an attack against our faith, because it frustrates and misdirects the very purpose of our God-given power to bring life into the world. I believe, as does the Church, that the use of contraception is morally wrong, but let me be clear, there is no agenda to take access to contraceptives from others. But to require us to pay for and provide sterilization, contraceptives, and abortifacient drugs to others is a violation of a well-formed conscience and an affront to the ideals of Religious Liberty which distinguish our country. The right to the free exercise of religion and of conscience cannot be trumped by the arbitrary policy goals of the Secretary of Health and Human Services. Those who fashioned the First Amendment certainly never intended for its guarantees of freedoms to be compromised by the desire of some for free contraception. Lord, increase our faith! Guide and direct our country. Give us leaders who will allow us to live fully our heritage: the freedom to not compromise our faith.
In 2006 when we celebrated the 50th anniversary of the establishment of Kansas City-St. Joseph, I took the occasion to consecrate our diocese to the Immaculate Heart of Mary. From the most pure heart of Mary our Savior was Incarnate. Embraced by that maternal love Jesus began His redemptive work. The Second Vatican Council's Dogmatic Constitution on the Church, Lumen Gentium, affirmed Mary as the mother of all the faithful in the order of grace. (L.G., no. 61) The Council Fathers said that she cooperates with a mother's love in the generation and formation of the faithful. (L.G., no. 63) Mary embodies in her person and re-echoes the very doctrines of our faith. (L.G., no 65) We have today contemplated the mysteries of Jesus and Mary in our rosary. Stay close to Mary if you desire to know and love her Son. Pray the rosary as individuals and especially as families. Make a commitment and begin now.
I invite you to renew with me our consecration to the Sacred Heart of Jesus and to the Immaculate Heart of Mary. I make it in union with the bishops of the United States, and in union with the Popes who have desired and intended to respond to the admonitions of Our Lady of Fatima. The blessing I give will give today extends a plenary indulgence, in accord with the directive of our Holy Father. I pray that this Year of Faith will be a moment of reconciliation and peace within our Diocese. May it be a time of grace when we are renewed in our faith as we face the challenges of our culture. May it be an occasion to grow in fortitude as responsible citizens who say "yes" to life; "yes" to authentic marriage; "yes" to the Constitution's pledge of Religious liberty and the integrity of our consciences.
Lord, we want to do the work of God. We profess our Faith in You. Jesus, present in the Most Blessed Sacrament of the altar, take care of this local Church. Christ living in Mary, Have mercy. Jesus, I trust in You! Amen.