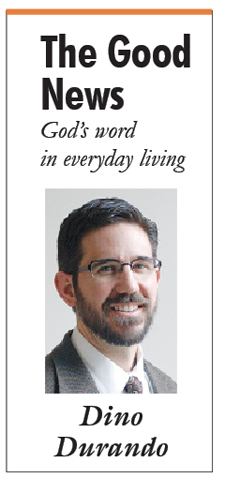 The Year of Faith which began on October 11th is a year long celebration of the faith we have received as a gift from God. In a sense this year asks each one of us a simple and yet profound question: Do we realize what we have?
The famous French President General Charles DeGaulle once called the Second Vatican Council "the most important event in the twentieth century." Rising from the ashes of World War II, DeGaulle found hope, for his own country of France and indeed for the world, in the possibilities of what a renewed Catholic Church could offer to all people regardless of their nationality, race or creed. This Sunday's readings provide us with an insight into the central teaching of Christianity (and not accidentally a central teaching of the Council) that can change the world for the better.
Vatican II tells us that the Eucharist is "source and summit of the Christian life" through which we "offer the divine victim to God" and ourselves "along with it" (Lumen Gentium #11). The Catechism of the Catholic Church explains the connection between the offering of the Mass and the offering of our lives. "In the Eucharist the sacrifice of Christ becomes also the sacrifice of the members of his Body. The lives of the faithful, their praise, sufferings, prayer, and work, are united with those of Christ and with his total offering, and so acquire a new value" (CCC, 1368).
The sacraments communicate the grace of the Paschal Mystery – the passion, death and resurrections of Jesus – and effect salvation for those who receive them in faith. (cf. CCC 1076) If we want to experience the transforming power of the Mass then sacrifice and service must be at the center of our spirituality as Catholics. The readings for this Sunday reveal why Jesus died and rose from the dead to save us. "He gives his life as an offering for sin" (Isaiah 53:10). "The eyes of the Lord are upon those who fear him… to deliver them from death" (Psalm 33:18-19). "The Son of Man did not come to be served but to serve and to give his life as a ransom for many" (Mark 10:45) Finally, Jesus is the high priest who identified with our humanity in every way "being tested in every way, yet without sin" (Hebrews 4:15).
What makes the Eucharist we receive at Mass so potent? How can this seemingly simple act give us the power to love as God does? If you are familiar with the story of Aslan's sacrifice from the C.S. Lewis classic The Lion, the Witch and the Wardrobe you may remember the claim the Witch makes. She demands the blood of the human traitor, Edmund, who had betrayed his brother and sisters, and even Aslan, trying to help the Witch capture and kill them. Aslan responds to her claim by offering himself in place of Edmund as a willing sacrifice.
In the book Aslan explains what happened to the children Susan and Lucy telling them: "When a willing victim who had committed no treachery was killed in a traitor's stead, the Table would crack and Death itself would start working backwards." Except for the fact that the devil could not make demands upon God this is a beautiful analogy of what happened at the crucifixion of Jesus. Jesus offered himself willingly as an act of love. His sacrifice "redeemed mankind and gave perfect glory to God" (Sacrosanctum Concilium, 5). In celebrating the Eucharist "the victory and triumph of his death are again made present… through the power of the Holy Spirit" (Sacrosanctum Concilium, 6).
This is the power of the Eucharist. We share in the sacrifice of Christ and in doing so we are transformed by His love and are able to love like God does; completely and without reservation. God's power is not like that of the world. It does not help us to take control of our lives or the lives of other people. Instead it gives us the power to sacrifice for the good of others. As Jesus says in response to the request of James and John to be leaders who are served by others, "whoever wishes to be great among you will be your servant; whoever wishes to be first among you will be the slave of all" (Mark 10:43-44). When we serve our spouse and children, our co-worker, even our enemy; we can love them as God loves them. There is a direct relationship between our participation in the Mass as a sacrifice and our participation in the Christian life as a life of sacrifice and service. This is the secret of the Christian life empowered by the Eucharist. We truly do become like God, offering ourselves in love.
Dino Durando is Director of the Family Life Office for the Diocese of Kansas City – St. Joseph.
Daily Scripture Readings
For complete daily Scripture texts, click here. http://www.usccb.org
Monday, October 22
Ephesians 2:1-10
Psalms 100:1b-2, 3, 4ab, 4c-5
Luke 12:13-21
Tuesday, October 23
Ephesians 2:12-22
Psalms 85:9ab-10, 11-12, 13-14
Luke 12:35-38
Wednesday, October 24
Ephesians 3:2-12
Isaiah 12:2-3, 4bcd, 5-6
Luke 12:39-48
Thursday, October 25
Ephesians 3:14-21
Psalms 33:1-2, 4-5, 11-12, 18-19
Luke 12:49-53
Friday, October 26
Ephesians 4:1-6
Psalms 24:1-2, 3-4ab, 5-6
Luke 12:54-59
Saturday, October 27
Ephesians 4:7-16
Psalms 122:1-2, 3-4ab, 4cd-5
Luke 13:1-9
Thirtieth Sunday in Ordinary Time, October 28
Jeremiah 31:7-9
Psalms 126:1-2, 2-3, 4-5, 6
Hebrews 5:1-6
Mark 10:46-52
Monday, October 29
Ephesians 4:32-5:8
Psalms 1:1-2, 3, 4 And 6
Luke 13:10-17
Tuesday, October 30
Ephesians 5:21-33 or
Ephesians 5:2a, 25-32
Psalms 128:1-2, 3, 4-5
Luke 13:18-21
Wednesday, October 31
Ephesians 6:1-9
Psalms 145:10-11, 12-13ab, 13cd-14
Luke 13:22-30
Solemnity of All Saints
Thursday, November 1
Revelation 7:2-4, 9-14
Psalms 24:1bc-2, 3-4ab, 5-6
1 John 3:1-3
Matthew 5:1-12a
All Souls Day
Friday November 2
Wisdom 3:1-9
Psalms 23:1-3a, 3b-4, 5, 6
Romans 5:5-11
John 6:37-40
Saturday, November 3
Philippians 1:18b-26
Psalms 42:2, 3, 5cdef
Luke 14:1, 7-11
Thirty-first Sunday in Ordinary Time, November 4
Deuteronomy 6:2-6
Psalms 18:2-3, 3-4, 47, 51
Hebrews 7:23-28
Mark 12:28b-34
The full text of the Scripture readings for this week and next week can be found here: http://www.usccb.org/
Click on the "Daily Readings" tab on the right hand side of the page.