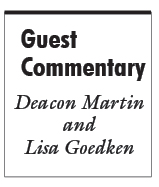 Perhaps no other time in the history of the United States has an election been more important than the upcoming 2012 election. We are indeed at a decisive hour in the history of our nation.
Many issues press upon us. Issues such as employment, the economy, care of the poor, the environment, and immigration all need to be addressed in a responsible way. At the same time, we recognize that there may not always be agreement on how to responsibly and effectively deal with these issues.
There are, however, even more fundamental issues and values which we believe must always be adhered to. These include the sacredness of human life from conception to natural death, religious freedom and freedom of conscience, and marriage of one man and one woman.
Violations of the above would be abortion, euthanasia and physician-assisted suicide, same sex marriage, and government-coerced violation of conscience (such as the recent HHS mandate). Our right to life (including the life of pre-born children) is God-given and cannot be taken away by government. The freedom of conscience for which we are fighting is the freedom to live our lives according to our faith, without having to compromise that very same faith. The marriage of one man and one woman is also ordained by God. As goes the family so goes the nation.
Protecting and defending the vulnerable is necessary for the future of our nation, not destroying our innocent sons and daughters in the womb or ending the lives of the elderly prematurely. The violence that surrounds us is ample evidence of our country's eroding respect for the dignity of each and every human life, born and pre-born. We can, however, strengthen our nation by restoring respect for life at every stage. It begins in the heart of every citizen.
Stable marriages between one man and one woman have been proven in studies to be the best environment for children, such as in the recent University of Texas study by Mark Regnerus. If we want a strong nation, let us promote strong marriages, the foundation of any vibrant nation.
The freedom of religion and conscience is vital to the very survival of our country. Without these freedoms citizens can be forced into doing or supporting with their tax dollars unimaginable atrocities. Without the vigilance of each one of us faithful citizens, our freedoms will fall, one by one. As it is aptly put, the price of freedom is eternal vigilance.
Find out where the candidates stand on these issues. We urge you to let these non-negotiable values guide you as you go to the polls this year.
We thank God for this great nation. And we hope and pray – for the sake of our children, our grandchildren, and all who come after us – that this great land will always be "one nation, under God, indivisible, with liberty and justice for all."
It's up to all of us.
Deacon Martin and Lisa Goedken are parishioners at St. Columba in Conception Junction, MO. Deacon Martin recently retired as Associate Director of Catholic Charities, Northwest Missouri.