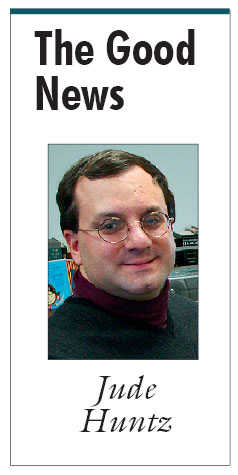 As we approach the Christmas season we naturally turn our minds to the unique American sport of regifting. For those unfamiliar with this phenomenon, regifting is the act of taking a gift you have received that you don't like and giving to someone else as a gift. I confess to doing this once, justifying myself by saying that someone else will actually enjoy and use this gift while I will do neither. A student of mine went one step further with a gift he received. Someone gave him a can of Spam as a gift, and since he did not like Spam he gave it to the parish food pantry, an act that he deemed to be rather salutary and pious. While it is certainly better for someone else to benefit from a gift that you will not appreciate or use, we might pause to consider the lessons of today's readings before we canonize ourselves for the act of regifting.
The first reading presents us with the foundational text of Judaism, the Shema. Every pious Jewish family has a plaque with the text of the Shema beside their front door. As they leave the house to go about their day, Jews are to remind themselves of their identity and mission: to love God above all things. Every act of the day should be animated with the love of God. The command to love God flows from the fact that God has richly blessed the Jewish people, continually leading them, protecting them, and above all providing them a law by which to live as a people set apart as special and chosen in the eyes of God. Hence, the love pledged to God in the Shema represents the first fruits – giving our best and our all to God. It would be a shameful act to give God any less, or to take God's gift and give it away to another.
The Gospel text is a remarkable exchange between a scribe and Jesus over which is the first of all commandments. Jesus recites the Shema in his reply, but he also adds the love of neighbor to the answer, intimately connecting the one to the other. The scribe finds himself in profound agreement with Jesus' teaching, to which Jesus replies that the scribe is not far from the kingdom of God. Jesus' statement begs the question from us: what else must the scribe have in order to enter the kingdom of God? The answer is rather simple: it is not enough to acknowledge that these are the two great commandments of God. One must actually love God and neighbor in our words, deeds, and thoughts.
How, then, are we to carry out this commandment in our everyday lives? The letter to the Hebrews provides us with a contrast that may prove helpful. It points out that the Jewish law had the Levitical priesthood offer continual animal and grain sacrifices to God as a way of showing their love for God. However, Jesus' own offering of himself is the standard by which love of God and neighbor is expressed and brought into a radical unity. We cannot love God without loving our neighbor. Christianity is a faith in the incarnation of Jesus the Lord. God is for us not an abstraction, idea, or nebulous concept, but rather a person in the flesh with a particular history in time. We cannot love God in the abstract, but in the concrete of other persons, and hence Jesus reminds us that for as often as we do something for our neighbor we do it to him.
The Levitical priesthood erected an elaborate system of religious practices that were powerless to save. The acts were pious and well intentioned, but ultimately they had no real meaning. For the ultimate point of our faith is brings us to love God through love of neighbor. Our own faith tradition has this tendency to develop elaborate religious practices, all of which are well intended. But as Karl Rahner has pointed out, "all prayer, worship, law, and institutions of the Church are only secondary means for us to do one thing: to love God and our neighbor. Where we do that we have already fulfilled the Law, thrown the bond of perfection round our whole life, taken the better way which Paul has shown for us. Only if we understand that there is a real ultimate unity between love of God and love of neighbor do we really understand what Christianity is and what a divinely simple thing it is after all." (Everyday Faith, p. 116)
As we seek to grow in our love for God and neighbor, we pray together this week as a people utterly dependent on God's help and example to accomplish this great work: "Let us pray in the presence of God, the source of every good. Father in heaven, God of power and Lord of mercy, from whose fullness we have received, direct our steps in our everyday efforts. May the changing moods of the human heart and the limits which our failings impose on hope never blind us to you, source of every good. Faith gives us the promise of peace and makes known the demands of love. Remove the selfishness that blurs our faith. Grant this through Christ our Lord. Amen."
Jude Huntz is Chancellor of the Diocese of Kansas City – St. Joseph.
Daily Scripture Readings
For complete daily Scripture texts, click here. http://www.usccb.org
Monday, November 5
Philippians 2:1-4
Psalms 131:1bcde, 2, 3
Luke 14:12-14
Tuesday, November 6
Philippians 2:5-11
Psalms 22:26b-27, 28-30ab, 30e, 31-32
Luke 14:15-24
Wednesday, November 7
Philippians 2:12-18
Psalms 27:1, 4, 13-14
Luke 14:25-33
Thursday, November 8
Philippians 3:3-8a
Psalms 105:2-3, 4-5, 6-7
Luke 15:1-10
Feast of the Dedication of the Lateran Basilica in Rome
Friday, November 9
Ezekiel 47:1-2, 8-9, 12
Psalms 46:2-3, 5-6, 8-9
1 Corinthians 3:9c-11, 16-17
John 2:13-22
Saturday, November 10
Philippians 4:10-19
Psalms 112:1b-2, 5-6, 8a and 9
Luke 16:9-15
Thirty-second Sunday in Ordinary Time, November 11
1 Kings 17:10-16
Psalms 146:7, 8-9, 9-10
Hebrews 9:24-28
Mark 12:38-44 or 12:41-44
Monday, November 12
Titus 1:1-9
Psalms 24:1b-2, 3-4ab, 5-6
Luke 17:1-6
Tuesday, November 13
Titus 2:1-8, 11-14
Psalms 37:3-4, 18 and 23, 27 and 29
Luke 17:7-10
Wednesday, November 14
Titus 3:1-7
Psalms 23:1b-3a, 3bc-4, 5, 6
Luke 17:11-19
Thursday, November 15
Philomen 7-20
Psalms 146:7, 8-9a, 9bc-10
Luke 17:20-25
Friday November 16
2 John 4-9
Psalms 119:1, 2, 10, 11, 17, 18
Luke 17:26-37
Saturday, November 17
3 John 5-8
Psalms 112:1-2, 3-4, 5-6
Luke 18:1-8
Thirty-first Sunday in Ordinary Time, November 18
Daniel 12:1-3
Psalms 16:5, 8, 9-10, 11
Hebrews 10:11-14, 18
Mark 13:24-32
The full text of the Scripture readings for this week and next week can be found here:  http://www.usccb.org/
Click on the "Daily Readings" tab on the right hand side of the page.