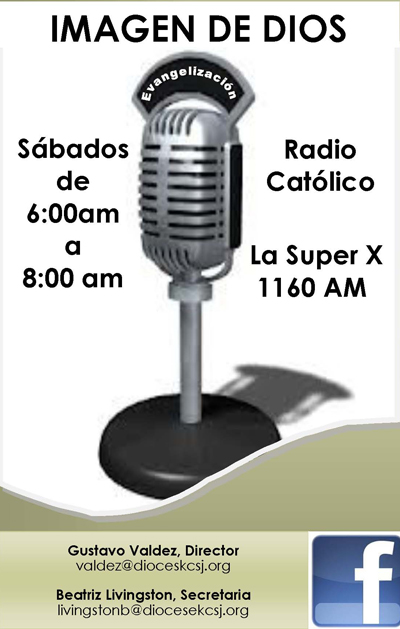 By John Heuertz
Special to The Catholic Key
KANSAS CITY — As it happens, Catholic radio in Spanish is heard from Blue Springs to Paola every Saturday morning from 6-8 on "La Super X" 1160 AM, courtesy of the Office of Hispanic Ministry of the Diocese of Kansas City-St. Joseph, funded through donations to the Bishop's Annual Appeal.
"La imagen de Dios" – "The Image of God" – is produced weekly by diocesan Director of Hispanic Ministry Gustavo Valdez.
"I was trying to find a way to reach the Hispanic community in the diocese," he said. "I was looking for a show to help them understand better the teaching of the Church."
It's funded in part by the diocese as part of its pastoral ministry to area Hispanics, whether they're active Catholics or not.
The show, Valdez's idea, went on the air last August 4. It's part of a larger trend in American radio.
Hispanics are the nation's largest and fastest growing minority group. An estimated 50 million Hispanic people live the U.S. today.
According to the NAB, the National Association of Broadcasters, Hispanics watch considerably less TV than average each week, but listen to radio slightly more than average.
Radio also reaches 95 percent of America's Hispanics each week — the highest percentage for any group, the NAB reports.
Spanish Catholic radio is keeping pace. In the last ten years, 24/7 Spanish Catholic radio stations have become firmly established in Texas, California, Florida and elsewhere.
Among others, Franciscans, Redemptorists and EWTN also produce nationally distributed Catholic radio programs in Spanish as a pastoral service to this demographic.
In the end, Valdez decided to put his broadcast education in Mexico City to good use by producing a show by himself that is tailor-made to local conditions.
And he does it all himself, from hosting each week to finding guest speakers to raising money to help pay for it all.
The first 40 minutes of each program are devoted to the Rosary, followed by parish announcements, sponsor mentions, and so forth until 7.
The second hour is for catechesis and information. It's broken into two segments of roughly 20 minutes each, with listener call-ins and a short interlude in between.
Valdez usually talks about a different catechism topic each week. "The catechetical topics are very popular right now, especially about the Sacraments or about Mary," he said. "When I talk about Mary I get a lot of calls."
This hour is also to let the community know that the diocese offers different programs like the Knights of Columbus, the Cursillo movement, First Communion programs and others.
"They're all programs that in some way help the community. It's good for them to know the diocese offers these programs."
Sometimes Valdez will interview someone live in the studio who knows how to do something like run a K of C chapter. Or he will have a priest guest speaker.
"But because they're always busy I prerecord a topic on Friday with them and then I broadcast the talk."
People ask him why he doesn't broadcast on a local AM station with an established and highly successful Catholic radio format.
"Because we need to be where people are already," he says. "The Hispanic community usually likes to listen to secular music."
"La Super X" plays popular music from every region in Mexico. But Valdez says his call-in listeners come from everywhere south of the border.
"Sometimes I talk about some kind of social issues," he said. "The one that is very popular now is the DREAM act and what's happening with it."
Kansas City is America's 33rd biggest radio market, with about 1.65 million radio listeners age 12 and up, including about 132,100 Hispanics.
But Valdez doesn't have the data he needs to accurately estimate his program's audience size.
"This is the first time we have had this kind of ministry in the diocese," he said. "I'm very lucky if I can keep it going for two or three years."
"I don't know if we can grow it. It's one of 21 ministries I do. I supervise 20 other ministries. I cannot spend more time on it."
"But I think it's working so far because people like it and I get lots of compliments."
Call the diocesan Office of Hispanic Ministry at 816-756-1850, ext. 241 or ext. 553 for "La imagen de Dios" program or sponsorship information.