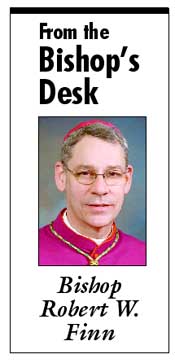 Following is Bishop Robert W. Finn's homily given November 3 at a Cathedral of the Immaculate Conception Mass celebrating the 50th Anniversary of the Cursillo in the Diocese of Kansas City – St. Joseph:
Dear Brother priests, deacons, and Religious
Dear 5th Day Community of Cursillo
Friends in Christ All,
Thank you very much for this invitation to celebrate Holy Mass for the 50th Anniversary of the Cursillo in Kansas City-St. Joseph. Cursillo is a great work of evangelization which, more than fifty years ago, anticipated in a way the work of the Council and the more recent call of the New Evangelization.
I am grateful once again for the foresight and zeal of my predecessor, Bishop Charles Helmsing, who invited Fr. Fidelis to bring this blessed experience to our Diocese and region a half century ago. Over and over I come to see that Bishop Helmsing was a holy man who loved the Church and was so faithful to her and to those initiatives that would help her reach out in authentic apostolic witness to the faith.
Cursillo, in my study, was and remains the "granddaddy" of the modern Catholic evangelical movements. With Pope Paul's "Evangelii Nuntiandi, which would come a decade later in 1975, it laid the foundation for other powerful experiences like Marriage encounter, TEC, the Parish Renewal Weekends, and so many other opportunities for Catholics to share in the work of bearing testimony to God in their life – and the mandate to share faith enthusiastically with others. Cursillo was the first, given us by our Spanish brothers and sisters, and then, through the zeal of Fr. Fidelis and the work of so many others, we were able to experience it in our own language and culture.
Over the last 8 ½ years that I have been a bishop I have had the joy of celebrating a number of these wonderful anniversaries and enjoying the stories of faith that are at the heart of the life of the Church. I am honored to be with you today, and I know I speak for Archbishop Naumann as well when I say "thank you" for the work that has so enriched both our dioceses. With you we give thanks to God for His grace, and for the invitation that He extends in His providence: to know Him, to love Him, and to be His witnesses and apostles in the world.
By a happy providence we are marking this Jubilee of Cursillo at the beginning of a great "Year of Faith." Pope Benedict XVI, Peter's successor, has invited us to enter boldly through the Door of Faith. His Apostolic Letter to announce the Year of Faith, Porta Fidei, begins by saying that the Door of Faith is always open for us. Jesus Christ bids us to know Him, to believe in Him, to love Him – to offer our lives in union with Him. I think the Pope's invitation to the Church to celebrate a Year of Faith comes at a critical and providential moment, when a number of significant challenges are aligning.
Recently we saw the devastation of Hurricane Sandy as it struck the Northeast United States. The hurricane, we are told by experts, was actually the coming together of several forces: a tropical storm, cold air from the north, and a trajectory into one of the country's most populated areas. These multiple factors created the "perfect storm."
In an analogous way, we face in today's culture and in the world around us, a growing number of factors that are inimical to faith: the loss of the sense of the inestimable value of human life; challenges to the integrity of marriage and the family; a deterioration of the foundations of Religious Freedom. On the eve of a national election and at the commencement of this Year of Faith, we have important decisions to make. The first responders to Hurricane Sandy, or the folks in New Jersey and New York, could little afford to wait and see how things might unfold. Preparations had to be made for the protection of families. Value judgments were vital as people decided what are the most important possessions to protect? Generous service was required.
In his letter announcing the Year of Faith, Pope Benedict suggested that we face a crisis of faith in our culture. In some ways we are facing a "perfect storm," an attack against many of the values that we hold dear. In accord with our deepest beliefs we must rediscover and exercise a supernatural outlook in our lives. What is of lasting value? What ought we be ready to discard if it stands in the way of our friendship with Jesus Christ and our obedience to His law?
As we celebrate this anniversary in the first days of November, I am reminded of another coming together of forces that is vital to our life as followers of Christ and people of faith. The special feast days we celebrate remind us that the Church is strong because we are not alone. God has given us a whole host of witnesses to strengthen and inspire us. We have celebrated All Saints day, calling to mind those whose life and virtues have been heroic and exemplary throughout the ages. We commemorate the Poor Souls and feel so close to those who sought to remain faithful in their lives and now await God's mercy. They are two great forces within the Church, the living Body of Christ. And we too are the Church, the Body of Christ on earth. Though it may be politically incorrect to say so, we are "The Church Militant." Daily we fight the battle, and faith – our core beliefs firmly held and inspiring action – must be our standard.
Against the conflagration of secularism, materialism, and a permissive misuse of the beautiful gift of life, we must remain in the world but not "of the world." Our profession of faith is not just for an hour on Sunday inside the walls of our parish church. God has called us to live in His life so fully as to change and transform our culture. With the Church in heaven and in purgatory, we the Church on earth have our own storm to unleash on the world: a storm of prayer and peace, a storm of mercy and charity, a power of responsibility to say the truth clearly and without compromising our consciences. How wonderful that the experience of Cursillo has helped to make our faith real, active, and apostolic.
The anniversary we celebrate today marks God's active love and grace in so many people's lives. God is with us and He remains with us over the generations, and this power and presence of God – experienced through many people's faith – is a leaven that has infused the larger community and given us all a more full and holy life.
As we begin the second half century of Cursillo, we cannot know what path God may next open before us. In great trust we know that He, as Our only Lord and Savior, is worthy of our fidelity. With Jesus Christ, and the truths of His life and love that He has placed within our hearts, we will go out confidently to take up the necessary work of a New Evangelization. Jesus wants to awaken in hearts the seeds of faith that were planted in baptism. And – amazing as it may seem – He has determined to use you and me to carry out this wonderful work.
Let us entrust ourselves to Him fully, give praise for the graces that have shaped and sustained us, and remain confident that we go forward as part of a pilgrim Church, with hosts of souls and saints as our friends and co-workers. Mary, Mother of the Church, keep us always on a safe path to your Son. Amen.
Congratulations to you, Cursillo community, on this special day. May God bless you all, ad multos annos!