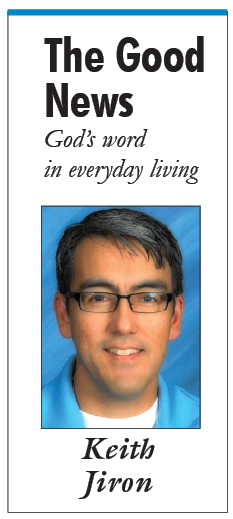 Nearly six years ago, my wife, two sons, and I were traveling to Denver to celebrate the Holidays with my family. About half way there on Interstate 70, my wife and I started to come down with serious flu symptoms and so made an immediate decision to turn around and get back home to Kansas City as soon as possible. About ten miles outside of Hays, Kansas, we noticed that Michael, our thirteen-month-old, had also gotten sick, started to shake and ended up having a seizure in the van.
What was happening was so surreal to me that it was my wife who, in spite of her dread and panic, had to tell me to call 9-1-1. Within just a few minutes, an ambulance met us just off of the highway and took Michael and my wife the rest of the way to the Hays hospital. In the subsequent moments, while following the ambulance to the hospital, I had the sobering realization that I might lose him. I feared the worst. I remember looking down at the clock after what seemed like an eternity only to discover that barely a minute had passed. When I finally got to the emergency room, I was actually relieved to hear Michael crying. He was alive! I can't remember what I said to my wife, but at that moment Michael stopped crying. My wife later told me that he had cried non-stop the entire time and finally stopped when he heard my voice. I guess he finally felt safe, knowing that his dad was there.
When I reflect back on that moment, I still get a bit choked up at the realization that my son found such consolation once he realized that I was present with him in the emergency room. It is both humbling and wonderful to realize that I meant that much to him, that I was loved and trusted. Before I became a parent, I never really knew how much love I could feel for a child. In fact, the love felt is so powerful that the thought of losing a child seems utterly horrifying. Scares like the one I experienced that day give a certain perspective to this Sunday's gospel. "But of that day or hour, no one knows, neither the angels in heaven, nor the Son, but only the Father."
When things are going well, it is so easy to take life for granted and to lose eternal perspective. When we are comfortable and well fed, it is easy to fall prey to the saying in Philippians 3:19: "Their god is their stomach…Their minds are occupied with earthly things." However, when something terrible happens to us that is beyond our control, such as severe illness, loss of a loved one, or loss of a job, etc., our need for God comes more clearly into focus.
In this Sunday's scriptural readings from the prophet Daniel and the gospel of Mark, we encounter apocalyptic language. Daniel says: "It shall be a time unsurpassed in distress since nations began until that time…" In Mark we read: "In those days after that tribulation the sun will be darkened, and the moon will not give its light, and the stars will be falling from the sky, and the powers in the heavens will be shaken." This gloom and doom language may seem far removed from us in our day, especially in the relative comfort and security of the present United States. However, we must keep in mind that "the word of God is living and effective, sharper than any two-edged sword." (Heb. 4:12) Scriptural commentaries on these readings mention oracles of judgment foretelling the downfall of pagan kingdoms.
What are we to make of such readings in our day? History bears out the fact that once a nation gets rid of God, someone always replaces Him. We would be hard-pressed to say that our culture is a God-centered one. However, as Christians we are not to live in fear. First and foremost "our citizenship is in heaven and from it we await a savior, The Lord Jesus Christ." (Phil 3:20) Sunday's gospel puts it this way: "And then they will see 'the Son of Man coming in the clouds' with great power and glory, and then he will send out his angels and gather his elect from the four winds…"
The message of the gospel is one of hope. Just as my son felt reassured with my presence in the hospital that day, let us remember that no matter what dark tribulation we are facing in our lives, we can take comfort at the sound of our Heavenly Father's voice.
 Keith Jiron is Coordinator of RCIA & Adult Education at St. Michael the Archangel Parish in Leawood.
Daily Scripture Readings
For complete daily Scripture texts, click here. http://www.usccb.org
Monday, November 19
Revelation 1:1-4; 2:1-5
Psalms 1:1-2, 3, 4 And 6
Luke 18:35-43
Tuesday, November 20
Revelation 3:1-6, 14-22
Psalms 15:2-3a, 3bc-4ab, 5
Luke 19:1-10
Wednesday, November 21
Revelation 4:1-11
Psalms 150:1b-2, 3-4, 5-6
Luke 19:11-28
Thanksgiving Day Mass
Thursday, November 22
Sirach 50:22-24
Psalms 145:2-3, 4-5, 6-7, 8-9, 10-11
1 Corinthians 1:3-9
Luke 17:11-19
Friday, November 23
Revelation 10:8-11
Psalms 119:14, 24, 72, 103, 111, 131
Luke 19:45-48
Saturday, November 24
Revelation 11:4-12
Psalms 144:1, 2, 9-10
Luke 20:27-40
The Solemnity of Christ the King, November 25
Daniel 7:13-14
Psalms 93:1, 1-2, 5
Revelation 1:5-8
John 18:33b-37
Monday, November 26
Revelation 14:1-3, 4b-5
Psalms 24:1bc-2, 3-4ab, 5-6
Luke 21:1-4
Tuesday, November 27
Revelation 14:14-19
Psalms 96:10, 11-12, 13
Luke 21:5-11
Wednesday, November 28
Revelation 15:1-4
Psalms 98:1, 2-3ab, 7-8, 9
Luke 21:12-19
Thursday, November 29
Revelation 18:1-2, 21-23; 19:1-3, 9a
Psalms 100:1b-2, 3, 4, 5
Luke 21:20-28
Friday November 30
Romans 10:9-18
Psalms 19:8, 9, 10, 11
Matthew 4:18-22
Saturday, December 1
Revelation 22:1-7
Psalms 95:1-2, 3-5, 6-7ab
Luke 21:34-36
First Sunday of Advent, December 2
Jeremiah 33:14-16
Psalms 25:4-5, 8-9, 10, 14
1 Thessalonians 3:12-4:2
Luke 21:25-28, 34-36
The full text of the Scripture readings for this week and next week can be found here: http://www.usccb.org/
Click on the "Daily Readings" tab on the right hand side of the page.