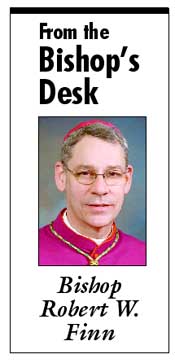 The month of the poor souls has drawn to a close. Beginning with All Saints and All Souls days we have been reminded in November of our communion with those who have gone before us. We are joined to them most closely at the altar. We pray for our faithful departed always, and frequently call upon the saints for intercession.
At the close of the Church's liturgical year it has been important for us to reflect on the "four last things:" death, judgment, heaven, hell. The Church teaches that these are objective realities that every human person will face at the end of time. We will all die and be judged. We will have an eternal life in heaven or hell. If we die with sanctifying grace, but still need to atone for the temporal punishment due our sins, we will live a time of purgation or cleansing before entering heaven. This is what the Church calls purgatory. (Catechism of the Catholic Church, nos. 1030-1032)
Now we have entered Advent in preparation for Christmas, and we see how the different "comings of Christ" are linked. Christmas celebrates His first coming in the Incarnation: Jesus' birth into our human condition. Both the birth of Jesus and His final coming at the end of time are real historical events. The Catechism of the Catholic Church teaches, "When the Church celebrates the liturgy of Advent each year, she makes present (the) ancient expectancy of the Messiah (foretold by Old Testament prophets and announced by St. John the Baptist), for by sharing in the long preparation for the Savior's first coming, the faithful renew their ardent desire for His second coming." (no. 524)
While our Advent time helps us to joyously look to the coming of Christ at Bethlehem, it must also and ultimately be part of our whole life's preparation for the Judgment Day. If we dread the Second Coming of Christ, it could be that we may not be living the full meaning of His First Coming at Christmas!
What shall we do to make this Advent preparation part of a joyous anticipation of Jesus Christ the judge?
1) We could try, with prayer, to be more patient in waiting for God's solutions in our life.
2) Trusting in God more, we could ready ourselves to receive the gifts God wishes to give us. We could be less demanding about getting what we want.
3) In the preaching of St. John the Baptist it is clear that Advent has a penitential dimension. Like Lent this can be observed in new commitments to prayer, penance or self-discipline, and generous giving. Heeding the call of St. John, make a good examination of conscience each night, and go to the sacrament of confession more often.
4) In this Year of Faith, we can devote some time to study and reflect on the Creed. Part One of the Catechism of the Catholic Church, goes step-by-step through the articles of our Catholic faith. Perhaps during this Year of Faith we can make a resolution to read the Catechism. Advent would be a great time to begin.
5) As we enter this season of giving, I humbly ask each of you to consider a gift to our 2012 Bishop's Annual Appeal. Every penny that you donate goes to 'people programs' that reach many men, women, and children in need. The Appeal is a vital resource for our ministries to young people, seminarians and retired priests, and so many other worthy apostolates. They depend on our help.
Christmas must help us become Christ-centered. Keep Christ in Christmas by keeping Him – and His Church – in your heart. St. Augustine wrote to his flock, "Let us not resist His First Coming, so that we may not dread the Second."