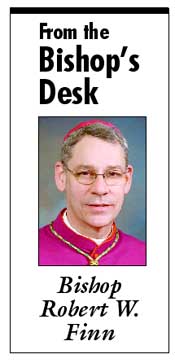 As the year 2012 comes to a close, our hearts are fixed on Jesus, Savior of the world; Savior of each human heart. We bid Him, "Come, save us. Renew us in peace."
Pope Benedict XVI has initiated a Year of Faith, reminding us in his apostolic letter that "The door of faith is always open for us." We want to make a great act of faith, acclaiming Jesus as Lord of our lives. For anything that still may be lacking in our hearts, or for anything that is shadowed by doubt we pray, "Lord, increase our faith." (Lk 17:5)
This year has brought many graces and tremendous challenges. We have seven new priests of our diocese – more counting those Religious Order priests that serve here. There have been nearly 1000 new Catholics received, not counting infant Baptisms, and many beautiful celebrations of the Sacraments: First Communions, Confirmations, weddings, and more.
While many have suffered losses: of loved ones who have died, illnesses, loss of jobs or other financial setbacks, clearly as members of our Diocese we have also borne a tremendous weight in the much publicized issues surrounding the reporting of one of our priest-offenders. My own shortcomings have been constantly on display. I have many times expressed my apology, as I do so again here, and daily I renew my sorrow over the hurt these events have caused. We are grateful for the dismissal of all charges against the Diocese of Kansas City – St. Joseph and the associated long-term expense they implied.
Another authentic sign of hope has been the establishment of a very meaningful program of personnel and administrative structures to better and more immediately respond to allegations, and to protect children and youth. What we have represents a model of "best practice" within the country. This has now been in place for more than a year, and it is a concrete beginning for the healing and renewal of the diocese. We continue to pray for all those who have been hurt by the crime of abuse.
I thank those who have supported me in prayer and encouragement, and I understand how some remain reluctant to forgive. I humbly ask that forgiveness, and I trust in your good will for the Church's work which always must go forward in hope.
Within the past weeks we have witnessed in our country, horrible and violent acts: mass shootings at malls and schools. The evil at work remains a mystery of sin and suffering. It is seen differently by different people: as issues concerning guns; issues of mental illness; concern about the around-the-clock publicity and replaying of these events in media; the escalating representation of violence in addictive video-gaming. We ask God to grant mercy to families and communities most directly affected, and to heal the tremendous and indescribable sorrow of those who have lost loved ones. We pray that God will also assist us with Divine light and fortitude to do more to protect society.
Our world remains at war. In Africa, tribal conflicts continue to edge on genocide. The Middle East continues to attract constant concern. Many are dying in these conflicts: in Syria, Iraq, and Afghanistan, in Gaza and Israel. Come Lord God of peace. Bring reconciliation to the sons of Abraham. Quiet this land of the Promise and the home of Jesus Christ.
Many economic challenges are especially real in the families where there is unemployment and also among the working poor. Our Morning Glory Café near the Cathedral feeds many hundreds of people each week. Your parish food pantries, our Catholic Charities programs, and the work which is carried out in many more Catholic institutions, leads the way in daily assisting people in need. In this regard the work of the Bishops Annual Appeal is more important than ever. This year our theme, taken from St. Paul, is "The Love of Christ Compels Us." Every dollar collected in the Appeal will go to these diocesan programs for people.
Let me also say clearly that these and other works of the Church are seriously at risk under the proposed implementation of the United States Health and Human Services (HHS) mandates. The work of our Charities, Catholic Hospitals and Universities, as well as the consciences of other employers is threatened in a real and significant way. We must work and pray for the protection of Religious Liberty as foreseen in the Constitution.
While there are so many Crosses, there are also many signs of God's love. Our Catholic schools remain a fundamental strength for our neighborhoods. We see tremendous participation in our programs of evangelization among high school students. Our College campus ministries are thriving, and the success of our "City on a Hill," programs for young adults are being studied by other dioceses. We have strong numbers of seminarians. Our efforts to support Hispanic Catholics are expanding. We remain committed in hope to the project of a new "St. Michael" high school. Many parishes are also considering projects. In all these things we depend on God's grace, and we depend on your generous faith and material support. The love of Christ compels us – urges us – requires us to go forward. Strengthen and unite us, Oh Savior of the world.
I am pleased to announce that we will mark a milestone this year for one of our diocese's most beloved members. Bishop Raymond Boland will celebrate his 25th anniversary as a bishop on March 25, 2013. Since that day falls within Holy Week this year, we have set Friday, May 3, 2013, as a day to honor Bishop Boland and his 25 years. We will have Holy Mass in the Cathedral of the Immaculate Conception at 7:00 p.m., and a reception at the Catholic Center following. Mark your calendar. All are invited.
Dear friends I join my reflections and prayerful intentions to your own as we see this 2102 come to a close. Full of hope and trust, and placing ourselves under Mother Mary's mantle, we say with all the Church, "Come, Oh Prince of Peace!"