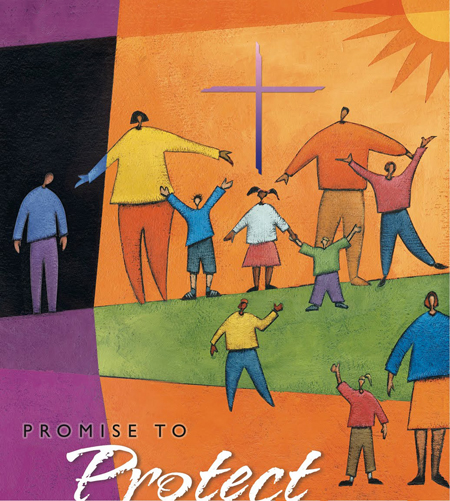 By Kevin Kelly
Catholic Key Associate Editor
KANSAS CITY — If there is anybody on earth thinking that there isn't a strong relationship between child pornography and child sexual abuse, Cathy Morrison has a study for you.
Morrison, training consultant for the diocesan Office of Child and Youth Protection, told diocesan employees Jan. 17 that a study published in 2009 of 155 inmates incarcerated on child pornography charges at the Federal Correctional Institution at Butner, N.C., showed that as many as 98 percent of them had also committed physical acts of sexual abuse against children.
That figure should send a shock up the spines of those who think the two are separate and unrelated crimes, Morrison said.
"With child pornography, there is an 98 percent chance that there is actual, physical abuse of a child along with it," Morrison said.
Morrison's session for about 50 diocesan employees was the first in a series of training sessions she will conduct across the diocese to inform church employees and volunteers of their need — legal as well as moral — to report to civil authorities even the suspicion that a child is being sexually abused, physically abused or neglected.
And possession of child pornography in any form is a strong indicator of abuse, Morrison said.
The "Butner Study" caused shockwaves in both the legal and psychological communities when it was published in April, 2009, in the Journal of Family Violence.
Clincal psychologists Michael Bourke and Andres Hernandez had spent nearly three years in therapy interviews with the 155 inmates. When they began, only 40 of the men were known child molesters, as well as possessors of child pornography, which many of them obtained off the Internet.
But over the course of the therapy all but 24 of the 155 men admitted sexually abusing children. When those 24 men were offered lie detector tests, only two of them passed the tests.
Equally shocking was the number of victims each offender admitted to molesting, Morrison said.
"Each one of them admitted to abusing 19 children on the average," she said.
The offenders, she said, came from all walks of life.
"It's not just the Catholic Church," Morrison said. "This is a problem that occurs everywhere there are children and adults with access to them."
And the perpetrator is not your stereotypical "dirty old man" offering candy to kids he doesn't know.
They are, overwhelmingly, an adult that has carefully and skillfully worked himself or herself into a position of trust, not only with a child that is being "groomed" to be a victim, but often with the child's unsuspecting parents as well.
Morrison told the diocesan employees that it is time to recognize the warning signs, become more suspicious, and most importantly, to report those suspicions immediately to the Missouri Children's Division Hotline (1-800-392-3738), to police (9-1-1) and then, if the suspected perpetrator is a church employee or volunteer, to the diocesan ombudsman, Jenifer Valenti, at 1-816-812-2500.
It won't necessarily be easy, Morrison said. But even if the strong suspicions are unfounded, it will always be the right thing to do.
"I'll say upfront that if it feels uncomfortable to make that call, then you are a normal person," she said.
When reporting a suspicion of child abuse, it is important to be as detailed as possible, but the caller still doesn't have to build an airtight case with a mountain of evidence before making the call. In fact, the sooner the call is made, the better, Morrison said, because a child in danger will receive help that much sooner.
"You don't have to be the one that figures everything out, but the information you have may save a child," she said.
Morrison compared making a call about suspected child abuse to witnessing an auto accident on I-70.
"You don't have to know who was at fault," she said. "You just have to make the call to get help there."
Morrison said there are many warning signs that should raise suspicions, and the possession of child pornography is one of the strongest.
She broke it down into three categories:
• Pornography, including pictures of children in sexual situations, or in various stages of dress and undress, whether homemade or purchased from an outside source.
• Obscenity, including drawings of children in sexually exploitative situations.
• Erotica, including writing and "fantasy tales" about children and sex.
Morrison also warned that all parents should be aware of the "grooming" behaviors "that prepares a victim for abuse."
The line between proper nurturing of children through hugs and other occasional touching and "grooming" isn't as dim as many people believe, Morrison said.
"Most pedophiles are very smart and very careful about how they prepare people," she said.
But red flags should go up when an adult is being too attentive, wants to spend time alone with a particular child, is lavishing gifts, or taking pictures.
Trust your instincts, Morrison said. "If it feels wrong, then a line has been crossed, and it probably is wrong," she said.
Morrison walked the employees through an exercise in which they were to name situations in which it would be difficult to call civil authorities to report suspected child sexual abuse.
Among the situations: the suspect is known and trusted; there isn't much evidence, the suspect is in a position of authority, and a false report would harm the suspect's reputation.
"Now when you encounter one of these situations, I want you to reference back to this, and say to yourself, 'I know we talked about this very thing, and I still have to make the call,'" Morrison said.
Morrison also urged the diocesan employees to continue the dialogue outside their workplace to make more people vigilant against against child abuse and encourage them to make that call to civil authorities as well.
And that means everyone, she said.
"Some of you do not work directly with children. By law you are not a mandated reporter, with a legal responsibility," she said. "But you are an ethical reporter with a moral responsibility."