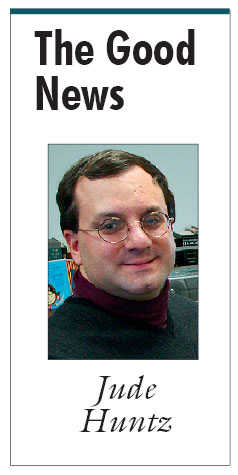 Catechesis in the early church focused primarily on discipleship – how we must follow Christ in all aspects of our lives. Among the many virtues to be imitated was that of nonviolence, exemplified by this instruction from one of the great church fathers: "We are educated not for war, but for peace. In war there is need for much equipment, just as self-indulgence craves an abundance. But peace and love, simple and plain blood sisters, do not need arms nor abundant supplies. Their nourishment is the Word, the Word whose leadership enlightens and educates, from whom we learn poverty and humility and all that goes with love of freedom and of mankind and of the good. In a word, through Him, we become like God by a likeness of virtue." (St. Clement of Alexandria, Christ the Educator, 1. 12) The readings today provide us the opportunity to reflect on the virtue of nonviolence.
The prophet Jeremiah was called by God to preach on the threshold of the Babylonian captivity. Israel was to be subject to a violent takeover and marched into exile, the result of their failure to be faithful to the one true God and the failure of social injustice. Needless to say, Jeremiah was not exactly popular among the leaders of Israel for pointing out their shortcomings. Nevertheless, God tells Jeremiah that the leaders will seek to crush him, but God will overcome them. Jeremiah was utterly helpless: he had no recourse to arms and violence. Only his faithful obedience to God would lead Jeremiah to be protected from the faithless leaders of Israel and the violence about to befall the nation. The entire prophetic tradition, in fact, longs for the end to violence in its description of the Messianic age: "They shall beat their swords into plowshares, and their spears into pruning hooks; one nation shall not raise the sword against another, nor shall they train for war again." (Isaiah 2: 4)
In the person of Jesus we find the fulfillment of the Messianic expectation of peace and nonviolence. Jesus teaches us to love our enemies, to turn the other cheek when attacked by violence, and to bless those who persecute us. He continually rebukes his disciples whenever they seek the recourse of violence, chastising James and John for their desire to draw fire upon the unwelcoming Samaritan town and rejecting Peter's use of the sword in the garden of Gethsemane. In the Gospel text today the entire village of Nazareth takes up stones to kill Jesus for his use of the prophetic texts in teaching that God has love for all and not just Israel. Instead of a violent outcome, Jesus passes through their midst without harm coming to anyone.
The famous thirteenth chapter of Paul's first letter to the Corinthians is often associated with weddings, but in reality Paul intended it as a message to a community deeply divided and at war with itself. The message is the manifesto of virtue of nonviolence: love is patient, love is kind; it does not seek its own interests; it bears all things, endures all things. Violence is the result of impatience, unkindness, the seeking of self-interest. Violence bears nothing and does not endure anything. Violence is the ultimate mortal sin against love. Only the living of Christian love will enable us to overcome the culture of violence that afflicts our nation and our world.
Growing up in the 1970s and 1980's on the east coast meant regular bomb drills in school. The menace of nuclear war and the indiscriminate violence of modern weaponry led us to these regular drills of hiding under our desks. In the midst of this ethos, however, emerged the Solidarity movement in Poland. While the U.S. was amassing an arsenal of violence to deal with communism, Catholic workers in Poland brought communism to its demise without any recourse to violence. The general strikes and peaceful sit-ins overcame the tyranny of communism and taught the world the way forward in dealing with the culture of violence. It was a lesson they learned from Jesus the Lord, whose acceptance of the injustice of his death on the cross redeemed the world and taught the world how to reject the notion of responding to violence with violence.
As Pope Benedict XVI recently stated, "But Jesus knows that God's kingdom is of a completely different kind; it is not built on arms and violence….Jesus does not wish to be defended by arms, but to establish his kingdom not by armed conflict, but by the apparent weakness of life giving love….To be disciples of Jesus, then, means not letting ourselves be allured by the worldly logic of power, but bringing into the world the light of truth and God's love. It is a pressing invitation addressed to each and all: to be converted anew to the kingdom of God, to the leadership of God, of Truth." (Homily, November 25, 2012)
As we seek to follow Jesus the Lord in the way of nonviolence, we pray together for the gift of His Spirit. "Let us pray joining in the praise of the living God, for we are his people. Father in heaven, from the days of Abraham and Moses until the gathering of your Church in prayer, you have formed a people with the gift of your kingdom. May we serve you with our every desire and show love for one another even as you have loved us. Grant this through Christ our Lord. Amen."
Jude Huntz is Chancellor of the Diocese of Kansas City – St. Joseph.
Daily Scripture Readings
For complete daily Scripture texts, click here. http://www.usccb.org
Monday, February 4
Hebrews 11:32-40
Psalms 31:20, 21, 22, 23, 24
Mark 5:1-20
Tuesday, February 5
Hebrews 12:1-4
Psalms 22:26b-27, 28, 30, 31-32
Mark 5:21-43
Wednesday, February 6
Hebrews 12:4-7, 11-15
Psalms 103:1-2, 13-14, 17-18a
Mark 6:1-6
Thursday, February 7
Hebrews 12:18-19, 21-24
Psalms 48:2-3ab, 3cd-4, 9, 10-11
Mark 6:7-13
Friday February 8
Hebrews 13:1-8
Psalms 27:1, 3, 5, 8b-9abc
Mark 6:14-29
Saturday, February 9
Hebrews 13:15-17, 20-21
Psalms 23:1-3a, 3b-4, 5, 6
Mark 6:30-34
Fifth Sunday in Ordinary Time, Sunday February 10
Isaiah 6:1-2a, 3-8
Psalms 138:1-2, 2-3, 4-5, 7-8
1 Corinthians 15:1-11 or 15:3-8, 11
Luke 5:1-11
Monday, February 11
Genesis 1:1-19
Psalms 104:1-2a, 5-6, 10 and 12, 24 and 35c
Mark 6:53-56
Tuesday, February 12
Genesis 1:20—2:4a
Psalms 8:4-5, 6-7, 8-9
Mark 7:1-13
Ash Wednesday, February 13
Joel 2:12-18
Psalms 51:3-4, 5-6ab, 12-13, 14 and 17
2 Corinthians 5:20—6:2
Matthew 6:1-6, 16-18
Thursday, February 14
Deuteronomy 30:15-20
Psalms 1:1-2, 3, 4 and 6
Luke 9:22-25
Friday, February 15
Isaiah 58:1-9a
Psalms 51:3-4, 5-6ab, 18-19
Matthew 9:14-15
Saturday, February 16
Isaiah 58:9b-14
Psalms 86:1-2, 3-4, 5-6
Luke 5:27-32
The full text of the Scripture readings for this week and next week can be found here: http://www.usccb.org/
Click on the "Daily Readings" tab on the right hand side of the page.