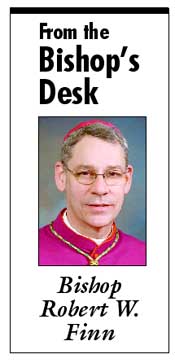 Monday of this week, I was surprised and saddened to hear of the decision of Pope Benedict XVI to retire his duties as Holy Father and Bishop of Rome. Pope Benedict has carried out these responsibilities with holiness, brilliance of intellect, joy and love. He has been a wonderful "Father," and we will always regard him with affection and respect.
In March of 2012, I was honored to be part of the "Ad Limina" visits which diocesan bishops make to the Pope. On that occasion I was able to greet Pope Benedict along with the other bishops of Missouri. We each had brief words and a photo with the Pope, and he then visited with our group for about 45 minutes. At that time the Holy Father was nearing his 85th birthday and what a schedule he kept! On that Saturday morning, our group was at least the fourth such meeting with the Pontiff. As we left the Pope's Vatican office there were several more groups awaiting: a group of Monks from Taize, France, followed us; then the Anglican Archbishop of Canterbury and entourage; and at least one more group of American bishops were in line. The Pope is always cordial. He conversed briefly with each of his guests – and in different languages. Few of us could imagine the demands of this position, even for a person of a younger age.
Years before his election to the papacy, then-Cardinal Ratzinger had asked Pope John Paul II if he could give up his duties as Prefect of the Congregation for the Doctrine of the Faith. He says in his biography that he had wanted to retire and to leave behind the administrative work to pray and study and write. He didn't get his wish. Rather, at 78 years old he embraced his life as Holy Father fully and has served in this capacity for almost eight years.
"Papa Ratzinger" surprised many – including his critics – with his fatherly love and gentle devotion. He had been portrayed at times as a harsh teacher or 'enforcer.' In fact it was usually others who attacked him with ferocity. Pope Benedict's goodness was recognized by a culture and time that is frequently poised to find fault. His moral compass has been true. His scholarly writing is straightforward and wise and has been enjoyed by many readers, even some who are not trained in philosophy and theology. His encyclicals focused on charity and will remain prominent within the Magisterium of the Church.
Pray for Pope Benedict that he will have peace in this decision and in God's will for him as it unfolds. Let us pray for the Church. The Vicar of Christ certainly will always bear the crown of thorns and follow the path of Christ's Cross. There is perhaps no position in the world that is as weighty as the Chair of Peter; and perhaps few moments in history that are as challenging as this time.
I ask you even now to begin to pray, also, for whomever the Holy Spirit chooses as the next Pope. He will need every divine grace and our constant prayers to fulfill the work laid on his shoulders. With all our trust we know that Jesus Christ will never forsake His Church; that the Holy Spirit will preserve the Body of Christ in truth; and that the one who takes the name of "Father" will mirror for us the Eternal Father of mercies.