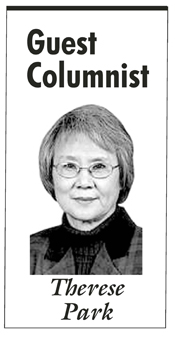 By Therese Park
Special to the Key
Every local South Korean who lived through "The Forgotten War," has not forgotten the nightmarish days of the early 1950's or who saved them from Communist aggression. In fact, they each have a "Thank you, America!" story and are eager to share it. Even those born long after the war ended know that their motherland would have perished under the North Korean Communists who invaded them with Russian tanks and ammunition.
A member of the Korean Choir of Greater Kansas City, Mr. Minsun Ho, originally from North Korea, shared with me his memories of the war (1950-1953), when he responded to my email seeking sponsors for the upcoming Benefit Concerts for the Blue Hills Neighborhood: in Honor of Black Korean War Veterans in Black History Month.
"When South Korean and United Nations' troops began to bomb our town of Chulwon just north of the 38th Parallel in late 1950, our family of five — my mom and us four kids all under 13 years old — were anxiously waiting for our father, a photographer, to return from a trip. He had traveled a lot, but the Red Army had tightened security when war broke out in June, not allowing anyone to leave or return. The bombing destroyed many homes in our village, including ours, leaving us with no choice but to hide in fox holes. Food was scarce. Then in early June 1951, unexpected news reached us. South Korean and American troops were offering transportation to any family willing to move to South Korea. Mom, a devoted Christian, who had seen the Communists burning churches and arresting religious leaders, accepted their offer and we headed south on a military truck.
In Seoul, life was hard for war-refugees. After six months of living like gypsies, my mom finally decided to send my older brother (13) and me (10) to an orphanage. "It's only until I find a job and can put food on the table," she said, fighting back tears.
"Away from home," Ho continued, "and surrounded by so many orphans, some with parents, like myself and my brother, I was miserable. But soon, I was selected to sing in the youth choir and I didn't miss home as much. One of the US army officers, a frequent visitor to the orphanage, volunteered to teach us Christmas carols in English and other songs such as 'God Bless America.' It was through these songs that we had the first taste of America! When our choir mastered the songs, the officer took us to US military compounds near the Demilitarized Zone to entertain soldiers. Our Christmas concerts were particularly well-received. Afterward, many soldiers visited our orphanage with gifts and food. Word spread, and the US Army Headquarters Seoul invited us at Christmas time and we sang for many generals, soldiers, and even then-South Korean President, Syngman Rhee! Ever since, I always sang — in the church choir or high school choir or vocal quartet, etc., and even after I came to the U.S. in 1968, singing has been an important part of my life. I owe so much to the American soldiers for their love and sacrifices to grant us freedom … I believe that a good occasion has come for me to show my gratitude. I will sing my heart out 'Thank you, America!' at both concerts." Mr. Ho also sent a donation.
Bonded by love of music and respect for America, their adopted motherland, the Korean choir was formed 15 years ago and has performed at many community events, including the Martin Luther King, Jr. Day celebration in January each year at St. Steven's Baptist Church on Truman Road.
Among the Korean musicians scheduled to perform are Un Chong Christopher, associate professor of music at Calvary Bible College; Therese Park, former cellist with the Kansas City Symphony; the Korean United Church Choir conducted by Boyoung Lee; and the Korean Men's Voice Quartet. Also scheduled to perform are Kansas City's Cristian Fatu, one of the nation's most brilliant young violinists, vocalists MK Mueller and Ted McKim and members of the St. Therese Little Flower gospel choir.
Doesn't God use his beloved to do His divine work on earth? That said, I believe these concerts will fulfill His purposes in the Blue Hills Neighborhood and be, as conductor Boyoung Lee said, "another chance to glorify our Creator."
The benefit concerts will be at 7:30 p.m., Feb. 16, Cure of Ars Church, 9401 Mission Road, Leawood, Kan., and 3 p.m., Feb. 24, St. Therese Little Flower Church, 5814 Euclid Ave., Kansas City. Free will donations will be accepted to support St. Therese Little Flower Parish's Senior Center and Hogan Prep Academy Middle School in the old St. Therese Little Flower school building.