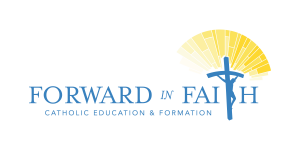 By Jack Smith
Catholic Key Editor
KANSAS CITY — Bishop Robert W. Finn has announced the launch of a capital campaign to strengthen parish and diocesan Catholic formation and education programs. Titled, Forward in Faith, the initiative is only the second diocese-wide capital campaign in Kansas City-St. Joseph history and is unique among such efforts in the increasing levels of support paid back directly to individual parishes.
While the genesis of the campaign is found in a 2010 study by the consulting firm of O'Meara, Ferguson, Whelan and Conway which identified the need for a new and better positioned high school in Jackson County, the priorities and elements of the final campaign were fleshed out through broad consultation with clergy and lay leaders over the last year and a half.
"Building the new St. Michael the Archangel High School is a critical need," diocesan stewardship and planning director Steve Hilliard said, "but our consultation process showed an equally pressing need to support the formation and education initiatives of the parishes themselves, as well as our other high schools and educational support programs."
Goals of the Forward in Faith campaign include:
• Financial support to local parish ministry programs
• Grant Programs for Parish Schools of Religion and Youth Ministry
• Construction of St. Michael the Archangel High School in Jackson County
• Support for St. Pius and Bishop LeBlond High Schools
• Educational assistance to families in need through the Bright Futures Fund
Direct financial support of parish ministry programs will result from the unique sharing structure of the Forward in Faith campaign. "As a parish reaches certain attainable targets, the percentage of funds raised staying at the parish for its own critical needs and programs continues to increase, to as high as 90 percent," Hilliard said.
A parish with an annual offertory of $500,000 which raised $300,000 would keep $60,000 for its own programs. The percentage staying with the parish continues to increase as more funds are raised. If the same parish raised $500,000, it would keep $225,000 and if it raised $750,000, it would keep $450,000.
"At the same time, parishes would be doing their part to support those Catholic formation and education initiatives we must perform together as a diocesan family," Hilliard said, "like supporting scholarships for those in need, building up our existing high schools and constructing a much needed new high school for Jackson County."
Parishes may also apply for grants to parish schools of religion and youth ministry. These competitive grants are above and beyond what a parish retains as its share of funds raised, Hilliard explained. In addition, no amount of funds raised will be subject to cathedraticum (diocesan tax) and the campaign features a two-year hiatus from parish campaigns for the Bishop's Annual Appeal (2014 and 2015).
The campaign itself is shepherded by Church Development of Kansas City. Visitation parishioner Denis Greene is president of Church Development, and the firm has helped over 200 parishes and churches succeed in meeting their goals since 1992.
The Forward in Faith campaign is already underway through a silent phase where potential major donors are being approached about campaign needs. Individual parish campaigns will take place in groups or waves over the next three years. Consultants from Church Development are beginning to work with parishes in the first wave to identify parish-specific needs and create campaign materials. Parishes in the first wave will learn much more about the campaign through parish events throughout April and most will set a Commitment Sunday for early May.
Parishes in the first wave are the Cathedral of the Immaculate Conception, Church of the Annunciation, Co-Cathedral of St. Joseph, Coronation of Our Lady, Holy Cross, Mary Immaculate, Our Lady of Guadalupe, Our Lady of Lourdes in Harrisonville, Our Lady of Lourdes in Raytown, Our Lady of Perpetual Help, St. Bernadette, St. Francis Xavier in St. Joseph, St. James in St. Joseph, St. James in Liberty, St. John LaLande, St. Margaret of Scotland, St. Peter in Kansas City, St. Thomas More, and Visitation.