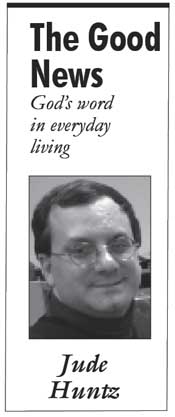 When I was a child there were many times when I did things I should not have done. Inevitably my parents would discover my wrongdoing and question me about it. More often than not I would deny it or lie about it, which only made matters worse. Why would I deny or lie about something that was clearly known by my parents and undeniable? I did not want to disappoint them. I did not want to lose their respect.
The fear of disappointing parents or losing their respect is why most children lie about wrongdoing. We see this phenomenon throughout salvation history: Adam and Eve look to blame others for their wrongdoing; Cain denies killing his brother; Joseph's brothers concoct a great scheme to hide their crime. As children of God we do not want to disappoint our Heavenly Father, but instead of admitting to it and seeking His mercy we create many elaborate ways to hide this reality.
The slavery of Egypt represents the great reproach of God for the sins of Israel. Liberation from slavery is the great event of Israel's history because liberation from the physical slavery of Egypt is the outward sign of their liberation from their sins against God. And yet throughout their wanderings in the desert the people of Israel continue to long for their captivity in Egypt. How often did they think that it would be better to be slaves in Egypt than to die of starvation, dehydration, the serpents, and all the other calamities they suffered? Even though God had removed the reproach of Egypt from the people of Israel, the faith of the people still wandered to other places.
The prodigal son is in many ways the personification of the people of Israel. The son goes to his father, asking for his inheritance in advance, which essentially means he wants his father dead. There could be no greater insult to a parent, and yet this is the reality of sin and turning away from God. In choosing other things we essentially say that we want our heavenly Father dead. And the son goes off to spend his inheritance on wanton living. Eventually, the natural consequences of his actions lead to his total impoverishment. He has relied on his own wits up to this point, and there is no good way out of his predicament.
So the son decides finally to return to his father's house. A real act of conversion has taken place within him, and he forms within his mind a scenario whereby he begs mercy from his father. The son knows that he should not expect mercy. Most probably his father has already disowned him; that was the natural course of action in those days. And yet, while he is still a long way from home, the son sees his father searching for him! How often has God searched the byways for us, but we were not looking for him?
The father restores this wayward child of his back to the son's original position in the paternal household. Naturally someone will object, and sure enough his older brother is indignant at such beneficence on the part of the father. What about justice? What about my rights? So says the older son. But the older son has nothing to fear – he too is always a part of the father's house. Justice dwells secure in God's house, but mercy must have a place too – and the greater place besides!
Thus, in this story of the prodigal son we have the complete undoing of the sordid history of the Jewish people to this point. Brothers once at odds with one another are restored under the household of God. The cycle of revenge and violence that is such a part of Israel's history and thought is shattered by the mercy and love of the Father. We can truly say with Paul in the second reading that we are a new creation. We are back in Eden and not in Egypt. The old things have indeed passed away. For the Lord Jesus has brought the message and example of reconciliation that must now become the fundamental mission for the followers of Jesus. We cannot return to our old ways of revenge and violence. We must reject them and be reconciliation and peace in the midst of this world.
To live this vocation, we must have recourse to God's aid and guidance at all times. And so we pray: "Let us pray, that by growing in love this Lenten season we may bring the peace of Christ to our world. God our Father, your word, Jesus Christ, spoke peace to a sinful world and brought mankind the gift of reconciliation by the suffering and death he endured. Teach us, the people who bear his name, to follow the example he gave us; may our faith, hope, and charity turn hatred to love, conflict to peace, death to eternal life. We ask this through Christ our Lord. Amen."
 Jude Huntz is Chancellor of the Diocese of Kansas City – St. Joseph.
Daily Scripture Readings
For complete daily Scripture texts, click here. http://www.usccb.org
Monday, March 11
Isaiah 65:17-21
Psalms 30:2 & 4, 5-6, 11-12a & 13b
John 4:43-54
Tuesday, March 12
Ezekiel 47:1-9, 12
Psalms 46:2-3, 5-6, 8-9
John 5:1-16
Wednesday, March 13
Isaiah 49:8-15
Psalms 145:8-9, 13cd-14, 17-18
John 5:17-30
Thursday, March 14
Exodus 32:7-14
Psalms 106:19-20, 21-22, 23
John 5:31-47
Friday, March 15
Wisdom 2:1A, 12-22
Psalms 34:17-18, 19-20, 21 & 23
John 7:1-2, 10, 25-30
Saturday, March 16
Jeremiah 11:18-20
Psalms 7:2-3, 9bc-10, 11-12
John 7:40-53
Fifth Sunday of Lent, Sunday, March 17
Isaiah 43:16-21
Psalms 126:1-2, 2-3, 4-5, 6
Philippians 3:8-14
John 8:1-11
Monday, March 18
Daniel 13:1-9, 15-17, 19-30, 33-62
Psalms 23:1-3A, 3B-4, 5, 6
John 8:12-20
Tuesday, March 19
2 Samuel 7:4-5A, 12-14A, 16
Psalms 89:2-3, 4-5, 27 & 29
Romans 4:13, 16-18, 22
Wednesday, March 20
Daniel 3:14-20, 91-92, 95
Daniel 3:52, 53, 54, 55, 56
John 8:31-42
Thursday, March 21
Genesis 17:3-9
Psalms 1:1-2, 3, 4 and 6
Luke 16:19-31
Friday, March 22
Jeremiah 20:10-13
Psalms 18:2-3a, 3bc-4, 5-6, 7
John 10:31-42
Saturday, March 23
Ezekiel 37:21-28
Jeremiah 31:10, 11-12abcd, 13
John 11:45-56
Palm Sunday, March 24
Luke 19:28-40
Isaiah 50:4-7
Psalms 22:8-9, 17-18, 19-20, 23-24
Philippians 2:6-11
Luke 22:14—23:56
The full text of the Scripture readings for this week and next week can be found here: http://www.usccb.org/
Click on the "Daily Readings" tab on the right hand side of the page.