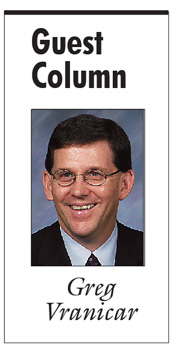 The most prominent headlines regarding the new tax law focused on the so-called "fiscal cliff" which was avoided by Congress's passage of new legislation on January 1, 2013. Even though the impact of the new tax law on charitable giving has not received much attention, the American Taxpayer Relief Act of 2012 (ATRA) promises to guide donors and their advisers for many years.
For advice on how ATRA affects you specifically, always seek the counsel of your financial and legal advisers who know your entire financial picture, as well as your charitable goals. If you do not have such an adviser, please contact Greg Vranicar at 816-714-2363 or vranicar@diocesekcsj.org for a referral.
Regarding charitable giving, ATRA:
• Preserves the charitable deduction
• Extends tax-free gifts from IRAs by persons 70 and ½ and older
• Increases income and capital gain tax rates for high income individuals
• Makes appreciated stock and mutual fund gifts more attractive
• Establishes the estate tax exemption and continues "portability"
Charitable Deduction. Until recently, the charitable deduction was not seriously questioned. However, in the run-up to ATRA's adoption, restriction of the deduction was on the table. ATRA preserved the deduction, thereby ensuring that taxpayers can still itemize their charitable gifts. (People who use the standard deduction will not see any change.) Donors should soon explore how ATRA provides charitable giving opportunities with respect to income taxes or estate tax planning.
Extension of Tax-free IRA Giving. Since 2006, federal tax law has allowed persons 70 and ½ or over to donate to qualified charities tax-free. Otherwise distributions from IRAs create ordinary income. Hundreds of donors in our Diocese have routinely taken advantage of this provision, for a gift in the range of $2,500 to $3,000. In even numbered years (2008, 2010 and 2012), renewal of tax-free-IRA gifts has occurred extremely late in the year so that donors have had difficulty exercising this option. In ATRA, Congress provided a "make-up month" in January, 2013 for donors to do a 2012 IRA gift. So far this year, the Diocese's parishes, schools and ministries have received nearly $100,000 from IRAs. Until December 31, 2013, IRA giving remains a viable charitable giving option.
Higher Ordinary Income Tax and Capital Gain Rates. News coverage on the new tax law focused on the renewal of the "Bush tax rates." In the end, most taxpayers retained their advantageous rates. Congress and the President found a compromise that allowed tax rates to increase from 35% to 39.6% on ordinary income, but only for married couples with incomes over $450,000, for heads of households with incomes over $425,000, and for individuals with incomes over $400,000. Capital gains and qualified dividend tax rates also increased from 15% to 20% for the same group of taxpayers. For the affected taxpayers (who have the most ability to contribute), charitable giving became more advantageous in 2013 and ensuing years, as the "net cost" of giving decreased.
Gifts of Appreciated Property. ATRA makes the donation of assets like appreciated stock, mutual funds or other capital assets (especially land and interests in a business) attractive for the higher income taxpayers who have increased capital gain rates. For any taxpayer, whether affected by higher rates or not, gifts of appreciated stock, mutual funds and other capital assets provide a very effective tax-wise method of giving.
Estate and Gift Tax. The amount of assets that are exempt from taxation upon death was also settled by ATRA. The new law fixed and indexed for inflation this "unified Estate and Gift Tax Exempt Amount" at $5,000,000 ($5,250,000 for 2013). ATRA continues previous provisions that allow "portability," which is the sharing of the exemption between a husband and wife, so that a married couple could shield as much as $10,500,000 from Estate and Gift Tax in 2013 under ATRA.
Since most couples' assets fall below this threshold, tax planning for estates will not be the principal focus. Instead, issues like "How much is enough for our children?" should dominate the discussion. Charitably inclined taxpayers will have more certainty, so that they can consider how to continue their legacy through charitable giving.
Charitable designation of retirement plan assets like IRAs, 401 (k) s, 403 (b) s and similar plans upon death will continue to be a very advantageous estate planning method. The distribution of these assets to family members other than a surviving spouse triggers ordinary income tax treatment to the recipients, at their respective income tax rate. An example would be, if a surviving parent designated to his or her children an IRA of $200,000, it would be ordinary income to the children, at each child's income tax rate. For this reason, a charitably inclined taxpayer designates at least some retirement plan assets for charity, leaving other assets for children. Be sure to discuss this option when you meet with your professional adviser.
Conclusion. ATRA settled many issues regarding income and estate planning. One's advisers can more confidently answer specific tax and charitable giving questions under ATRA. Take advantage now of this "bird in the hand." You will find creative ways to help your family and your favorite charities. If you have questions about any planning options mentioned here, please consult with your financial or legal adviser or contact Greg Vranicar at 816-741-2363 or vranicar@diocesekcsj.org for a referral to an adviser.
Greg Vranicar is Associate Director of the Office of Stewardship and Development.