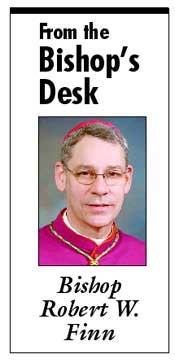 Following is Bishop Robert W. Finn's homily from a Mass of Thanksgiving for the election of Pope Francis given at the Cathedral of the Immaculate Conception March 14:
Dear friends,
With all my heart, I hereby pledge my complete and unequivocal obedience to our Holy Father Pope Francis. I place in him my filial trust and affection. On behalf of us all I offer him our pledge of prayer. And I suggest to you, dear friends, that our greatest gift to the Holy Father will be our unity and fidelity in Jesus Christ.
Yesterday we all watched as a not-so-likely candidate became the 266th Pope, successor to Peter and Vicar of Christ. He wasn't on most lists. We hadn't heard so much about how Cardinal Bergoglio would, in the words of the journalists, "clean up the Church." God has once again surprised us, and I hope that a lesson we will have learned is to wait a while, to listen and watch. And what else? – to pray for him. This is what he asked the people in St. Peter's Square to do yesterday: to give him their blessing; to pray for him. I hope this is what each of us has been doing already. This is my intention for us at this Mass; to pray for Pope Francis. We thank God for having given us this sign of His own Fatherly care – a Holy Father as a sign and source of unity within the Church.
We can barely imagine the weight that has been placed on his shoulders. But we know that God is not asking Francis to carry alone the work of the Church and the burden of one-plus billion Catholics. God is with him. Our prayers count; our blessings upon him mean something to the new Holy Father – and truly, they "count" before God. This is something unique to our Catholic tradition: that we ask the intercession of the saints, and that we ask each other to pray for us. All the baptized have the common priesthood of the faithful. We can pray and make offerings for one another, and we are doing that now.
Yesterday, I watched the news unfold along with many others at the Chancery. We applauded, and we prayed with Pope Francis, and knelt to receive his first blessing to the City and to the World. A little later when I went to my office, I made a call to Fr. Douglas Marcouiller, the Provincial Superior of the Jesuits of this province. I offered him my congratulations on the selection of his confrere, the first Jesuit Pope. He was appreciative, and we pledged our continued mutual support between the Diocese and the Society of Jesus.
Sr. Gracileia and Sr. Connie are Franciscan Sisters whose home is in Independence – but they work with me: Sr. Connie as the Director of our Diocesan Office for Consecrated Life, and Sr. Gracileia cleans at my residence. I congratulated them on a new Father Francis, and they told me of the excitement of the Sisters over the new Pope's choice of names. Sr. Gracileia is from Brazil and she enthusiastically shared with me her joy that our Holy Father is from South America. She confessed how she had hoped for such an outcome. To all of you whose heritage is in the Latin American countries: congratulations! Your faith, your noble heritage and perseverance, has given the world a Pope. We thank you.
It seemed to me that, in his brief first remarks from the loggia, that Pope Francis was especially mindful of his role as Bishop of Rome; speaking entirely in Italian, he greeted them "Buona Serra." He said now they had their Bishop of Rome once again. And we are told that the new Pope this morning made a devotional visit to the Basilica of St. Mary Major, where he went to the chapel and prayed before the ancient image of Mary "Salus Populi Romani," "Mary, help of the people of Rome." Bishop Boland and I know well this feeling of affection for the people of our diocese. Pope Francis was quick to make that connection with the people of Rome, and it seems that they readily returned his kindness.
Over time I know the Pope will manifest his connection and love for the entire People of God, and – assisted by divine grace and the grace of his high office – he will demonstrate his solicitude for the Universal Church. Already he is the Pope of us all.
Friends, I do not yet know; we do not yet know the personality and strengths of our new Holy Father. It is not so important, in my mind, that I speculate about what his priorities will be and how he will change the Church and the world. Rather, let us love him. Let us make acts of love for him in our hearts; let us be faithful to the church and to Christ's Vicar. Let us hold him in intense and continuing prayer. During this Year of Faith we will begin to know him as a teacher and as another pilgrim with all of us on the path of the Church; on the path to salvation. He will lead us for Holy Week. We will see him, almost immediately, engaged in the pageant of the dying and rising of our Savior. Once again God has given us a shepherd who will lay down his life for the sheep. We must listen for his voice and follow Him to Jesus.
The Pope asked us all yesterday to offer a prayer for Pope Emeritus, Benedict, and he entrusted the former Holy Father to Mary's care and protection. So also do we pray for the Pope Emeritus, and we entrust Pope Francis as well to Mary, the Mother of the Church; the Mother of us all. Mary keep him safe and give him strength to carry out this work for which the Holy Spirit has chosen him.
To Holy Father Francis: "ad multos annos;" "Viva il Papa."