By Kevin Kelly
Catholic Key Associate Editor
KANSAS CITY — To quote Mike Sweeney, it's a "no-brainer," not a challenge.
Bishop Robert W. Finn asked Sweeney to chair the diocesan "Forward in Faith" campaign to strengthen Catholic education and formation, including the construction of St. Michael the Archangel High School in Lee's Summit. The future Kansas City Royals Hall of Famer took about five seconds to mull it over.
Bishop Finn even made it clear that Sweeney wasn't going to be a celebrity "honorary" chairman. He would be a working chairman, even from his home in San Diego.
No problem, said Sweeney, never one to give less than 100 percent to anything he took on.
He could only think of the day when he, a cocky high school baseball player, got down on his knees at St. Margaret Mary Parish in Chino, Calif., and began his deeply personal relationship with Christ at a level that even he didn't believe was possible.
Now, Sweeney told The Catholic Key, it's time to give that gift to other teenagers.
"I am all about our faith, I am all about our church, I am all about the magesterium of the church, the beauty of being a Catholic Christian," Sweeney said.
"I know the Good Lord chose to give me the wonderful treasture to be called Catholic Christian, a son of God. I want to use everything I can in my power to share that gift with others," he said.
And one way would be to strengthen Catholic high school education in his adopted Diocese of Kansas City-St. Joseph, where he lived and worshipped through his 13 years as a Royal.
"I know building a new Catholic high school in Lee's Summit, where I lived for many years, is going to be a gift to a teenager, hopefully like me," Sweeney said.
"When I was 17 years old, I encountered a Jesus who loved me and wanted to have a relationship with me," he said. "I know that if we have a new high school in Lee's Summit, it will be a beacon of light in that community where hopefully teenagers around my age when I had my conversion will have a conversion as well."
Will he ever forget that day when he opened his heart and soul to Jesus?
Mike Sweeney could have hit a grand slam home run with two out in the bottom of the ninth of the seventh game to win the World Series. It still wouldn't have ranked as high as that day in 1990, he insisted.
Sweeney was a vital part of the powerhouse baseball team at Ontario High School. That senior year, just months after he had his conversion, Ontario would complete an undefeated season with a California state championship that had pro baseball scouts at every game.
Visions of major league stardom danced in their heads. Sweeney was one of four players from that Ontario High team taken in the 1991 baseball draft, but the only one to reach the major leagues.
He had the world by the tail, or so he thought. Then, at a retreat just before he received the Sacrament of Confirmation, the retreat leader Joe Metro Wright took him aside to ask Sweeney the questions that would change his life forever.
"He asked me, 'What is your relationship with Jesus like?'" Sweeney recalled in detail, 23 years later.
"I was like, 'Well, I go to Mass every Sunday,'" he replied. Not good enough for Wright.
"I didn't ask you if you go to Mass. What is your relationship like?"
"Well, I pray before my meals and before I go to bed."
"I didn't ask if you pray. What is your relationship like?"
"Well, I've never done drugs, never smoked or drank."
"I didn't ask you about that. What is your relationship with Jesus like? Who is your best friend?"
"My best friend's name is Greg."
"How often do you talk to Greg?"
"All the time."
"Do you have a relationship with Jesus like that? Do you know that Jesus wants to have a relationship with you so bad that he died on that cross for you?"
"At that moment it hit me like a ton of bricks," Sweeney said. "That night, when I got down on my knees at St. Mary Margaret Church in Chino, Calif., I never felt such joy as I did that night."
That relationship sustained him through a career that was never easy.
Yep, he got drafted by the Royals the following June, in the 10th round. The odds of a 10th round draft pick even reaching the majors let alone having a career spanning 16 years? Try about 100-1.
No problem again, said Sweeney.
"Nothing was ever easy for me, whether it be school or sports or girls or being cool," he said. "I always felt I had to work hard for everything I got."
He'll also never forget his first paycheck in professional baseball. Not quite 18 years old, Sweeney thought he was jumping from the $20 a week allowance his parents were giving him to $850 a month playing rookie ball in Florida with the Gulf Coast Royals. How lucky could a guy get?
He tore open that first twice-monthly paycheck envelope, expecting to see $425. It was for $96 and change.
So he immediately took his case to the club secretary.
"I think you guys messed up on my paycheck. I think I'm supposed to get $425 every two weeks," he told her.
"She said, 'Oh, honey. There is room and board we take out for staying in the dormitory.' I said, 'You mean the prison? And the food I have to eat? I have to pay for that?' She said, 'Yes, you do. And also, there are taxes, and you get left with $96 every two weeks,'" Sweeney said.
"And I go, 'Oh, Lord!'" he said. "But it was good, though. It taught me the value of saving and money. It allowed me to become a barber, too. No one had money for a haircut, so I started cutting all the guys' hair. It was great."
Sweeney, who reached major league stardom as a first baseman and designated hitter, had the good fortune to be drafted as a catcher. There was no other way he would have been kept after hitting .216 that year. Or .221 or .240 in his next two minor league seasons with Eugene, Ore., in the short-season Northwest League.
But finally, in his fourth professional season, that hitter that was to be finally emerged, hitting .301 with Rockford in the Class A Midwest League, then .310 the next year, 1995, with Wilmington, Del., of the advanced Class A Carolina League, a notorious pitchers' league.
That earned him a September promotion to the big league club, where he got his first hit, a ground ball single through the right side off the Indians' Paul Assenmacher.
For the next two seasons, Sweeney bounced back and fourth between the big league club, until it became apparent that for every gift God gave him, God didn't give him the skill set to be a major league catcher.
At the start of the 1999 season, Royals' manager Tony Muser sat Sweeney down and told him he would never be a catcher. But even with first baseman Jeff King and the heir apparent at first, Jeremy Giambi, Muser kept Sweeney on the big league roster.
When King retired, Sweeney got his chance. It was his breakout season as he hit .322 with 22 home runs and 102 runs batted in. The next year, he drove in 144 runs, a Royals' record that still stands, shattering Hal McRae's old mark of 133. He came within one RBI of Seattle's Edgar Martinez for the American League RBI title, and the next year, his .340 batting average was just nine points short of Boston's Manny Ramirez.
Not bad for a 10th round draft pick?
"What drove me is to be the best," Sweeney said. "I wanted to be the best at whatever I did, whether it be as a baseball player, as a speaker when I am sharing my faith, as a father, as a brother, as a son."
It is both a blessing and a curse, he said.
"I guess you could say that I am a bit of a perfectionist. And that's probably not a good thing," Sweeney said.
"Even when there were days when I had set records in Kansas City, 144 RBIs, collecting RBIs in 13 straight games, those are records that are still held. And those are things I think I should have done better," he said.
In 2008, as he neared the end of a team-friendly (by baseball economics) five-year, $55 million contract with the Royals, that drive kept pushing him.
The Oakland A's offered him a minor league contract worth major league minimum pay if he made the team. He took it. And made it. The next year, the A's cut him loose, and the Mariners offered him the same deal.
"When I went to the A's and then to the Mariners, they told me I had a 1 in 100 chance of making the team, and I said, 'Well, at least there is a chance,'" Sweeney said. "I took that chance. I took advantage of it, and I proved to everybody but mostly I proved it to myself that I could do it."
In August of what would be his final major league season in 2010, Sweeney's good friend Ryan Howard, superstar first baseman of the Philadelphia Phillies, was injured, and the Mariners traded Sweeney to the Phillies as a right-handed insurance bat on the bench.
That fall, appearing in the only playoffs of his career, Sweeney laced a single off Cincinnati's hard-throwing rookie Ardolis Chapman, for a single in what would be his only playoff at bat.
It was also to be his last major league plate appearance. God, Sweeney said, had plans for him, plans that became clear on the night that the Phillies were eliminated from the playoffs by the eventual World Series champion San Francisco Giants.
It was Saturday, Oct. 23, and a day when Catholic players and front office personnel from both teams would celebrate Mass together.
"My job was to prepare the readings," Sweeney said.
"As I am looking at the readings, I see 2 Timothy 4: 6-8 in the second reading. As I am reading through it, I see: 'The time of my departure has come. I have fought the good fight. I have kept the faith. And I have finished the race. Now what awaits me is the crown of righteousness, not only for me, but for all those who believe.'
"And I thought to myself, 'Huh. Either God's got a really good sense of humor and this is just a coincidence, or this is going to be the my last major league game," Sweeney said.
"As it turned out, we lost a really tough game against the Giants. When they recorded the last out, I sat there going, 'Man.' I felt the whisper of God saying, 'Mike, that second reading was for you. This is it,'" Sweeney said.
Giants' reliever Jeremy Affeldt played a key role in that win, bailing starter Jonathan Sanchez out of an early jam and retiring all six Phillies he faced. A dedicated Christian, Affeldt was also Sweeney's teammate for five years with the Royals. But Affeldt's thoughts at that moment were not of his teammate's celebration on the field.
"I sat there in the dugout with my eyes buried in my arms. I was just praying, and I felt God saying, 'This is it,'" Sweeney said.
"I feel someone tap me on the shoulder. I look up and I see a bunch of Giants out on the pitcher's mound, celebrating, going nuts. I look up and I see Jeremy Affeldt. He says to me, 'Sweeney, I just want to tell you I love you, you're a great brother, and congratulations.'
"Wow, it shocked me," Sweeney said. "I went up to my locker, and literally, I could not take the jersey off my back. In my heart I knew this was it, this was the last time I was ever going to wear a uniform."
Finally, that familiar feeling of peace and joy came to him.
"Even though I didn't get a chance to win a championship in Kansas City, that was the best ending to a long career for a middle-of-the-road guy like myself that I could ask for," he said.
"Getting a chance to go to the playoffs, two games from the World Series, getting a hit in my only post-season at-bat against a guy throwing 103 miles per hour, it was a dream come true," Sweeney said.
"I made a commitment to God at about 1 in the morning when I finally took my jersey off, packed up my locker and left the clubhouse," he said.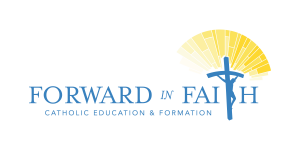 "I said, 'Every time I sign an autograph from this point forward, it's going to have 2 Timothy 4: 6-8. 'I have fought the good fight. I have kept the faith, and I have finished the race.' I think that should be the cry of every Christian, every Catholic in our country, that we fight the good fight, that we keep the faith, that we finish the race that God has for us," Sweeney said.
And that is why, when Bishop Finn called, Sweeney had only one answer.
"I am blessed to call Bishop Finn my friend," Sweeney said. "When I was a Kansas City Royal, he oftentimes came alongside Father Richard Rocha to celebrate Mass for us players, not only on the Royals, but for our opponents as well, and had a huge impact on our team and our entire organization," Sweeney said.
"When he approached me about helping out, it was a no-brainer," he said.