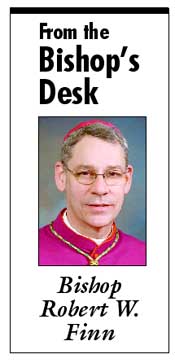 For several years during my priesthood I served as the Director of Continuing Formation of Priests. I set up workshops and retreats; arranged sabbatical programs and opportunities for graduate studies; and carried out various other duties for the sake of my brother priests. Priests (and bishops) must continue to study. They need to make an annual retreat and devote themselves to prayer. We must take care of ourselves physically as well. One of the most important elements of ongoing formation is priestly fraternity. Quite a few of our priests meet together regularly for prayer and fraternity with other priests. During this time together they might reflect on the Scripture readings, talk about the challenges of their priestly ministry, and/or socialize by having a meal, going to the show, or playing golf or sharing some other activity.
For all the years I have been here in the Diocese, I travel twice each month to Columbia, Missouri, to meet with a group of priests. We pray and spend some time together in reflection. There is opportunity for Confession. We have lunch together and then I come back home to KC. It takes a little effort, but it is a refreshing time together and I think I am a better priest because of it.
Setting Aside the Evenings of the Fourth Thursday of Month
When the priests gathered for our Fall Study Days several months ago, we considered setting some time aside for us to get together and be of support to one another. We knew that whatever time we choose, there will be responsibilities and events in our parishes that may cause conflicts. After some discussion in the Presbyteral Council it was decided that the evening of the Fourth Thursday of the month would be a time to have some "get-togethers" for priests. On the 4th Thursdays we would all try to avoid setting parish meetings and events so that we could gather and enjoy some time of mutual support.
Making the 4th Thursdays work
One evening a month – the 4th Thursday – I am asking that no parish meetings or events be (regularly) scheduled where 'Father's participation' is desired and or required. This does not mean NO meeting can be scheduled, but my hope would be that on the 4th Thursdays Father would be 'excused' from being present.
Some priests will host gatherings, perhaps according to geographical regions. The time together would begin at about 5:00 pm. The gathering might include Evening Prayer, simple dinner, and/or some time to visit and relax. Priests may come and go as they are able. There is no 'official' end time recommended.
It is my hope that the faithful will help us keep the 4th Thursdays clear, and encourage their parish priests — and priests not assigned to parishes — to join in a fraternal gathering with one or more of his brother priests. In addition to the larger gatherings, a priest can host a gathering himself; meet his brother priests for a meal out; they can enjoy an activity together like cards or movies or some other hobby.
Next week, April 25, we will be having the first of these 4th Thursday gatherings. Fr. Evan Harkins is hosting at St. James Parish in St. Joseph. Fr. Adam Johnson is hosting at St. John LaLande Parish in Blue Springs. I will host a gathering at the Catholic Center on Thursday, May 23.
Although I wanted you to know about our hopes and plans, I know you will respect the privacy of the priests gathering.
We have a wonderful group of priests in our Diocese of Kansas City-St. Joseph. I believe that, by coming together often for prayer and mutual support, we will grow closer together in a way that will strengthen our commitment to God and His people. We count on your prayers and good will, and we pledge our love and dedication to you all. Mary, Mother of priests, pray for us!