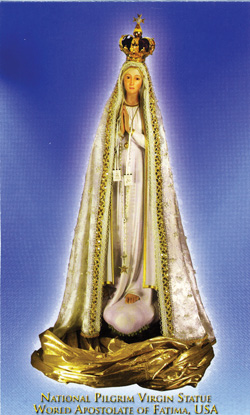 The National Pilgrim Virgin statue will visit the Diocese of Kansas City-St. Joseph from June 7 – 30, a privilege only 10 dioceses in the United States will have in 2013. The Pilgrim Virgin statues have a history of attracting people to the message of Fatima because their beauty is reminiscent of Our Lady herself. The message she gave in 1917 at Fatima, Portugal, to three shepherd children, two of whom have been beatified, is more important today than when she appeared to the children long ago.
On the 50th anniversary of the apparition, May 13, 1967, Pope Paul VI blessed 25 statues of the Pilgrim Virgin Mary that would be presented to individual countries. Each statue would travel throughout its country to spread the message of Fatima. The statue for the United States was first received in Columbus, Ohio, and has since traveled to many dioceses.
It has been 96 years since her appearance to the children at Fatima, but Mary's message hasn't changed. "Christ and Christ alone is our redeemer. He is love and mercy and the Giver of every grace." Mary requested that people daily pray the rosary for peace in the world and to make reparation for sin. Wars and persecution of the Church were prophesied if her requests were not heeded, but Mary also left the hope that "in the end her Immaculate Heart will triumph."
William Sockey, a representative from the Shrine of the Immaculate Heart of Mary in Washington, NJ, will accompany the statue and give talks on the Fatima apparitions at the parishes where the statue will visit. The visit is sponsored by the Kansas City-St. Joseph Division of the World Apostolate of Fatima and has been approved by Bishop Robert W. Finn.
The schedule of the times and places of the statue's visit is being prepared and will be published in various parishes in every deanery in the diocese. To request the statue visit a parish or to help with a visit, contact Dennis O'Brien, chair or Sue Deitchman, co-chair, (816) 333-2377 or email s.w.d@sbcglobal.net. For more information, call Elizabeth Dietrich, publicity chair and secretary, (816) 478-9039.