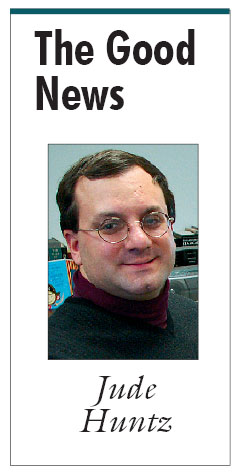 It has become fashionable nowadays to speak of "adult faith" as opposed to a less developed understanding of the faith that we may have had earlier in our lives. Properly understood, there is nothing wrong in speaking of an adult faith in the sense of growing more deeply in a relationship with the Triune God and the Church. However, there can be a tendency to overlook or become repulsed by passages in scripture that refer to disciples as children of God or as sheep. Do those appellations not contradict the whole notion of adult faith that we seek in our lives?
In today's Gospel text we find Jesus making reference to his followers as sheep. This passage is an extension of Jesus' earlier teaching on him being the good shepherd who lays down his life for his sheep. Hence, there is a great deal of consolation for the follower of Jesus that we be considered sheep in this sense, for we have a great protector in the Lord Jesus. What is more, Jesus asserts that he is one with the Father, meaning that our protector is not merely another fallible human being, but is in actuality God himself. There can be no greater assurance for the believer than to know that God is our protector in the person of Jesus the Lord.
At the same time we cannot forget the fact that Jesus is not just the good shepherd, but is also the Lamb of God. John the Baptist announces this fact in the beginning of John's gospel, a fact that comes to full realization in John's presentation of Jesus' crucifixion. In the passion narrative of John, the evangelist has Jesus' crucifixion coincide with the slaughter of the lambs in the Temple for the Passover celebration. Jesus, then, as the Lamb of God, replaces the original Passover Lamb. Whereas the Passover Lamb was sacrificed in order to protect the Israelites from the angel of death, now Jesus the Lamb of God is sacrificed so that all might be protected from the death of sin.
To be called a sheep by the Lord Jesus, then, is the greatest honor a Christian can receive, for it means that we have been called to share in the ministry and work of the Lord Jesus in his work of redemption. We are tempted to think that our adult faith qualifies us to be shepherds of the flock of Jesus, but Jesus tells us that in order to be a shepherd we must first be a lamb, i.e. we must die to ourselves and to offer ourselves for the sake of others, even to the point of death. Just as Jesus the Good Shepherd was called by the Father to be the Lamb of God and die for others, so too we must be sheep and rejoice in being so, for we are called to the ministry of Jesus the Lord.
This ministry involves rejection, just as it did in the life of Jesus on earth. The first reading recounts the ministry of Paul and Barnabas, who faced ridicule and rejection, but notice that Acts states that they were filled with joy and the Holy Spirit. Very often we see Christians bewailing the opposition the Church faces in proclaiming the Gospel in our age. Complaint against such opposition has become a cottage industry in itself, and yet it is utterly contrary to the Gospel and the spirit of Christ. We encounter these readings in the Easter season, for in Easter we find our joy and raison d'etre. The joy of Easter pushes aside the darkness of Good Friday, for as St. Augustine said, "We are an Easter people and Alleluia is our song."
In being a sheep of Jesus' flock we know that the Lamb who is in the center of the throne in the vision of Revelation will shepherd us. If we have been a sheep, then at some point we will have washed our garments in the blood of the lamb, for it is the vocation of every sheep at some point to suffer death so that another living thing may continue to live. So it is with us, just as it was for the Lord Jesus, who came to be an example to us in fulfilling our human vocation. We can then rejoice in anticipation of being part of the great multitude that worships the Lamb day and night, for the joy we experience now will be fully realized in heavenly glory.
As we seek to be faithful sheep of the Lord Jesus, we come together in the midst of this Easter season to pray for the grace we need to persevere in fulfilling our human vocation. "Let us pray to God our helper in time of distress. God and Father of our Lord Jesus Christ, though your people walk in the valley of darkness, no evil should they fear; for they follow in faith the call of the shepherd whom you have sent for their hope and strength. Attune our minds to the sound of his voice, lead our steps in the path he has shown, that we may know the strength of his outstretched arm and enjoy the light of your presence forever. We ask this through Christ our Lord. Amen."
Jude Huntz is Chancellor of the Diocese of Kansas City – St. Joseph.
Daily Scripture Readings
For complete daily Scripture texts, click here. http://www.usccb.org
Monday, April 22
Acts 11:1-18
Psalms 42:2-3; 43:3, 4
John 10:1-10
Tuesday, April 23
Acts 11:19-26
Psalms 87:1b-3, 4-5, 6-7
John 10:22-30
Wednesday, April 24
Acts 12:24—13:5a
Psalms 67:2-3, 5, 6 and 8
John 12:44-50
Thursday, April 25
1 Peter 5:5b-14
Psalms 89:2-3, 6-7, 16-17
Mark 16:15-20
Friday, April 26
Acts 13:26-33
Psalms 2:6-7, 8-9, 10-11ab
John 14:1-6
Saturday, April 27
Acts 13:44-52
Psalms 98:1, 2-3ab, 3cd-4
John 14:7-14
Fifth Sunday of Easter, April 28
Acts 14:21-27
Psalms 145:8-9, 10-11, 12-13
Revelation 21:1-5a
John 13:31-33a, 34-35
Monday, April 29
Acts 14:5-18
Psalms 115:1-2, 3-4, 15-16
John 14:21-26
Tuesday, April 30
Acts 14:19-28
Psalms 145:10-11, 12-13ab, 21
John 14:27-31a
Wednesday, May 1
Acts 15:1-6
Psalms 122:1-2, 3-4ab, 4cd-5
John 15:1-8
Thursday, May 2
Acts 15:7-21
Psalms 96:1-2a, 2b-3, 10
John 15:9-11
Friday, May 3
1 Corinthians 15:1-8
Psalms 19:2-3, 4-5
John 14:6-14
Saturday, May 4
Acts 16:1-10
Psalms 100:1b-2, 3, 5
John 15:18-21
Sixth Sunday of Easter, May 5
Acts 15:1-2, 22-29
Psalms 67:2-3, 5, 6, 8
Revelation 21:10-14, 22-23
John 14:23-29
The full text of the Scripture readings for this week and next week can be found here: http://www.usccb.org/
Click on the "Daily Readings" tab on the right hand side of the page.