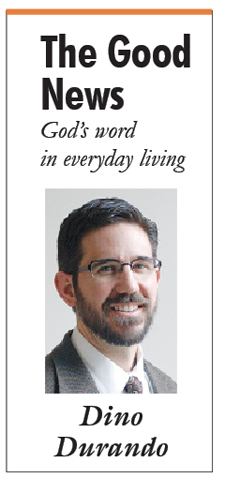 When I became a Catholic in 1995 I received a comforting grace from Jesus and His Church. Two years earlier I was a college student with a troubled heart trying to find my way in the confused and skeptical environment of the modern secular college campus when I met a girl who happened to be Catholic and I went to Mass with her. I fell in love with the girl and have now been married to her for over 15 years. I also fell in love with the Mass and began a journey into full communion with the Catholic Church. The comforting grace that I discovered in the Church is revealed as a connecting theme in this Sunday's Mass readings: authority.
For many people today authority is a "bad" word that brings about a reaction of derision or disgust. My reaction was quite the opposite. Authority and its consequences have been a great source of comfort and peace in my life because I don't have to worry about getting the answers to life's most important questions correct on my own. Given as a gift from Jesus, the authority of the Church is not a burden to be tolerated. Instead it is a gift to be relished in the form of certainty about who Jesus is and what he actually taught.
The Gospel reading for this Sunday is Jesus' answer to one of the apostles, Jude Thaddeus, who asks Jesus the curious question, "Lord how is it that you will manifest yourself to us, and not to the world?" Jesus answers that He will make His dwelling with them and will send them "The Advocate, the Holy Spirit" who will teach, guide and give them peace (John 14: 26). This promise is given specifically to the apostles and is not a promise to every individual Christian in a way that would allow them to claim their own teaching authority disconnected from the teaching of the apostles. In Catholic teaching this reality is called apostolic authority.
The certainty that we can trust this authority because it comes from God provides a foundation for how we practice our faith. For example, when the priest says "I absolve you of your sins" he speaks in the person of Christ with the authority of the Church. Trusting in this authority I can be certain that I am reconciled with God and His Church. I can know that God's mercy has been given and that I am forgiven and set free from the burden of sin. What greater source of comfort can we know as believers?
Recently Pope Francis preached about the peace of heart given as a gift through the Sacrament of Confession. "The Lord is tender towards those who fear, to those who come to Him and with tenderness… He wants to gift us the peace that only He gives." Urging the faithful to nourish a correct understanding of the sacrament he said, "Is going to confession like a torture session? No! It is going to praise God, because I, a sinner, have been saved by Him. And is He waiting for me to beat me? No, with tenderness to forgive me! And if tomorrow I do the same? Go again, and go and go and go… He always waits for us." (unofficial translation by Vatican Radio of homily of Pope Francis from April 29)
In this Sunday's readings we learn in the Acts of the Apostles of the journey Paul and Barnabas make to Jerusalem to bring their concerns about the circumcision controversy to the apostles. In this action we discover the reality of apostolic authority alive in the earliest days of the Church. The apostles decided the issue and sent Judas and Silas to the believers of Gentile origin to deal with those who "without any mandate" had "upset you with their teachings and disturbed your peace of mind" (Acts 15:24). Judas and Silas bring the "decision of the Holy Spirit and of us [the apostles]" a message of peace of mind found in the refuge of the authority of the apostles.
Thankfulness for the exercise of righteous authority is praised in Psalm 67, "May the nations be glad and exult because you rule the peoples in equity." Finally, the reading from the Book of Revelation speaks of the "twelve apostles of the Lamb" whose names are inscribed upon the foundation stones of the walls of the "holy city Jerusalem coming down out of heaven from God" (Revelation 21:14, 10).
To those with troubled hearts the Lord offers peace through the Church and her mission to bring the teachings of Christ to bear on the many questions of the day. The challenge hinted at by these readings; will we listen to the Church and follow her direction? The promise to those who listen to the Church is that God will indeed honor their trusting faith and soothe their troubled hearts through the ministry of His Church founded on the sure foundation of the apostles.
Dino Durando is Director of the Office of Family Life for the Diocese of Kansas City – St. Joseph.
Daily Scripture Readings
For complete daily Scripture texts, click here. http://www.usccb.org
Monday, May 6
Acts 16:11-15
Psalms 149:1b-2, 3-4, 5-6a & 9b
John 15:26—16:4a
Tuesday, May 7
Acts 16:22-34
Psalms 138:1-2ab, 2cde-3, 7c-8
John 16:5-11
Wednesday, May 8
Acts 17:15, 22—18:1
Psalms 148:1-2, 11-12, 13, 14
John 16:12-15
Thursday, May 9
Acts 18:1-8
Psalms 98:1, 2-3ab, 3cd-4
John 16:16-20
Friday, May 10
Acts 18:9-18
Psalms 47:2-3, 4-5, 6-7
John 16:20-23
Saturday, May 11
Acts 18:23-28
Psalms 47:2-3, 8-9, 10
John 16:23b-28
Solemnity of the Ascension of the Lord, Sunday, May 12
Acts 1:1-11
Psalms 47:2-3, 6-7, 8-9
Ephesians 1:17-23 or Hebrews 9:24-28; 10:19-23
Luke 24:46-53
Monday, May 13
Acts 19:1-8
Psalms 68:2-3ab, 4-5acd, 6-7ab
John 16:29-33
Tuesday, May 14
Acts 1:15-17, 20-26
Psalms 113:1-2, 3-4, 5-6, 7-8
John 15:9-17
Wednesday, May 15
Acts 20:28-38
Psalms 68:29-30, 33-35a, 35bc-36ab
John 17:11b-19
Thursday, May 16
Acts 22:30; 23:6-11
Psalms 16:1-2a and 5, 7-8, 9-10, 11
John 17:20-26
Friday, May 17
Acts 25:13b-21
Psalms 103:1-2, 11-12, 19-20ab
John 21:15-19
Saturday, May 18
Acts 28:16-20, 30-31
Psalms 11:4, 5 and 7
John 21:20-25
Pentecost Sunday, May 19
Acts 2:1-11
Psalms 104:1, 24, 29-30, 31, 34
1 Corinthians 12:3b-7, 12-13 or Romans 8:8-17
John 20:19-23 or 14:15-16, 23B-26
The full text of the Scripture readings for this week and next week can be found here: http://www.usccb.org/
Click on the "Daily Readings" tab on the right hand side of the page.