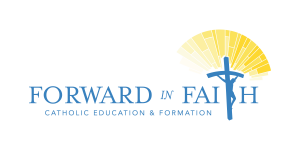 By Jack Smith
Catholic Key Editor
KANSAS CITY — Parishioners in the first wave of parishes participating in the Forward in Faith Campaign for Catholic Education and Formation are set to make formal pledges during Commitment Sundays beginning May 5 and running through the second Sunday of June. Early commitments have already exceeded $1.5 million, according to Steve Hilliard, Director of Stewardship and Development for the Diocese of Kansas City – St. Joseph.
The swell of support for this critical moment in the future of parish schools of religion, elementary and high schools and youth ministries began months ago as parish communities began sharing their ideas and plans for preserving the vital education and formation mission of the Church, Hilliard explained.
While seeking to raise funds to construct St. Michael the Archangel High School in Jackson County, support Bishop LeBlond and St. Pius X High Schools and boost support for families in need of tuition assistance through the Bright Futures Fund, the campaign also has a strong parish element. Funds raised through the campaign will also be used to provide grants to parishes for Parish Schools of Religion and youth ministry programs, and potentially large amounts will stay with parishes for their own directed needs as they meet certain goals.
"In recent weeks at parish events and dinners around the diocese, concerned Catholics have heard how the minds and futures of our Catholic youth are being formed by the media not by the Faith," Hilliard said. "Pastors have spoken out about the problem of schools closing, religious education classes dwindling and pews growing grayer."
At the recent School Bell Breakfast for urban Catholic schools in Kansas City, Notre Dame Law professor Nicole Garnett, passionately suggested that the loss of Catholic schools is a community problem not just for Catholics but for the nation and the world. Professor Garnett, a convert and now Catholic school mom said, "The secular world essentially ignores the Catholic school crisis, and, when confronted with it, shrugs and responds: 'So what? We don't need them anymore.'" Research shows otherwise, she said. Neighborhoods and communities are more stable and churches are populated with more engaged young adults when Catholic schools are present and thriving.
Keeping those schools and vital Catholic formation programs thriving is the purpose of the Forward in Faith Campaign, Hilliard explained. "Catholics throughout the centuries have stood firmly not only in defense of our religious liberties but in our right to express the tenets of our faith through school and parish programs now in danger from underfunding and rising secularism," he said. "Our diocese is blessed to have exceptional public schools in many areas but these are not same as our Catholic education and formation ministries. The pluralism of public educational institutions prohibits them from supporting Catholic parents in the teaching of our common Catholic Faith.
"The question remains," Hilliard said, "who will help Catholic parents and their neighbors form the minds and futures of our children?"
Hilliard hopes that all those asked to make pledges in the coming weeks will "discern prayerfully and support generously and sacrificially the future of Catholic education and formation in the Diocese.
"Our children and the generations of Catholic youth to come need our help," he said
Visit www.fifkcsj.com for campaign details and video messages from pastors, lay volunteers, and students on why they embrace Catholic education and formation in its many and varied expressions.