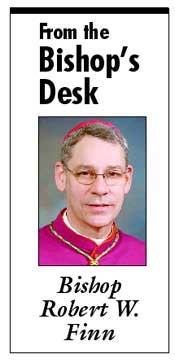 In May each year there are many celebrations of Confirmation and First Communion, Graduations, and sometimes, Ordinations. In the Diocese of Kansas City-St. Joseph, we annually gather to honor couples marking their 50th Anniversaries of Marriage. This year that will happen a little later on June 23, 2013, at the Cathedral.
This week we celebrate Jubilees with two gatherings: Wednesday, May 1, we had a dinner with all our priests to thank God for the accomplishments of 25, 40, and 50 years of ordained service as priests. Friday Evening, May 3, we come together at the Cathedral to offer Holy Mass in thanksgiving for 25 years of service as a bishop of Bishop Raymond Boland. The Mass, to which you are all invited, is at 7:00 p.m. with a reception at the Catholic Center to follow.
This year we are noting these many examples of faithfulness within the Year of Faith, begun by Pope Benedict XVI last fall, and continued by Pope Francis with its completion on the Feast of Christ the King, November 24, 2013.
Faith, of course, is wonderfully expressed in the work of "being faithful," what we call faithfulness, or faithful love. "God so loved the world …" St John's Gospel (Jn 3;16) teaches, that He sent His Son to share our human experience: to suffer, die, and rise. Faithfulness often includes the gracious act of "being with" those whom we love. God is faithful in His love despite our unworthiness and sins. We, in turn, live our Catholic faith in many ways, but also by being faithful to our calling and commitments. When all is said and done, we know that it is God's grace, His faithful and never-ending love, which makes it possible for us to be faithful; and we must make the decision to be faithful over and over again in our lives.
The Jubilee celebrations this week – and next month – draw attention to this dynamic power of God in the lives of those He calls. The names of the priests, whose anniversaries we know about, and that are currently living and working in the Diocese are these:
50 YEARS OF PRIESTHOOD
Reverend A. James Blumeyer, S.J.
Reverend Kenneth Criqui
Reverend Joel Derks, O.S.B.
Reverend Charles Jones
Reverend Quentin Kathol, O.S.B.
Reverend William Miller, CPPS
Reverend Xavier Nacke, O.S.B.
Right Reverend Abbot Marcel Rooney, O.S.B.
Reverend Reginald Sander, O.S.B.
Reverend Thomas Wiederholt
40 YEARS OF PRIESTHOOD
Reverend Martin DeMeulenaere, O.S.B.
25 YEARS OF PRIESTHOOD
Reverend Matthew Brumleve
Reverend Gregory Lockwood
Reverend Benedict Neenan, O.S.B.
25TH ANNIVERSARY OF EPISCOPAL ORDINATION
Most Reverend Raymond J. Boland, DD
Twenty-five-year old Raymond James Boland was ordained a priest of the Archdiocese of Washington D.C. on June 16, 1957, and spent more than 30 years serving there.
On February 2, 1988, he received his call to become a bishop, and was ordained Bishop of Birmingham, Alabama on March 25 of that year. After serving for five years as the Second Bishop of Birmingham, Pope John Paul II named him Fifth Bishop of Kansas City-St. Joseph on June 22, 1993. He came to this place he now calls home and was installed on September 9, 1993. The Holy Father Pope Benedict XVI accepted his letter of retirement on May 24, 2005.
God continues to bless Bishop Boland, and our Diocese through him. He has weathered some health challenges recently and remains joyful and active. On the occasion of this special anniversary I know you join me in a hymn of praise to God for Bishop Boland and all our Jubilarians. We thank God for their faithfulness which shows itself in generosity, wisdom and dedication. May God continue to watch over you all. Ad multos annos!